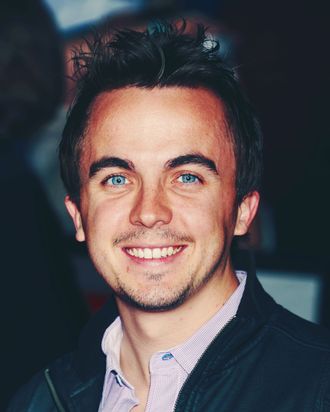 Frankie Muniz.
Photo: Jeffrey Mayer/WireImage/Getty Images
Last week, former Malcolm in the Middle star Frankie Muniz returned home from a trip to France for his uncle's funeral, only to discover that his five-story brownstone had been completely flooded. The suspected culprit? His cat, Jeri.
"I arrived home from my uncle's funeral to find 4 of my 5 story brownstone home under 3 feet of water," Muniz tweeted. "Everything I own, destroyed. Every wall, piece of artwork, personal photos, furniture … All because my cat accidentally turned on a sink a few days ago while we were gone."
He added, "I know this sounds ridiculous, but I swear it's true. You wouldn't believe the destruction."
In an Instagram story captured by Yahoo!, Muniz's girlfriend, Paige Price, shared a picture of a large hole in their ceiling, writing:
"Thankfully not all of our furniture is destroyed but, every single wall, floor, and ceiling has to be ripped out and replaced to reduce the risk of mold."
Muniz, who is currently working as a host on Dancing With the Stars Juniors, has not posted any pictures of the devastation yet, but here is a picture of Jeri asserting her dominion over his house.
Jeri has not yet commented on the flooding, though she would presumably hiss, "The cat giveth, the cat taketh away."
The Cut has reached out to Muniz's representative for a comment, and will update this post when we hear back.