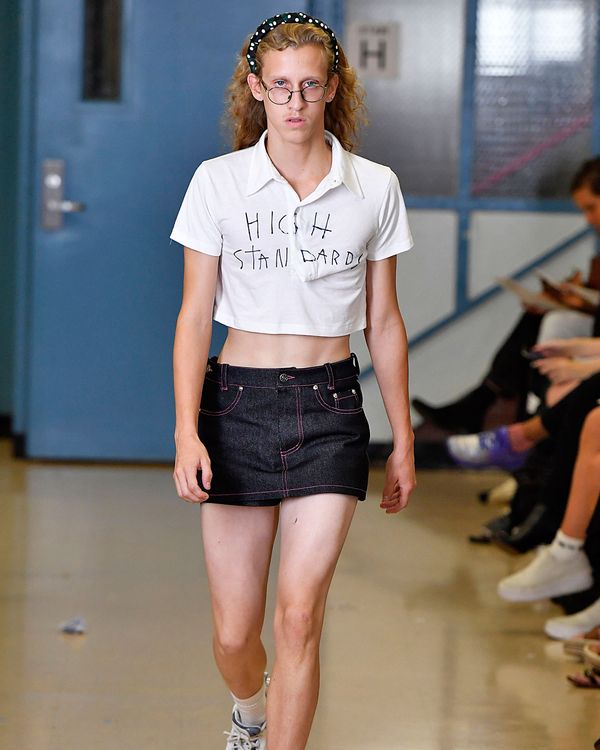 Vaquera spring 2019.
Photo: Victor Virgile/Gamma-Rapho via Getty Images
Fashion happens faster than ever these days. Each week, we attempt to make sense of it in a column called, "What Is Fashion."
In September during New York Fashion Week, Vaquera held its spring 2019 show in the cafeteria of P.S. 042. There were no assigned seats, so guests were forced to look around at who was sitting next to whom, creating more social anxiety than usual. Models wearing outfits described as "goth heartthrob" and "broken cheerleader" stormed by with pom-poms and football pads. The whole event took me right back to prep school — though the attitude was not one I recognized.
That same day, more obvious symbols of prep walked the runway. Raf Simons showed caps and gowns at Calvin Klein, because what's more American than the Ivy League? Brandon Maxwell channeled Texan gossip girls; Monse made striped polo shirts perfect a yacht. Emerging designers showed subversive takes on the style as well. Models in patchwork blazers brazenly chewed bubble gum at Lou Dallas and Batsheva Hay presented Laura Ashley–inspired dresses at a Tribeca diner. Finally, Chris Peters's CDLM opened the season with a reworked vintage Ralph Lauren hoodie, while Ralph Lauren himself closed out New York Fashion Week with a 50th anniversary prep extravaganza.
I wasn't prepared to spend Fashion Week being hurtled back to six through twelfth grade, when I adhered to a strict dress code that included polo shirts and khaki pants. But there I was. Brands like Abercrombie & Fitch, Juicy Couture, Ralph Lauren, Tommy Hilfiger, Longchamp, and LeSportsac were all the status symbols of my early adolescence — and strangely, they all had a fresh presence at New York Fashion Week this season as well. It begged the question: Is American prep in the midst of a makeover? Why? For whom? And how different will it look for the next generation?
Fashion likes to declare things "back" before they've really come to fruition (how else are we going to stay ahead?), and the conversation around prep started happening as early as last year. Vogue wrote that "Preppy Style Is Back," but in a "Totally Twisted" way following Balenciaga's punky-prep spring 2018 show. Meanwhile, GQ declared that "The Great Preppy Style Comeback Has Begun," this summer, pegged to the release of Noah's prep-inspired fall 2018 collection. (Noah is a men's brand founded by Brendon Babenzien, formerly of Supreme.)
When I looked around, though, I didn't see anyone rushing to embrace prep. The opposite, in fact. I saw that J.Crew was on its last legs, and my high school even did away with its dress code after 150-something years. As Garage magazine detailed in its "Anti-Prep Fashion" spread this February, the look has historically "defined the visual code of American affluence." In other words, it was worn by white men with names like Brett. Today, the look might also align you, consciously or not, with conservative political groups as extreme as the Fred Perry–wearing alt-right.
But my inability to recognize the style among the fashion set today is precisely the point: for prep to reinvent itself, it had to evolve. And designers are taking it and flipping it on its Vineyard-Vines-dad-cap-clad head. When Noah dropped its fall collection, for example, it did so with a diverse cast of loobook models, rugby polos that said "Straight Edge," and scarves that read "Human Rights." A new subset of consumers have since decided that they're maybe willing to expand their definition of prep as it has expanded to accept them. Still, is it possible for prep to be a symbol of progress, and not exclusion?
Well, there's a long history of old-fashioned power structures that needs to be reckoned with, first. On the occasion of Ralph Lauren's 50th anniversary, I spoke with Stephen Corbie, who goes by Prance-Lo and is an original member of the Lo Lifes, a group of hyper-enthusiastic black and Latino Ralph Lauren collectors that formed in New York City in the 80s. They were from neighborhoods like Crown Heights, not Georgetown, but the brand still held a certain social cache.
"I could have five dollars in my pocket just to enter the club, but my outfit made me look like I had a million bucks," said Corbie, who has been collecting Ralph Lauren for decades, and says the brand makes up about 92-percent of his wardrobe. You'd be hard-pressed to find a community that loves the look of vintage prep more than the Lo Lifes.
But the love only flows in one direction. Despite the Lo Life's longtime, well-publicized devotion to the brand, Corbie said that he feels "not at all" recognized or incorporated into its official history. (True, this may be in part due to the fact that Lo Life members used to steal Ralph Lauren in order to wear it, but they no longer promote that kind of behavior.) When it comes to the next 50 years of American prep, Corbie just wants the Lo Lifes to receive "proper acknowledgment" from Ralph Lauren, and maybe even a collaboration. "That would be mind-blowing," he said.
I thought of the Lo Lifes, as I think many people did, when it was announced this fall that Ralph Lauren would be officially collaborating with Palace Skateboards, a brand founded by Lev Tanju in London about ten years ago. Not only is it rare for Ralph Lauren to hand over the keys at all — and especially not to an unbuttoned skate brand — but they've also allowed Palace to tinker with some of their most iconic motifs, like the Polo Bear.
For many, the Palace x Ralph Lauren collection is a huge, exciting deal, akin to Louis Vuitton collaborating with Supreme. (It sold out in minutes online.) To see the classic Polo Bear shredding in a tie is nothing short of historic. And it makes perfect sense from a business standpoint: Skate brands are no longer a niche market. (Just ask Jonah Hill.) Prep is power, and power today is hype. On Thursday, Mr. Lauren himself was coincidentally spotted at the WSJ Innovators awards chatting with Virgil Abloh, who got his start reworking deadstock Ralph Lauren flannel shirts.
But it's hard to ignore the fact that the brand is suddenly a lot friendlier to only some of its fans on the outside. According to WWD, someone from Palace's team reached out to get a blessing from Lo Life members when the collaboration first came about. If true, Palace seems to recognize that it's been given an opportunity that the Lo Lifes have not.
Corbie understands that Ralph Lauren is just trying to tap a new consumer audience. They're a business. But in the same way that Gucci invited Dapper Dan into its family, he still wonders why Ralph Lauren won't recognize its most loyal collectors, too? Especially when the brand is bringing its retro styles back into rotation. "He's listening to the youth with money, basically," Corbie said last week when I called to follow-up about Palace. And in this way, prep might still be following the same old rules.
Personally, I've started to buy-into the prep revival. But it would be naive to say that its history is erased. When asked if he was going to buy anything from the Ralph Lauren x Palace collection, Corbie said no. "I'm just letting the parade go by."