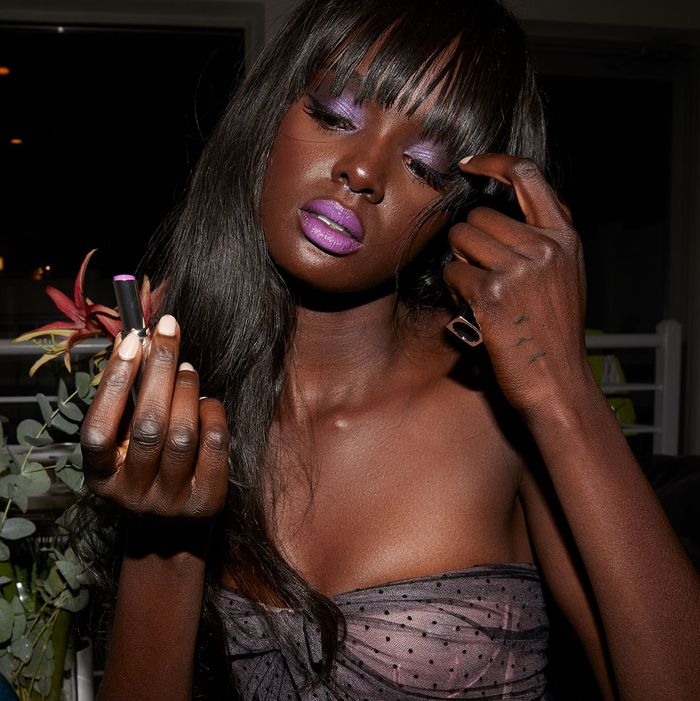 Photo: Jennifer Livingston
Duckie Thot has had quite a November. One week ago, the 23-year-old Australian model walked in her very first Victoria's Secret Fashion Show. Two days before that, she was in a car accident. And eight days after that, she let me, a total random, into her Brooklyn apartment to watch her get ready for Dior's Guggenheim Gala Pre-Party.
Other than the part where we didn't know each other before I showed up to hang out, and the camera flashes that occasionally captured close-ups of Diorshow mascara on her lashes, it was surprisingly normal. Over a playlist of Lil Uzi Vert, Travis Scott, Nicki Minaj, and Cardi B, we discussed the usual things: Bangs parted or not parted? How cute is Dej Loaf? Should she post this video on Instagram?
Thot's polka-dot Dior dress was still hanging up, but her thrown-together "getting ready" outfit (black Adidas sports bra, black Ellesse sweats, slippers) looked way better than most actually-out-in-public outfits. Seeing her in person, I suddenly understood the legend behind how she got her start — according to the story, Thot was leaving a completely different casting and unintentionally ended up booking Yeezy SS/17 because Kanye West loved her look so much.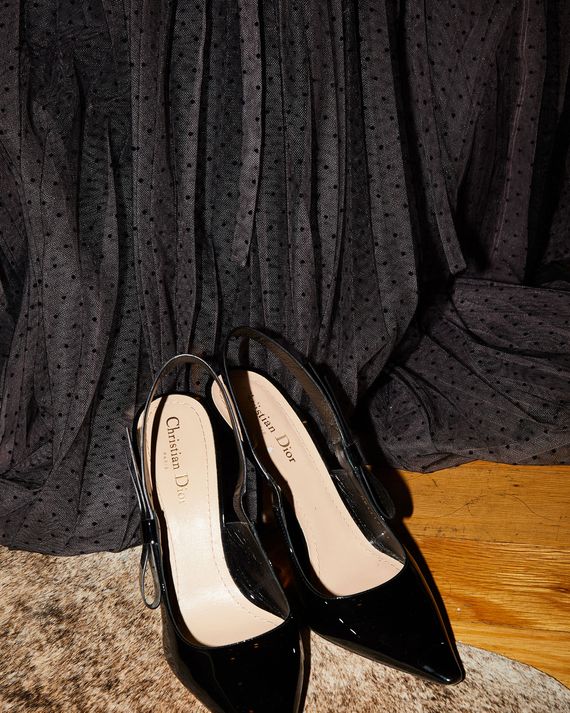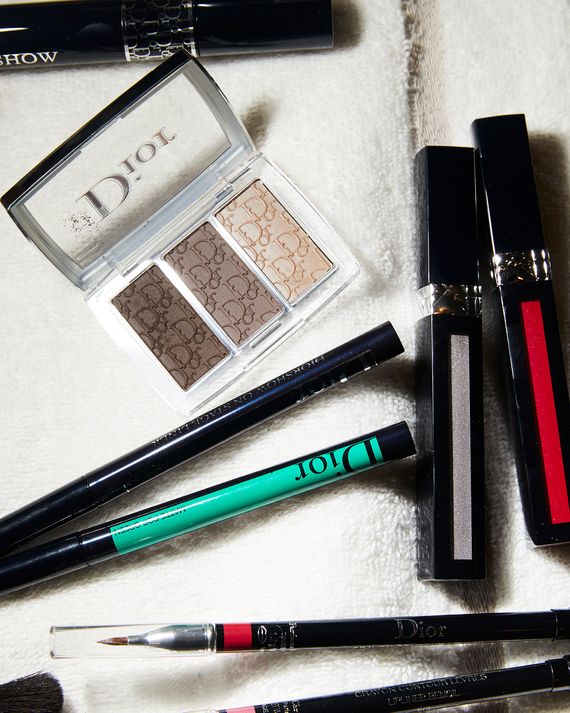 During Thot's mini dance breaks, makeup artist Jessica Smalls fawned over her Barbie-like features. "You don't have to do much. She already has a pretty face — I don't need to build one," she said as she layered and blended a purple Dior eye-shadow quintuple. That same face has appealed to other women in the makeup industry — namely Pat McGrath and Rihanna. West introduced Thot to "Mother," which led to the birth of the viral Metalmorphosis video. Now, Thot is a well-known face of Fenty Beauty and her beauty cred has only grown since she was named a L'Oréal Paris ambassador earlier this year.
Contracts aside, you can tell Thot just loves beauty in general. She regularly touched base with the bathroom mirror and returned with feedback. ("Can we go deeper on the outside with the purple?", "Can you contour me a bit more, here?") "I have so much makeup," she admitted. "Suitcases full of it. I had a whole vanity there and had to give away." It's no surprise that she was well-prepared for our inevitable chat about beauty. Below, she talks to the Cut about skin care, horses, and snacks.
What's your nighttime beauty routine like?
First, cleanser. I use this really beautiful gel cleanser by Shiseido, and then I like to go over that with a face wipe. Then I put a light moisturizer on top of that if I'm just chilling and going to bed. If I'm really treating myself, I like to put on Shiseido's Ibuki Beauty Sleeping Mask for 15 minutes and then eye patches on top of that. You're supposed to use it twice a week but I actually use it more like four times a week because it's so good.
If you're going in a for a casting, what is or isn't on your face that morning?
It depends. Sometimes I'll just go no makeup. If I'm literally doing no face makeup, I'll do a sheet mask before, then I'll brush up my brows with a clear gel and finish with light mascara. If I'm doing pictures and it's a bigger sort of casting, I like to do a no-makeup makeup look. That's just a little bit of foundation — barely any. Like two droplets. Then I'll do a nice gloss to make it look cute, and I'll do mascara to brighten my eyes a bit. But I'll never go beyond that. It takes me five minutes to do. If it takes you longer, you're trying too hard.
Has anything in your beauty routine changed since you moved from Australia to New York?
Oh, everything. Absolutely everything. I probably had about seven makeup products total when I was in Australia. Not that I was never crazy into makeup, I just couldn't apply it myself. I'd always watch my sister; she had so much makeup and I'd always play with it, but I didn't really know much.
Once I moved to New York, I started working with Pat [McGrath] and I really fell in love with it. Skin was really big when we did that Metalmorphosis video, so I really got to learn about my skin, I got to sit down and learn about all the different tones that I have. I'm not makeup-artist level by any means, but I like to study it, learn about different pigments, play with products, and figure out what works for me.
Do you have a favorite product right now?
I'm a basic sort of girl. What I can do is what I can do, so I really love L'Oréal's Unlimited Mascara. The packaging really caught my eye because I wasn't sure what it was; I thought it was eyeliner at first. But it's a bendable mascara; it does wonder for the eyeballs.
What's your best piece of beauty or wellness advice?
Honestly, people are going to say this is lame but I say it every single time … drink your damn water. People say so much about product this and product that but everyone forgets about water. All the time. If you hydrate, you are more alive, you will look more alive, and you will have beautiful skin. And water does that. Ta da! Your skin will love you. I try to drink two liters a day.
What's something people might not know about you?
That I love horse-riding. I started when I was 12. Horse-riding and basketball — my two favorite activities. I don't get to do either that much anymore, which is depressing. But I told myself that I will get back into both of them!
Ok, rapid-fire round…
What time do you go to bed?
Ten or 11 p.m. I'm not the greatest at staying up late. If I'm by myself, I'll fall asleep. I blame my couch.
What's on your iPhone's lock screen?
The screen saver that Apple gave me. Those ocean waves.
What's the most nervous you've ever been?
Victoria's Secret casting. Nerve-wracking as hell.
What's the last song you had stuck in your head?
"Good Form," by Nicki Minaj.
What's the most uncomfortable or complicated outfit you've ever worn?
It's always a couture gown, I find. They're a lot more fragile pieces in general so you're basically taking care of an art piece and wearing it at the same time, which makes for an interesting dynamic when you're walking around.
What's the last thing you binge-watched?
Grey's Anatomy. I was contemplating putting it on before you came, actually. I'm up to season seven.
What's your favorite snack?
I love snacks in general, is that a thing? Can I just say snacks? Watermelon, that's a great snack. A chip and dip situation is good. Grapes, cashews, and almonds are great. I love a bar, like those Rx Bars…