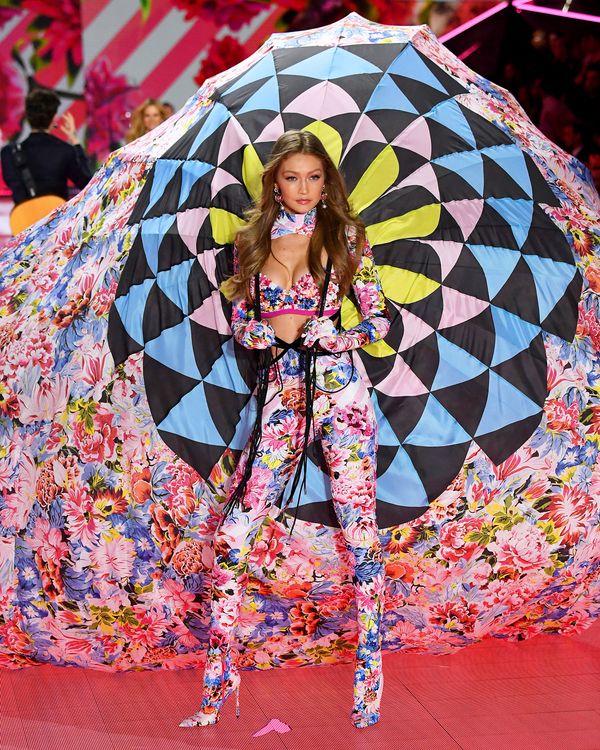 Gigi Hadid.
Photo: Kevin Mazur/WireImage/Getty Images
I can trace most of my neuroses back to elementary school gym class. Each week brought a fresh installment of horrors, from trying to run the mile as fast as my chubby little legs and burning lungs would take me to failing to do even a single pull-up. But there was one beautiful respite every year, one class that radiated with hope and promise: Parachute Day. (Apologies for any Scooter Day erasure.)
Parachute Day, for the uninitiated, involved every kid holding onto an enormous parachute, bouncing it around, and then climbing underneath and sitting there for a while. That was it! It was blissfully purposeless, entirely non-competitive, and required zero exercise.
I recently found myself reminiscing about Parachute Day the usual and normal way: after seeing pictures of the 2018 Victoria's Secret Fashion Show. In a skintight floral bodysuit with billowing fabric flowing behind her, Gigi Hadid (above) embodies both the parachute itself and the way you feel when you know you're about to do absolutely nothing in gym class. Josephine Skriver (below) telegraphs the zen and satisfaction of 30 minutes sitting inside a giant cloth fort.
In conclusion, please buy me a parachute.