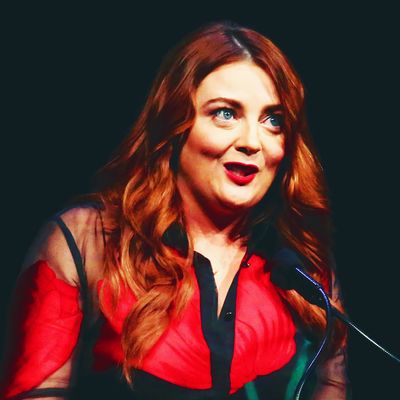 Glamour
editor-in-chief, Samantha Barry.
Photo: Astrid Stawiarz/Getty Images for Glamour
The latest Condé Nast publication to cease print operations is Glamour magazine, per a report Tuesday morning by the New York Times. The magazine's January issue will be its last.
"This is my plan, because it makes sense," said the magazine's editor-in-chief, Samantha Barry, quite matter-of-factly. "[Digital is] where the audiences are, and it's where our growth is. That monthly schedule, for a Glamour audience, doesn't make sense anymore."
This news does not come as a surprise. After losing a reported $120 million dollars last year, Condé Nast reduced the magazine's frequency in November. And Barry, who was hired in January to replace longtime editor Cindi Leive, has a background in digital journalism. (Her previous title was executive producer for social and emerging media at CNN Worldwide.) She's since increased the the magazine's monthly unique viewers 12 percent, to 6.3 million. Plus, subscribers to Glamour's YouTube channel have increased more than 110 percent, to about 1.6 million, according to the Times.
That being said, Barry told the Times that special print issues might still be a possibility in Glamour's future, specifically ones highlighting the magazine's annual Women of the Year awards, or topics like power and money.
In a statement to the Times, Anna Wintour called Barry "a change-maker" and "the embodiment of the modern Glamour woman."
"I am thrilled with her plan for Glamour's future," Wintour continued. "She'll be reaching the title's loyal readers on the digital and social platforms they use most."
"Excited for what's ahead," Barry tweeted on Tuesday.