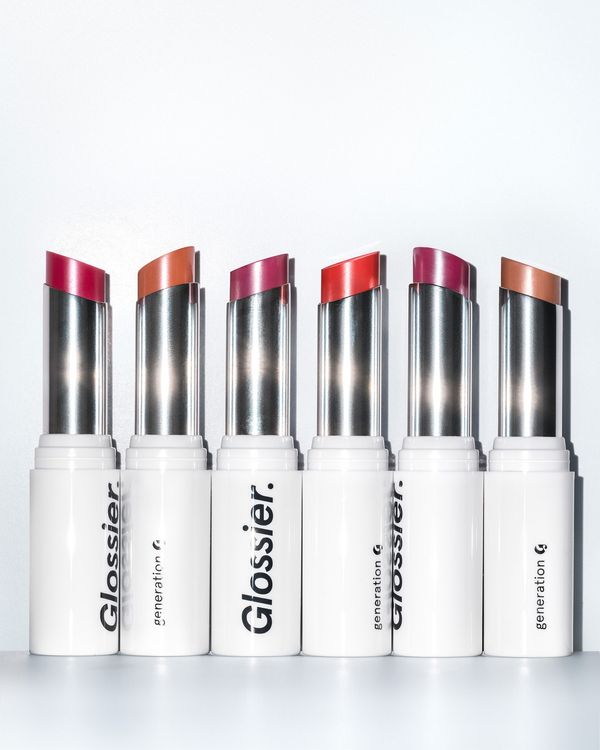 Glossier: the next generation.
Photo: Courtesy of Glossier
There's a strong case to be made that we're currently living in the Golden Age of Lipstick. Fenty Beauty continues to rapidly release every possible combination of color, finish, and formula, meanwhile Kylie's Lip Kits will soon be available to even more people via every Ulta store next week. The variety and volume of lipsticks that exist in the universe right now is truly impressive. Enter Glossier's newly reformulated Generation G lipstick, which is a bit of an antidote to the super-bold lipsticks that are having their moment right now.
Generation G first debuted about a year ago (and even made an appearance in the 50 Shades trilogy). But in response to customer feedback, the brand has updated the formula and packaging. The new version continues to be a sheer, matte lip tint that feels like just-blotted lipstick but with more moisturizing properties. The tube is a chubbier stick now that easily fits your lips in one swipe and has an airtight closure to safeguard against the product drying out.
Each of the six shades are supposed to look slightly different on everyone, because your natural lip color is designed to still be visible through the shade. There's a good variety of colors available, from lighter peach (Cake) and pinks (Crush) to deeper berry (Jam) and brown shades (Leo) with six shades total. It seems like a good lipstick for those who are a little lipstick wary or just more partial to their tinted Burt's Bees than anything else in their makeup bag. You can purchase them online now, or you can visit the new Glossier flagship store and try them out for yourself.
Photo: Courtesy of Glossier
If you buy something through our links, New York may earn an affiliate commission.