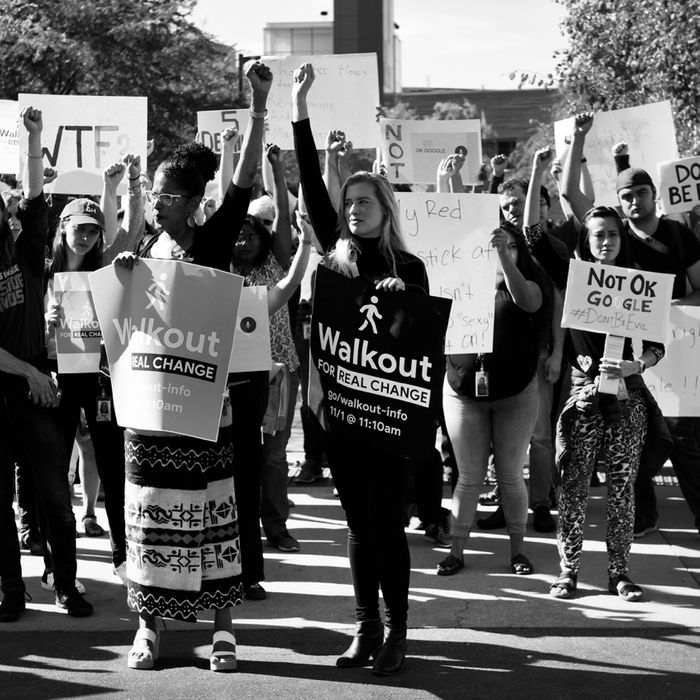 Google walkout.
Photo: Bloomberg/Bloomberg via Getty Images
On November 1, thousands of Google employees walked out of their offices around the world to protest the handling of sexual misconduct allegations by the company. The organizers released a set of demands, including an end to Forced Arbitration, a commitment to end pay and opportunity inequity, and a publicly disclosed sexual harassment transparency report.
Google responded to the walkout on Thursday, announcing changes to their sexual misconduct reporting and arbitration processes. Google CEO Sundar Pichai wrote that "we try hard to build a workplace that supports our employees and empowers them to do their best work. As CEO, I take this responsibility very seriously and I'm committed to making the changes we need to improve."
But the organizers of the walkout are not completely satisfied with Google's response. In a statement posted to Medium, Claire Stapleton, Tanuja Gupta, Meredith Whittaker, Celie O'Neil-Hart, Stephanie Parker, Erica Anderson, and Amr Gaber acknowledged that the company made progress, but not enough. They say that Google still hasn't addressed many of the core demands of the walkout.
However, the response ignored several of the core demands — like elevating the diversity officer and employee representation on the board  —  and troublingly erased those focused on racism, discrimination, and the structural inequity built into the modern day Jim Crow class system that separates 'full time' employees from contract workers.
In October, before the walkout, the New York Times released a report outlining how Google protected Andy Rubin and paid him $90 million in the handling of a sexual misconduct investigation involving him and his subsequent departure from the company. The investigation added to the already long lists of complaints employees had with Google.
"We demand a truly equitable culture, and Google leadership can achieve this by putting employee representation on the board and giving full rights and protections to contract workers, our most vulnerable workers, many of whom are Black and Brown women," said Stephanie Parker. "And they all have the same root cause, which is a concentration of power and a lack of accountability at the top."
They letter states that the organizers look forward to meeting with Google leadership about the remainder of their demands, which focus heavily on practices that would center the voices of underrepresented groups in the company's leadership.
"The process by which we build a truly equitable culture must center the voices of black women, immigrants, and people of color  —  those who too often pay the most in the face of these intersecting problems," said organizer Demma Rodriguez in the statement. "We are committed to making this happen, because true equity depends on it."