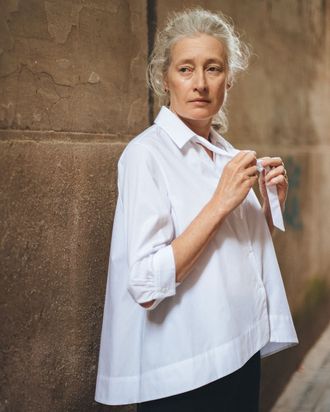 Marie-Sophie Wilson.
Photo: Lily Cummings
Whether it's a white tee or a button-down, it's really hard to find the perfect white top. Even the Olsen twins couldn't find it, and that's why they started the Row. Grammar NYC understands. That's why the label's first collection is eight different white cotton button-up shirts.
Designer Althea Simons has a degree in neuroscience, which partially explains the meticulous rigor she used to make a collection of only white shirts. Each is unique — one has short puffed sleeves; one has a subtle tie-neck; one is classic in every sense of the word. They're named after a grammatical term — get it? — like the Antecedent Shirt, or the Dangling Modifier Shirt. So if you're particularly attached to quotation marks (Virgil Abloh, are you listening?) there's a shirt for you for between $225 and $325.
There are also some sustainability bonuses. For starters, each shirt is made in New York. The buttons are made of shells, instead of plastic, and the shirts are made with only certified organic cotton. Nineties model Marie-Sophie Wilson stars in the look book, featuring the shirts. See some below.