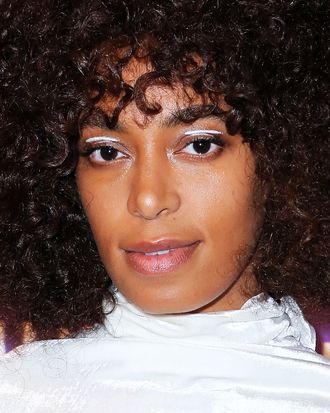 Solange.
Photo: Donna Ward/FilmMagic/Getty Images
Eye makeup can be hard. Scary, even. Luckily, for anyone who considers themselves sub-par or even terrible at it, we are currently in the midst of a glorious era of lax eye makeup. No more calculating eye-shadow palette combinations and practicing blending techniques — just smudge red eye shadow (or lip liner, even) all over your eyes and call it a day. Better yet, expend even less effort with the graphic eyeliner trend that has yet to quit.
The minimalist look made the rounds last year, but has only continued to flourish well through 2018. This is most likely because people have come to realize that it isn't a complete farce like no-makeup makeup, which, despite its misleading name, requires quite a bit of both effort and makeup. With the bright liner trend however, all you really need is a singular liner and your two eyelids. I'm serious.
It's so bright, you don't need mascara, or shadow, or a lip color, or anything else of note on your face, really. You don't even need a set plan: draw the line right on your crease; draw it directly on your eyelid below your crease, draw it close to your lash line — it honestly does not matter. Don't overthink it mid-lining: No wings, no flicks, no squiggles — just draw a new eyebrow shape somewhere underneath your actual eyebrow. You're done. You've created a look. You cannot mess this up and you will most likely be mistaken for a cool person like Paloma Elsesser. Our editorial director, Stella Bugbee, even spotted the look on almost every single person on a Saturday morning at Dimes.
The color of the eyeliner doesn't even matter. For once, your undertones don't really matter, either. Just pick something bright, or shiny, or both, and you've nailed it. This look even spans occasion. It's popped up in editorial fashion campaigns, on Ariana Grande in her "God Is a Woman" music video, and even on 5-year-old North West on what I assume was just a regular ol' day. It's so easy and so fun, even 5-year-olds can wear it!
And who can we thank for the widespread popularity of such a user-friendly beauty trend? Solange took a version of this look under her wing after it walked down the Michael Kors spring 2013 runway. She later went on to debut a way messier, white liner version of it in 2016 that seemed very Solange. Ever since, she has become our generation's patron saint of monochrome eye makeup, so I am crediting the resurgence of this trend to Solange for now.
Thanks, Solange!