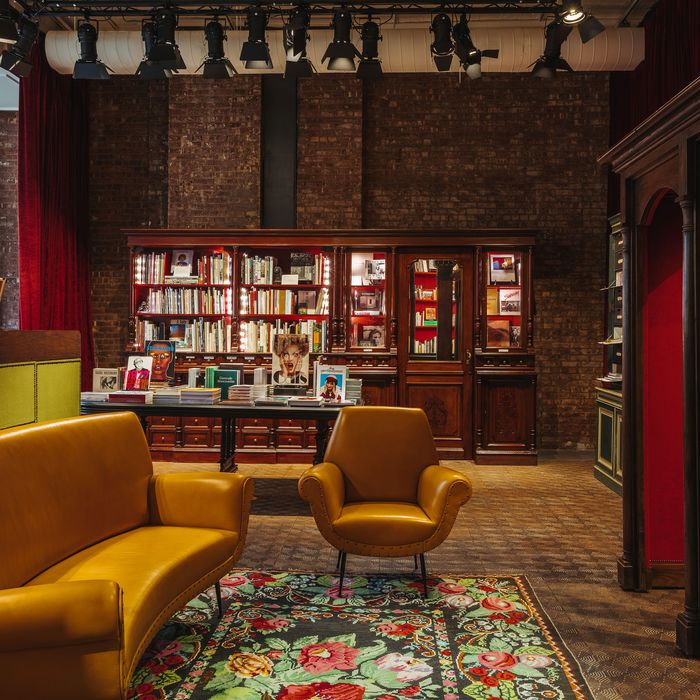 Photo: Pablo Enriquez/Courtesy of Gucci
Books have always been pretty cool, but Gucci is giving them a new lease. On Tuesday, the brand opened the Gucci Wooster Bookstore curated by Dashwood Books, just in time for peak curl-up-and-read season.
Located inside Gucci's enormous Wooster store, the intimate reading nook is meant to host shoppers looking to for a cozy place to sit and browse, as well as book signings and cultural events for neighbors and friends. Since opening its downtown location in May, Gucci has worked hard to cultivate Soho's legendary artistic spirit, which is why they invited Dashwood Books founder, David Strettell to help curate an assortment of nearly 2,000 titles.
Dashwood Books has been a go-to destination in Noho for contemporary photography books since 2005. But in addition to photography, the Gucci Wooster Bookstore will also highlight a range of subjects, including fashion, youth culture, art, interiors and architecture, illustration, and design. Used and rare books will be on display as well, including many out-of-print titles that rotate based on designer Alessandro Michele's seasonal inspirations. There will also be a selection of what the brand describes as "niche magazines."
Michele is fashion's most stylish bookworm, and his collections for Gucci often include literary references and obscure philosophy quotes in the show notes. His friends share his passion, and works by Petra Collins, Ari Marcopoulos, Ryan McGinley, and Florence Welch are included in the selection as well. (Welch even has her own book club called "Between Two Books.")
The best part of the space, though, is the fact that the brand hired experts including a chief librarian and official "Book Worms" to oversee it. How do we apply?
Below, take a peek inside the new Gucci Wooster Bookstore. You can also visit in person starting today at the entrance on 375 West Broadway.