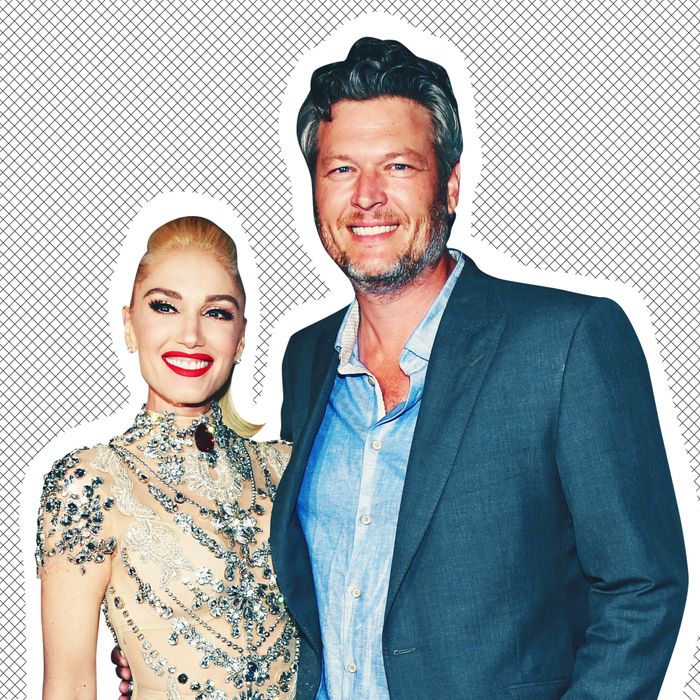 When's the last time you thought about the romance between The Voice coaches Gwen Stefani and Blake Shelton? For me, I have to admit, it's been awhile. But Stefani and Shelton made a "sweet" appearance together at the People's Choice Awards on Sunday, so now, the tabloids are talking about them again. On the cover of Us Weekly this week: "Gwen & Blake: LET'S HAVE A BABY!"
Did they actually say that to each other? LET'S HAVE A BABY? Unclear. But according to the tabloid, Stefani, 49, and Shelton, 42, are considering surrogacy to have a child together. "They are in the final stages of choosing the woman who will carry their baby," an "insider" told the mag. "It's extremely important to Gwen that she give Blake a biological child, and Blake is so excited." Well!
Stefani already has three sons with her ex-husband Gavin Rossdale (remember him?). As far as we know, Shelton has not had any of his own children. So maybe it is very important that he has a "biological child." I guess, based on Us Weekly's reporting, we'll find out sometime next year.
I'm skeptical, however, that the very Catholic Stefani would have another child before getting married again. To me, this reads like a story meant to gin up interest in the couple in general. They just want us to love them. Do you love them?
Jennifer Garner was photographed with her new boyfriend, the robot-burger-chain CEO John Miller, for the first time this past weekend. The two attended a performance of Dear Evan Hansen on Friday night in L.A.; you can see exclusive photos at E! News here. According to E!, Garner and Miller showed up in a limo and "appeared to be in great spirits." Next stop on the paparazzi express: an ice-cream date? Church? Does Miller go to church? I can't wait to find out.
And my favorite Christian couple, Chris Pratt and Katherine Schwarzenegger, hit another relationship milestone this week: They had brunch with Schwarzenegger's dad. The couple joined Arnold Schwarzenegger and his current girlfriend, a physical therapist named Heather Milligan (idk), at the Fairmont hotel in Santa Monica on Sunday. Katherine wore a very blingy cross necklace, and her dad and boyfriend both wore shorts. A source told People of the outing:  "Arnold seemed very pleased to spend time with Chris. It was obvious that they got along and enjoyed getting to know each other. They had eggs, breakfast meats and fruit. Chris settled the check."
Pratt is already friendly with Katherine's mom, Maria Shriver — she was reportedly the one who set them up in the first place, through the social scene at the hip evangelical Zoe Church in L.A. Now that Pratt is in with Arnold, too, we're right on track for our Christmastime proposal.
One celebrity relationship I'm worried about is Leo DiCaprio's. The actor celebrated his 44th birthday this past weekend with a huge party in L.A., and his 21-year-old model girlfriend, Cami Morrone, was nowhere to be found. According to Entertainment Tonight, Jennifer Aniston, Gwyneth Paltrow and her new husband Brad Falchuk, Beyoncé and Jay-Z, and longtime Pussy Posse member Tobey Maguire all attended the party at Spring Place, a members-only club in Beverly Hills. Later, 50 select guests including Oprah attended a private dinner with DiCaprio. But it doesn't look like Morrone attended either event. (If you have evidence to the contrary, please send it my way.)
DiCaprio and Morrone were last spotted together shopping at Fred Segal in West Hollywood on November 8. What happened between then and now?
One small blessing from this week:
Here's Mickey Rourke feeding his Pomeranian in a baby high chair at a restaurant in L.A.
And here's an interesting blind item from this week, care of Enty at Crazy Days and Nights:
"The alliterate reality star who is best known for the bar show supposedly has a boyfriend, but I want to know what she was doing alone in the back of a car outside a restaurant with the actor who was on a reboot of a hit network show that basically bombed and the lead of a spinoff of a hit network show that basically bombed. He will be making the award show rounds for a movie this year."
Vanderpump Rules returns to Bravo on December 3!
Finally, I'll leave you with this photo of Kaley Cuoco (?), Elizabeth Olsen (?), and … Tyson Ritter of the All-American Rejects (??) at a charity wine event in Beverly Hills this week. What do you think they talked about?
Thank you for gossiping this week. Don't forget to email me at allie.jones@nymag.com, send me a message on Twitter, or contact me on Signal if you'd like to chat.