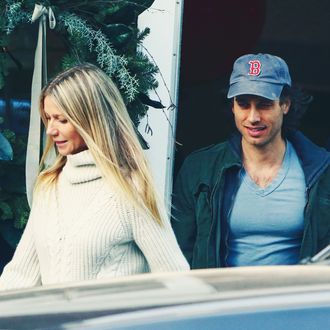 Gwyneth Paltrow and Brad Falchuk.
Photo: BG004/Bauer-Griffin/GC Images
Gwyneth Paltrow, who now knows what the Cut is, tied the knot with her longtime boyfriend Brad Falchuk in late September. But details about the Hamptons nuptials — aside from their impressive celebrity guest list — had been fairly closely guarded … until now.
As we should have expected (given how she officially announced her engagement and also her 2014 "conscious uncoupling" divorce), the actress opened up about her wedding day — and shared a ton of fashion magazine–looking pictures — on her website, Goop. She also posted a pic of the newlyweds (in which her gorgeous Valentino couture wedding dress is on full display) on Instagram with the extremely wedding hashtag #thefaltrows.
So kick off your shoes, give yourself a coffee enema, and join me as we go through the Gwyneth Paltrow-iest details of the couple's big day.
• The couple flew celebrity chef Francis Mallmann, star of Netflix's Chef's Table, 5,000 miles from Santiago, Chile, to cook for the rehearsal dinner.
• Mallmann seems to have spent 12 hours grilling entire pineapples — that were hanging from what appears to be rope over a live fire in a yard — for the event.
• There was also a "vegetable bounty."
• Acclaimed war photographer Lynsey Addario was one of the wedding photographers.
• The makeup for the wedding was done by celebrity makeup artist Gucci Westman.
• Every single item used in the wedding appears to be credited on Goop, from the fancy MokeUSA golf cart–looking cars they used to get around in, to the companies that helped set up her tents. The post is essentially a guide to throwing the exact same wedding (if you have access to the resources necessary) and includes links to some of the vendors.
• The couple went on their first date at one of acclaimed chef Mario Carbone's restaurants, so they had him cook for the wedding.
• The celebrities in the pictures are not listed, presumably since their inclusion is just totally normal and chill. In one pic, Cameron Diaz sits next to Gwyneth as they get their makeup ready for the big day (leading us to wonder if Cameron was in the bridal party). In another, Robert Downey Jr. seemingly gives the wedding toast. No big deal.
• Steven Spielberg was photographed carrying a camcorder.
• Gwyneth wore a Stella McCartney jumpsuit (with a cape!) for the reception.
All in all, the wedding looked truly lovely — and was extremely on-brand.