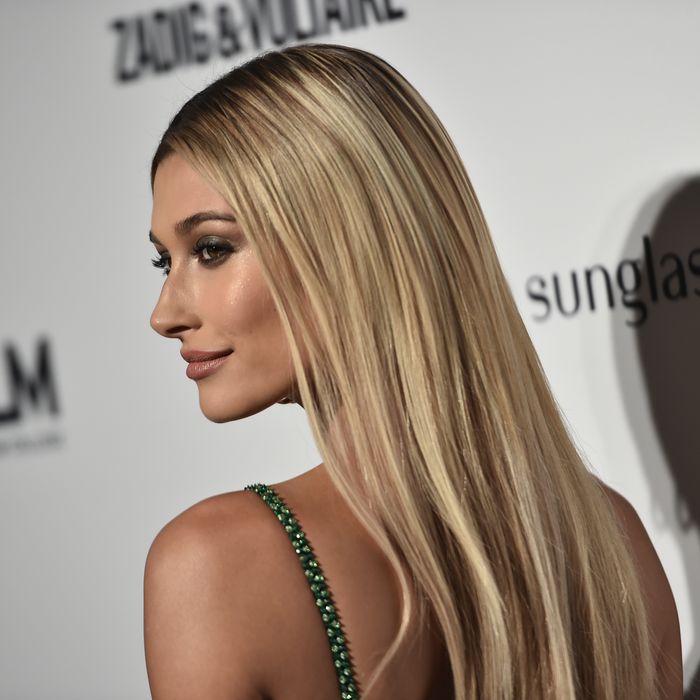 First comes love, then comes marriage, then comes changing your name on Instagram. Hailey Baldwin further solidified that she married Justin Bieber when she changed screen name and her handle on Instagram over the weekend. She is now @haileybieber, a username that probably was difficult to get away from a dedicated fan account.
According to TMZ, Justin Bieber was involved in the account makeover, pulling strings over at Instagram to make the change. Along with the name change seems to come a bit of rebranding: Her display name on Instagram is now Hailey Rhode Bieber, and her bio reads "Hailey Rhode — IMG Models Worldwide." The name definitely carries a certain amount of refinement, and she has reportedly trademarked it. Justin also utilized his middle name for branding purposes: he is releasing a clothing line called "Drew."
The name change is definitely better news about Hailey's Instagram account than last week, when she accidentally followed a Selena Gomez fan account, and quickly had to unfollow.
The name change closely follows Bieber making his own declarative statement on Instagram, calling Hailey his (awesome) wife in a post last week. TMZ also reported that Hailey was seen wearing a denim jacket with "Bieber" emblazoned on the back in New York City on Thursday, further evidence that she's adopted his name in her real life, not just online.
The couple had a weepy, romantic summer, filled with stops at ice cream shops and bike rides through central park. Their relationship has carried on strong through the fall — they got their marriage certificate sometime in September, though they haven't had a formal ceremony yet, Hailey said that there are plans for a wedding in 2019. Until then, they are still embarking on tear-filled outings, now at Harry Potter themed bars.
Congratulations to the Biebers!