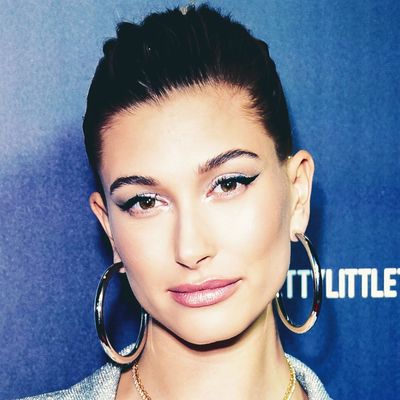 Hailey Baldwin.
Photo: Presley Ann/FilmMagic/Getty Images
Turns out no matter how hot, rich, and famous you are, you'll never overcome the desire to creep on your current partner's exes, as revealed to us by Hailey Baldwin, who got caught following and then unfollowing one of Selena Gomez's fan Instagram accounts. And then she … admitted to it!
Way back before she and her husband, Justin Bieber, were Frenching all over the world, Baldwin loved Bieber and Gomez's relationship, even tweeting "I'm for sure 100% team #Jelena" in May 2011. While much has changed since she was publicly proclaiming her support of Jelena — she freaking married Bieber — Baldwin apparently still looks at photos of Gomez on Instagram. And, on Thursday, she lived through a universal nightmare: She accidentally followed @houseofsel, a Selena Gomez fan account.
Both Gomez and Baldwin's fans were quick to notice the follow, and Baldwin was even quicker to unfollow. But then, as Instagrammed by the fan account, Baldwin DM'ed @houseofsel to sweetly (and unnecessarily) apologize.
"hey followed you by accident so sorry!" Baldwin messaged the account owner, who thinks Baldwin seems "nice and sweet."
Clearly, the social-media mishap either didn't phase Bieber or didn't cross his radar, as he called Baldwin his wife — and an "awesome" one, to boot — on Instagram for the first time yesterday.