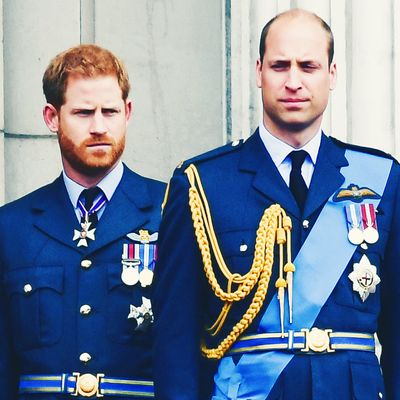 Meghan Markle, Prince Harry, Prince William and Kate Middleton.
Photo: Anwar Hussein/WireImage
Just last month, the tabloids were fawning over Meghan Markle and Prince Harry's royal tour (and the news that the couple is expecting their first royal baby). There was also excitement about Kate Middleton's return from maternity leave and the possibility of the most elusive royal family member, the infant Prince Louis, finally making a public appearance again (which he eventually did). But oh, how quickly the tides have turned. Now, the tabloids keep pushing rumors of "tension" between the millennial royals — Prince William, Prince Harry, Kate Middleton, and Meghan Markle — with stories about tears, temper tantrums, grandiosity, and … erm … working too hard.
Whether you believe these reports is one thing (we get into what might be going on behind all these stories here), but in general, it's tough to keep up with the nonstop insanity. So here's a running list of the recent dramatic reports about the royals to help you gather your thoughts.
• October 26: Writing for the Daily Mail, Robert Jobson (who wrote a biography of Prince Charles for his 70th birthday on November 14) claimed that Prince Charles was upset his sons Prince Harry and Prince William didn't talk about him in a Princess Diana documentary.
• October 28: The Daily Mail publishes several more pieces by Robert Jobson. In them, he (respectively) claims Prince William is "difficult" or "grand" and that Prince Harry had a temper tantrum before his royal wedding. Jobson also claims Queen Elizabeth and Meghan Markle had some hat drama one time, because Meghan did not understand that the queen wanted her to wear a matching hat. Then Jobson states that Prince William and Prince Charles had a disagreement over Buckingham Palace's ivory and, finally, he also calls Prince Harry "publicity hungry."
• October 28: The Times reports Prince Harry and Prince William are considering splitting their courts (a.k.a offices). According to the report, the brothers now have their own families and different royal responsibilities, so the split seems to make practical sense.
• November 1: Vanity Fair publishes a cover story on Prince Charles, for the future monarch's 70th birthday. Written by James Reginato, it features some not-so-subtle shade about the fact that Prince Charles carries out more royal engagements than his sons.
• November 10: The tabloids report Meghan's previously unknown personal assistant quit after six months, in a sudden departure.
• November 12: The Sun reports three of Prince Harry and Meghan's staffers have left since the royal wedding.
• November 17: The Daily Mail publishes a piece claiming royal aides are frustrated with Meghan's "West Coast" work ethic. She reportedly sends six texts with ideas about work each day, and wakes up at 5 a.m. The horror.
• November 23: The Sun breaks the news that Prince Harry and Meghan will be moving out of Kensington Palace and into Frogmore Cottage on the Windsor Castle property. In the report, a source tells the tabloid, "There has been a bit of tension between the brothers. Now Harry and Meghan don't want to live next to William and Kate and want to strike out on their own."
• November 24: A Daily Mail report suggests the move stems from tension between Kate and Meghan. But that same day, a different Daily Mail report says, nope, there hasn't been any dramatic falling out between the two women; the move just makes sense so that Prince Harry and Meghan can raise their child out of the spotlight. Interesting contrast. But the same (second) report calls Prince Harry "dictatorial" and Meghan "opinionated."
• November 26: The Telegraph reports that Kate Middleton cried during a fitting for Princess Charlotte's bridesmaid dress with Meghan Markle. It's unclear what led to the crying — Kate had just given birth to Prince Louis and is said to have been (understandably) "emotional" — but subsequent reports about this alleged incident are framed in a way that makes it seem that whatever happened is Meghan's fault. The Telegraph also notes that Prince William, Prince Harry, Kate, and Meghan all left Prince Charles's recent 70th birthday party early.
• November 26: Writing for Vanity Fair, royal reporter Katie Nicholl says there isn't any tension between Kate and Meghan — they just simply aren't close. Moreover, she reports that Prince Harry and Prince William had a tiff when Meghan first came on the scene — Harry reportedly felt his brother wasn't being welcoming enough, but then the Cambridges invited the future Sussexes to stay with them for Christmas last year.
• November 27: LaineyGossip points out that the Meghan/Kate crying report may have some questionable origins. Elaine Lui writes:
"Rumour around London today is that it's well known among royal reporters that this most recent story, that allegedly came out of Robert Jobson's research, about Meghan making Kate cry, was supposedly pitched to two publications that turned it down because it couldn't get past legal before it landed at the Daily Telegraph."
• November 28: People reports Prince Harry feels "very imprisoned" at Kensington Palace, and "can't wait" to move out.
Since these dramatic royal reports just keep on coming, we'll be sure to update this post when more inevitably come out.