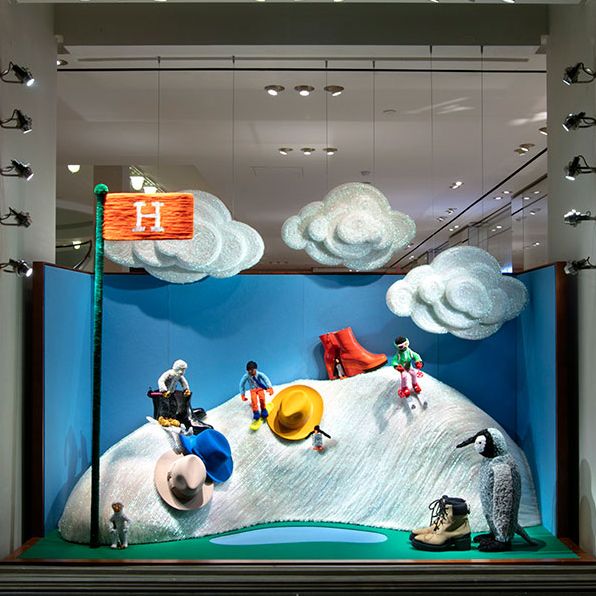 A display at Hermès's holiday windows .
Photo: Skot Yobauje
You can keep your crystals, your wooden nutcrackers, and your rotating mannequins — the coolest holiday windows this year are made out of pipe cleaners. Hermès unveiled its new holiday windows that look like a diorama of Yuletide fun. The Hermès flagship on Madison Avenue in New York features a delightful pipe-cleaner wonderland of businessmen playing mini golf with aliens and women in Hermès scarfs and Birkin bags. Another vignette shows people skiing around obstacles like Hermès caps and giant penguins.
The windows, dubbed Playing Through; Another Trip Around the Sun, were designed by artist Don Porcella. He was inspired by his love of science fiction, Coney Island, and action figures. A statement from Hermès said the playfulness was intended to make people "laugh at themselves and the human condition." How refreshing.
Hermès will also be unveiling another installation on the other coast, over at the Beverly Hills flagship. This one will be designed by Lucy Sparrow, and unveiled on Tuesday, November 20. Sparrow designed a carousel horse for the store, as well as a claw machine and a candy bar. Unsurprisingly, she was also inspired by childhood memories like Coney Island and visiting beach resorts in England. See more from New York below, and check out the windows in person at 691 Madison Avenue.