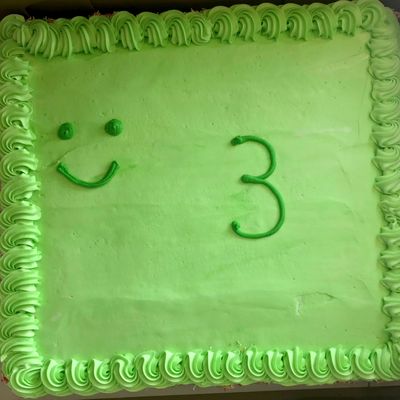 Photo: Shane Hallford/Caters News Agency
For far too long, cakes have been judged by how large or elaborate or meticulously decorated they are. That's why I'm coming forward to say that this cake — which has alternately been described as a "disaster," "pathetic," and a "fail" — is perfect just the way it is.
The cake in question was purchased at a Woolworths grocery store in New South Wales, Australia, by Shane Hallford for his son's frog-themed third-birthday party. In a now-popular Facebook post, he explained that he and his wife asked for "a Frog face and a number 3 and we were informed that it was possible." (Technically, that's what they got!)
Woolworths has since refunded Hallford and his wife the $50 they paid for the cake, and the couple said that a friend stepped in to alter the cake at the last minute before the party.
A masterpiece, destroyed.