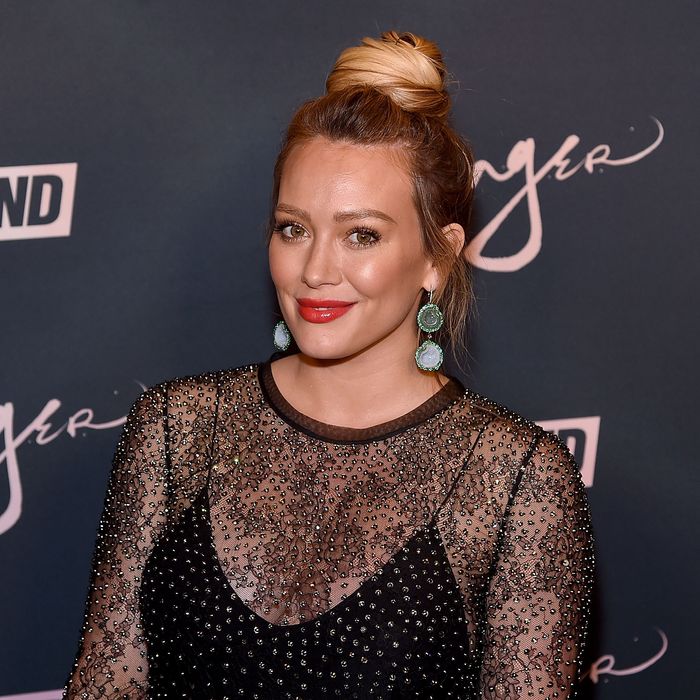 Hilary Duff.
Photo: Jamie McCarthy/Getty Images
Hilary Duff, star of Younger and also Lizzie McGuire, just gave birth to her second child, a daughter. It is her first child with boyfriend Matthew Koma. The baby girl is named Banks Violet Blair, and she was welcomed into the world with a lot of love.
More than we initially realized, actually. In a new interview on the podcast Dr. Berlin's Informed Pregnancy, Hilary revealed that she drank a smoothie made of her own placenta.
Hilary called it the "most delightful smoothie I've ever had … I haven't had a smoothie that delightful since I was like 10 years old. She said that "it was calorie-filled with juice and fruit and everything delicious."
That's not all. She also had the rest of her placenta made into ice cubes that she could use for other "treats," according to E! News. She said the she declined to turn her placenta into pills, which apparently a popular course of action post birth. "I heard something weird about the pills," she said. "I heard placenta burps are not ideal."
While studies have suggested that women should probably not consume their own placentas, that doesn't seem to be slowing down the trend. Hilary seemed to enjoy the smoothie so much that maybe the health benefits and risks aren't major deciding factors. Maybe she just wanted a good post birth snack. (For the record there are plenty of other great options to fill this need, like ice cream and doritos.)