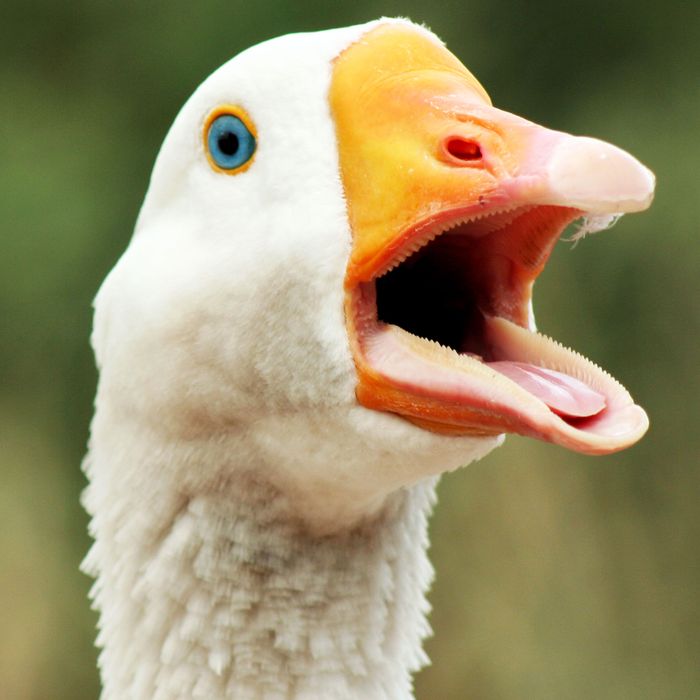 Honk.
Photo: Kimberly Hosey/Getty Images
Twitter is a cesspool of incessant bad news, political conspiracy theories, abusive users, and, of course, rampant horniness. People are horny for politicians, for animals, for friends and strangers alike. Their collective horniness is unyielding and knows no bounds.
One Twitter account is dedicated solely to bringing attention to this constant stream of depravity, one honk at a time. Meet: Horny Reply Watchgoose, the fictional goose trained to honk at horny tweets.
Horny Reply Watchgoose was started in June 2018 by Veronica J., a 20-year-old woman based in California, and conceived as joke based on the Racism Watchdog account. "One of the reasons I started the goose was that I was tired of people being weird and horny at me and my friends and I thought the goose could be a way to discourse it," she explained. "The other reason was because people told me to do it and I thought it would be funny and that's all it takes." She currently runs it with Abdullah, a 22-year-old based in Pakistan.
In the wake of a record-breaking horny tweet about Congressman Beto O'Rourke, the Cut emailed with Veronica to learn more about Horny Reply Watchgoose.
What makes a tweet horny enough that it's worth honking at?
If the goose honked at every horny tweet on Twitter, we'd have to have a full-time staff of trained horny experts honking round the clock just to keep up with the replies to blonde Republican women, so we have to be selective. When I'm honking I try to look for tweets that are either funny to read on their own, or they're funny in the context of what they're replying to, like the guy thirsting over Sarah Palin selling skinny tea.
Why do you think people are particularly horny on Twitter?
Twitter is interesting because you can stay anonymous (unlike Facebook) and you can post sexually explicit content (unlike Instagram). People also tend to be more open on Twitter than on social-media sites that are based around family and real life connections, and this can breed a false sense of familiarity and a lack of boundaries. You can read someone's tweets for a long time and feel like you know a person, but some people don't realize that for them it's one-sided and that they're a total stranger to the person they just asked to crush their head like a watermelon with their thighs.
I'm guessing most of the tweets you see come from men, right? What are the biggest differences you see, tonally, in tweets between horny men and women?
Lots of men wild out because they've generally been socialized to find it more acceptable, but women can and have been just as wildly inappropriately horny as cis men. I think the difference is that women tend to be more subtle about it (not always) and it's more likely to be reciprocated (not always).
This week brought a notably horny tweet about Beto O'Rourke. Can you talk a bit about your reaction to it? Walk me through what it was like coming across it.
I think I first saw the leg cramp tweet when it got sent to four of my group DMs simultaneously and then seeing it on my timeline for 18 hours straight. The tweet itself honestly isn't too bad compared to some I've seen, but the fact that it's about real people who are politicians brings it to the next level. If this tweet was about the Avengers or something it'd still be a wild thing to tweet from a main at 10 a.m. on a Sunday, but at least they wouldn't be able to actually see it. Also, if your calves are cramping during sex you should probably drink water or stretch or something.
Honestly, Beto isn't an ugly guy but would we be seeing this level of thirst if we hadn't been seeing pictures of him for months next to goddamn Ted Cruz? I think it's time for us to stop being horny for politicians. The bar is on the floor.
Do you frequently see horny tweets about politicians? Are they usually about Democrats or Republicans, and what do you think that whole psyche is about? 
I see a lot of politician thirst because in a lot of ways the line between elected statesman and celebrity in American culture has been completely eroded. The most common thing I see is liberals thirsting over guys like Justin Trudeau or Obama or Beto. It feels like a strange relationship to have to a political leader, but people have always been horny for their favorite celebrities. It swings to the other end of the spectrum too, like MAGA ladies saying they'd let Trump grab them by the pussy. And that's just the women.
Conservative men are the goose's bread and butter just because they tend to be so blunt about it. I had to issue a blanket honk for the lady who was posting pictures of herself in a bikini and drinking with straws to trigger the libs because so many middle-aged men fell for it.
As a Horny Reply Goose, how do you feel about people sexualizing the hot duck in Central Park?
Hachi machi, what's his @?
What is the horniest tweet you've ever seen?
I can't think of the horniest tweet of all time offhand (the brain has ways of protecting itself) but the worst horny tweet I've gotten personally in recent memory was when I asked my followers what dumb thing I should do when I hit 10,000 followers on my main and a fully grown man followed me and immediately suggested "figging," which when you skin a piece of ginger and shove it up your [Ed. note: use your imagination] to cause a burning sensation. Literally the first thing this man ever said to me. Even in a consensual BDSM relationship that's really more of a fifth date thing.
At this point, the goose has scared away a lot of my horny repliers but the ones that are left are like cockroaches.
This interview has been edited and condensed for clarity.