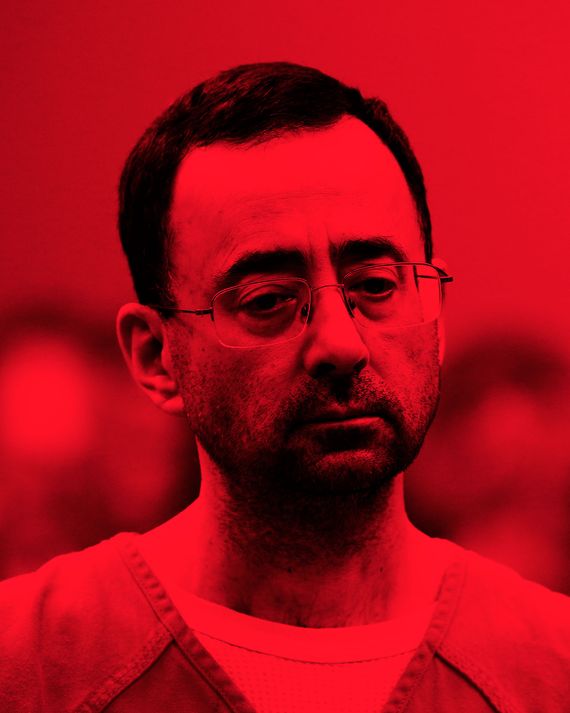 Larry Nassar at Ingham County Circuit Court on November 22, 2017.
Photo: Jeff Kowalsky/AFP/Getty Images
Larissa Boyce was 10 when her coach, John Geddert, forced her legs into a split so hard she cried. He pulled her right leg up toward his torso, sending shooting pains through her groin and hamstrings, and he kept pulling. "Racking," as it's called, was common practice at the gym, but it was evidently too much for Larissa's mother, who marched onto the mats and told Geddert to take his hands off her daughter. From then on, Larissa would train under Kathie Klages, a relatively low-key coach with unruly red hair and glasses at Michigan State University's Spartan youth gymnastics team. Klages, like Geddert, considered herself a dear friend of an athletic trainer named Larry Nassar and sent her gymnasts to him.
When, six years later, Larissa felt ready to talk about the fact that Larry had penetrated her with his hand without warning, she approached Klages. Larissa remembers her office as a small room with a desk, a window, and green carpet. "'I have known Larry for years and years,'" Larissa recalls Klages saying. "'He would never do anything inappropriate.'"
Larissa named another gymnast who had been touched, and when Klages called her into the office, she told her the same story. Klages countered by bringing in college gymnasts, who said that Larry had touched "around" the area but that it was never "inappropriate."
"That's not what happened to me," Larissa said. Klages, who has been indicted for allegedly lying to police about this and another such instance, maintains that no one ever came to her with complaints of sexual abuse.
According to Larissa, Klages said she could report the allegations but doing so would have "very serious consequences" for both Larry and Larissa. Larissa couldn't look at Klages, so she stared out the window. She didn't want to get anyone in trouble. Afterward, she cried in the bathroom and resolved never to tell anyone again. She worried that Klages would tell Larry.
The next time she went to visit Larry, he closed the door, pulled up a stool, sat down, and looked at her. "So," he said, "I talked to Kathie."
"I'm so sorry," Larissa said. "I misunderstood. It's all my fault."
It was 1997. Most of Larry Nassar's victims had not yet been born.
It has by the fall of 2018 become commonplace to describe the 499 known victims of Larry Nassar as "breaking their silence," though in fact they were never, as a group, particularly silent. Over the course of at least 20 years of consistent abuse, women and girls reported to every proximate authority. They told their parents. They told gymnastics coaches, running coaches, softball coaches. They told Michigan State University police and Meridian Township police. They told physicians and psychologists. They told university administrators. They told, repeatedly, USA Gymnastics. They told one another. Athletes were interviewed, reports were written up, charges recommended. The story of Larry Nassar is not a story of silence. The story of Larry Nassar is that of an edifice of trust so resilient, so impermeable to common sense, that it endured for decades against the allegations of so many women.
If this is a story of institutional failure, it is also a story of astonishing individual ingenuity. Larry Nassar was good at this. His continued success depended on deceiving parents, fellow doctors, elite coaches, Olympic gatekeepers, athletes, and, with some regularity, law enforcement. Before getting caught, he managed to abuse women and girls whose names you know — Simone Biles, Aly Raisman, McKayla Maroney — and hundreds whose names you don't.
As of November 5, it looks likely that Nassar has destroyed the sport's governing body, USA Gymnastics. In an open letter citing the "struggle to change its culture," the U.S. Olympic Committee began the process of decertifying USAG, which withheld knowledge about Nassar from its members for over a year and whose former president was recently arrested by U.S. Marshals for disappearing Nassar-related documents. The organization is being sued by hundreds of accusers represented by "37 or 38" law firms, according to the lawyer charged with organizing them; it's hard to keep count.
Nassar has pleaded guilty in three separate trials and been sentenced to a collective minimum of 100 years. Michigan State University has settled with 332 women for half a billion dollars. Karolyi Ranch, the dated, isolated training camp where Olympians were required to see Nassar, has been shut down. Yet strangely little has been said about the man, his strategies, his undeniable and persistent success in serving his own needs. One can read news reports for hours about athletes and judicial process and, inescapably, the triumph of "finding a voice" without being informed of what, precisely, this man had done to any of the athletes whose voices required finding. News broadcasts are hard to parse: a dozen medal-winning gymnasts, of three different generations, "speaking out" about what was typically and unspecifically called "abuse" but that many of them had understood to be "treatment." There are logistical questions. How had he molested girls who were never alone with him? What, precisely, motivated coaches and administrators to protect him — at great risk to themselves? With what rhetorical magic had he argued himself out of complaint after complaint?
Nassar is neither charismatic nor smooth; he is nerdy, a little awkward, a little "Inspector Gadget," as one gymnast put it. He is a man who laughs a lot and snorts when he laughs. He tells dad jokes and never dirty ones; his voice is nasal and his patter never-ending. His talkativeness, particularly on technical matters relating to the body's response to injury, can verge on excessive, even logorrheic. "Sometimes," says a former colleague, "it was like, 'Okay, Larry, that's enough, got it.' " Yet he projects such kindness, such determined, tireless selflessness, that people around him are rendered inarticulate when they attempt to express his essential benevolence. "He was such a kind man," says the father of a girl Nassar abused many times, his voice bright with incredulity. "I really cannot say enough good about Larry, because he is just a wonderful man," Nassar's neighbor Jody Rosebush told the Detroit News last year after the allegations emerged. He had helped shovel snow; he had rushed across the street in bare feet when she'd had a sudden medical issue. "He will do anything in the world for anybody. We all love Larry. We really, really love Larry." Jessica O'Beirne, the host of a podcast called GymCastic and perhaps the most biting editorialist about Nassar and his myriad enablers, had him on the show before the allegations were made public. "I just love Larry Nassar," she said by way of introduction. "He's totally amazing … He's just amazing. I think he's awesome. And that's from personal experience. He's just … he's great."
Much-loved Larry placed himself in a position of authority in the least-monitored space full of children and proceeded to become the most successful pedophile in sports history. Beyond the choice of medical school, the apparent research interest in the sacrotuberous ligament, the intense focus on a world populated by 11-year-old girls, the useful belief in alternative therapies, there was also this: his incredible brazenness. Nassar molested young girls in his office while their fathers watched. He molested elite athletes under blankets in busy gyms teeming with people. Even a paranoid parent would not have perceived a meeting with a doctor in an open gym, a few feet away, to be an encounter requiring vigilance. Your daughter was safe because you never left her side. When mothers might have a moment of pause, a flicker of suspicion, there was the reassuring thought that no man would try something right in front of them.
"It's like that story," the mother of a gymnast tells me, " 'The Emperor's New Clothes'? It's been a while since I've read it, but I believe it was a little child who finally says, 'Doesn't anybody know that the emperor has no clothes on?'"
It was a little child who alerted the townspeople in Hans Christian Andersen's story, but upon reflection, "The Emperor's New Clothes" demonstrates precisely the opposite lesson of that learned through the decades-long saga of Larry Nassar. In order to be heard, the little child does not need to age 20 years, join a chorus of other adults telling the same story, and be corroborated by digital evidence of the king's depravity. The king, in Andersen's story, is immediately exposed. The story of Larry Nassar is that of a man more skilled at deception and a world more credulous.
Trinea Gonczar, now 37, is the oldest of three in an athletic family and the most intense. At 6 years old, just starting out at Twistars — the gym owned by John Geddert, who had forced Larissa into a split — she looked at her mother and demanded to know why she hadn't been put in gymnastics earlier. Three years later, the gym was her entire existence outside school and the only social life that mattered. "Those girls just melted into one another and became one," says Dawn Homer, Trinea's mother, a tall, soft-spoken woman and founder of a medical-billing company. "They were one another's best lives. It was like a cult, and I don't say that in a bad way." Trinea's sisters excelled at volleyball and basketball; Dawn noted that there was less cultlike intimacy on these teams. When Trinea was selected for Geddert's team at 9 years old, Dawn was required to attend a meeting. "One hundred percent of the girls will be injured," she recalls a coach saying. "But we have a trainer right here."
Larry was, in Trinea's words, the "dorky escape from John," John being a man you'd need to escape from because he might, in a rage, twist your arm, shove you against a wall, and call it, as he did five years ago in conversation with police, a "discipline meeting." (A prosecutor later ordered Geddert to undergo counseling.)
"I don't have a good reference to compare him to," Trinea says. "I don't know another coaching style. We won. We were good. John made a good product. We were hand-selected. You were picked. Measured. Your toe point was measured, your muscles were measured, your splits were measured."
Gymnasts were afraid to disappoint Geddert, afraid to admit to injury lest they be accused of lying. By contrast, Larry was unfailingly reassuring: He had a plan to make you better, a series of discrete steps to get you back on the mat. He knew what was wrong, had likely "attended a conference" or "given a lecture" on precisely the injury in question, and knew how to fix you. You might feel hopeless, but your career as a gymnast was not over. He pushed girls to talk about their goals, their dreams of gymnastic greatness.
Dawn Homer and other parents recall being moved to tears as Larry promised their worried girls that they'd continue to be the athletes they were meant to be.
In 1990, when Trinea was 9, her hip began popping out of its socket whenever she was on bars. Larry suggested that she needed more work than he could provide in the gym and asked if she might come over to his apartment with her mother. Trinea knew this invitation was considered an honor among the other 9-year-olds with whom she spent all her time, and she was proud.
When she arrived with her mother, another girl was leaving. Larry had filled his bath with ice water, and he left the room while Trinea undressed and lowered her shivering body into it. On the toilet, an egg timer ticked through 14 minutes. She flipped through a USA Gymnastics magazine he'd left by the tub. When she came out, in shorts and a T-shirt, he gestured toward a table in the living room.
There was a chair a few feet away, by the television, where Dawn sat that day and many, many days afterward. It was angled such that she could see only Trinea's head and shoulders. Larry maintained a steady, quick patter with Dawn through the treatment. He asked about her other girls. He told them about his plans to move beyond athletic training and go to medical school; he wanted to be a doctor like his grandfather.
Trinea — 60-odd pounds, curly brown hair (it was 1990, and it was a perm), hands ripped from bar work — was all muscle. When she showed the neighborhood boys her six-pack, they told her she looked like a Teenage Mutant Ninja Turtle, which she did not take as a compliment. Like Nassar, she was a talker; at the mall, she greeted every single person until her mother told her to stop talking to strangers. Nassar bent her knees, placed her leg over her hip, turned her over, and placed her on her stomach. He moved the table, with her on it, while he worked. While she was on her stomach, out of her mother's view but without breaking the flow of conversation with her, he penetrated Trinea with his ungloved hand.
"Anytime she is in pain," Larry said to Dawn, "no matter what time, what day, you call me and I will get her in for treatment."
It was true; he always did. Larry spent hours teaching Dawn how to tape Trinea's shins. He came over to the house for dinner.
"Larry fixed my ankles," Trinea says. "He fixed my shins. He fixed my knees. He fixed my shoulders. He fixed my wrists. We called it 'the magic of Larry' — he could fix you so you could compete. And I always wanted to compete."
"We had the best clinic available to us for gymnastics injuries that anyone in the world could have. We had the best," says Dawn. "We were so lucky."
At Twistars, the idea of family was more than notional: Larry proposed to another athletic trainer at the gym and asked Geddert to be a groomsman. Trinea attended the wedding and thought Nassar's bride the luckiest woman in the world. When Trinea was 15, a cyst ruptured on her ovary and she required surgery; it was the Nassars standing over her as she opened her eyes.
In the late '90s, another gymnast came to Trinea and said Larry had penetrated her with his fingers. She was looking for corroboration, support for her intuition that something was not right. It's a scene Trinea plays over and over in her head. "He does that to me  all the time!" she said lightly, happy to be in the position to comfort someone. "You're fine." Trinea's lawyer estimates that she was molested 856 times.
Nassar's interest in women's gymnastics extends deep into his history, which matters because there are two stories one can tell about Larry Nassar: a man who drifted slowly into darkness and a man whose career goals were structured by desire. In high school and college, Nassar was an athletic trainer, essentially an on-site EMT for athletes, taping and icing and bandaging. By the late 1980s, he was working with USA Gymnastics, Michigan State University, and John Geddert. He worked regional and national meets, shook hands, and dealt with injuries as they arose.
"He was tireless in taking care of the kids," says William Sands, the research scientist who has probably published the most on the sport of gymnastics in exercise medicine and someone Nassar considered a personal hero. "He was up early and went to bed late. He would do anything for an injured athlete. He was an astonishingly giving person."
Who was paying him to be at all these meets remains unclear because the people who can elucidate these economic relationships tend to be themselves subject to ongoing legal action or are employed by the legal quagmire that is USA Gymnastics. But a word that emerges frequently in conversations about Nassar is volunteer. He volunteered, for instance, at Geddert's gym 20 hours a week. He volunteered at the 1987 Pan-American Games and volunteered at the 1988 Olympic trials. According to Sands, Nassar maxed out two credit cards working his way up, cementing a reputation as someone who could identify an injury, concoct a plan, and get an athlete back on the floor. Liked and trusted and ever present, he knew the body and knew the sport. Whereas another doctor might ban an injured athlete from competing altogether, Nassar could tell her which tricks were still safe to perform. He was, by almost all accounts, good at what he did.
By the late '80s, Nassar had decided to become an osteopathic physician, which entails being trained in osteopathic manipulative therapy, learning to move a patient's joints and muscles in ways said to relieve pain and dysfunction. OMT is based on the intuitively appealing but largely unsupported idea that a wide array of diseases spring from musculoskeletal irregularities, and one therefore expects to be touched differently by an osteopath than by an M.D.; one expects to be folded and bent and cracked. Manipulated. He chose, too, to practice alongside athletes in contexts that lacked the intermediary structures of a traditional doctor's office — receptionists, insurance companies, medical records. After his residency, he was named the national medical coordinator for USA Gymnastics, the organization responsible for selecting and training Olympians.
If you're old enough, you remember watching Kerri Strug hurl herself in the air, land hard on a badly injured ankle, collapse, and guarantee all-around gold for the American team. This was taken at the time to be evidence of athletic heroism and American grit, fodder for sponsorships and presidential photo ops and write-ups in which it was not mentioned that her vault had been, in the end, unnecessary; the team had the scores to win. But stick with the camera a bit, beyond memory, and watch coach Martha Karolyi carry a crying Strug toward a young, dark-haired physician. This is the moment Nassar becomes "the Olympics doctor," the man who cares for the athletes millions of children aspire to be, and his access to girls widens inexorably, constrained only by the number of minutes in the day.
The prestige conferred on Nassar by his volunteer position at the Olympics, by both the parents of gymnasts and clinical sports medicine in general, is hard to overstate and hard, from the outside, to understand. That Nassar was an inexperienced physician who had just finished his residency in '96 did not seem to matter, because in sports medicine the caliber of athlete one treats is taken to be correlated with curative power. Hospitals pay millions of dollars for the privilege of treating sports teams; UC–San Diego Health, for example, pays $1 million to treat the Padres.
Nassar covered the walls of his office with signed pictures of Olympians and gave girls he favored Olympics patches, pins, and jackets. Parents interviewed for this article come from diverse backgrounds and have daughters at very different levels of gymnastics competition, but they all once shared an astonished gratitude that Nassar would even see their kids. The circular quality of this claim to competence became clear in the testimony of parents of actual Olympians; they too were told their kids were lucky to see Larry, who wouldn't be in his position if he didn't know what he was doing. Whether they believed this or not, they were required to leave their kids for weeks in Huntsville, Texas, at Karolyi Ranch, where the showers were moldy and the blankets stained and the food so bad the kids were always hungry; where there were no parents, and cell-phone service was spotty, and Nassar would knock on their doors at night, bearing candy, to treat them in their beds. If this was drift, it was drift straight into the least-monitored space full of young girls, into a position of authority requiring a decade of career building, in a specialty that allowed him particular latitude.
The trick was to establish traditional medical credibility and then get weird. A mother we'll call Jane began bringing her gymnast daughter, Kate, to Nassar when Kate was 8 and suffering from back pain. Larry diagnosed her with spondylolisthesis, a spinal disorder. When a pediatric spine specialist confirmed the diagnosis, Jane, who has some medical training, was impressed that Larry, a generalist, had caught it. When he started using cupping — a practice in which suction is said to release muscles — she went with it. When he invited them over to his house to administer manipulations to Kate in his basement, she went with that, too.
William Sands, the scientist Larry idolized, was at Karolyi Ranch doing research when he walked in on Larry inserting acupuncture needles into a gymnast's back. "I rolled my eyes and walked out," he said. "This is such a crock of pseudoscientific bullshit that I don't want anything to do with it. And cupping? Give me a freaking break." Sands was so offended he cut off contact.
Alternative treatments, along with frequent references to presentations given and conferences attended, lent Nassar a useful air of the creative scientist. Who knew what he would try next? But his best cover — the story that would get him out of police stations and back into exam rooms — was not in fact pseudoscientific bullshit. As his career progressed, he began to develop a research interest in the musculature of the pelvis: the sacrotuberous ligament in particular. He developed, for instance, two PowerPoint presentations called "Pelvic Floor: Where No Man Has Gone Before" and "Pelvic Floor: The Final Frontier." He was associating himself with evidence that back and hip problems can be addressed through pelvic-floor physical therapy, which is, according to J. Welles Henderson, an OB/GYN and clinical professor specializing in pelvic disorders at University Hospitals in Cleveland, "mainstream medicine," "a first-line treatment," and "backed by 30 years of well-established research" on patients with weak or spastic pelvic floors. (Sands, for his part, still considers it a "crock of shit.")
There is, according to Rhonda Kotarinos, a pelvic-floor physical therapist and the author of several studies on the subject, a correlation between pelvic-floor dysfunction and strenuous exercise in young female athletes for reasons that remain speculative but may have something to do with the way developing the glutes over-recruits the pelvis, leading those muscles to shorten. Pelvic pain not uncommonly presents as lower-back pain. It would not be out of the ordinary for a trusted, almost always female specialist in pelvic disorders to enter the vagina, palpate the levator ani against the grain of the muscle fiber, and look for painful trigger points that suggest the muscle has lost the capacity to fully elongate or shorten. Opinions vary on whether PFPT is an appropriate treatment for young women, but unambiguously damning was the fact that Nassar hardly ever explained what he was doing, never gained consent, never used gloves, and found it necessary for ankle and knee injuries. He did not use the phrase "pelvic-floor physical therapy"; when he did explain himself, which was rare, he called it "myofascial release" or "intravaginal adjustment."
He didn't call it anything when he molested Chloe Myers, another young woman who was suffering from debilitating back pain with a bent coccyx and facet-joint syndrome. He covered Chloe in a blanket and positioned himself between her and her chatty, outgoing mother, Kristen, a few feet away. It wasn't until he stopped and washed his hands that Kristen wondered where his hands had been. It occurred to her that he wouldn't have to wash his hands if he had merely been touching her daughter's leg. It occurred to her that if he had done an internal exam, she would have expected him to wear gloves. In the car on the way home, Chloe said that his hands had been "way up in there" and that it had been uncomfortable. Kristen was alarmed. But Chloe also said she felt much better. She continued to feel better every time she went back.
Like many women and many parents of female athletes, Kristen knew of treatments that involve vaginal penetration; Chloe's chiropractor had mentioned something. "I did know there was a legitimate treatment that could help, internally, like an internal adjustment," she says. "I was aware of it. And this was Larry. So it was no big surprise that he was trying some kind of alternative treatment."
Some women were surprised. Directly after Nassar touched her in 2004, 17-year-old Brianne Randall filed a complaint with Meridian Township police and had a rape kit administered at the local hospital. Detective Andrew McCready called Nassar and asked him to come in for questioning, which he did. Nassar told McCready that he had indeed touched Brianne's perineum, that it was part of a treatment called "sacrotuberous-ligament release," and that the treatment was "published in medical journals and training tapes." He also gave McCready his PowerPoint presentation on said ligament, in which he is pictured cupping a girl's buttocks and pressing near a girl's vulva. McCready then called Brianne's mother to tell her the case would be closed and that "no crime was committed."
When, in 2014, cheerleader Amanda Thomashow reported an assault to one of MSU's Title IX investigators and university police, the latter launched an investigation and referred the case to prosecutors for review. The office of Ingham County prosecutor Stuart Dunnings concluded that the prosecution "would not be able to sustain [its] burden at trial" and declined to prosecute. Dunnings was later charged, imprisoned, and disbarred for soliciting prostitutes.
MSU Title IX investigator Kristine Moore launched her own investigation. She interviewed three osteopathic physicians and one athletic trainer. All four found Nassar's conduct to be medically appropriate. All of them worked for MSU and knew Nassar personally. Dr. William Strampel, the dean of the College of Osteopathic Medicine at MSU, instructed Nassar to have a chaperone in the room and avoid skin-to-skin contact, though he never enforced these new rules and Nassar would not follow them. Strampel has since been arrested and charged with, among other things, sexually harassing and groping female medical students.
Thomashow, concluded Moore, failed to understand the "nuanced difference" between osteopathic manipulative medicine and sexual massage. "Dr. Nassar has presented on this nationally and internationally," reads the Title IX report, "has videos posted to the web that explain the procedure, and is widely known for this work … We cannot find that the conduct was medically inappropriate and thus cannot find it was sexual in nature." That "videos posted to the web," presentations, and PowerPoints are distinct from peer-reviewed publications seems not to have occurred to MSU, the Ingham County prosecutor's office, or Meridian Township detectives; nor does the idea that people Nassar has worked with, and in some cases mentored, are poor sources of objective testimony. This was not stellar police work, but it was the level of investigatory prowess available to the women of Michigan, and it was precisely the level of scrutiny Nassar's cover was designed to weather, right up until the day a former gymnast named Rachael Denhollander emailed the Indianapolis Star.
When the Star broke the story, in September 2016, and all of elite gymnastics read it, not a single person interviewed for this piece believed that Denhollander and a second, anonymous accuser had been assaulted by Nassar. Dawn Homer asked Trinea Gonczar whether Larry could be capable of such a thing, and Trinea said, unreservedly, "No." She waited patiently for medical experts to come forward and defend the practice.
"They're describing," Chloe Myers told her parents, "the exact same treatment I was receiving." It had helped her back pain, she reasoned, and thus was legitimate. "They weren't remembering right," Chloe's father concluded. Nassar asked his colleague, fellow osteopathic physician Steven Karageanes, to lend him his support, and Karageanes said he would.
Parents concluded that Nassar had, in his boundless generosity — all those extra appointments in his home, free of charge — "put himself in a bad position" and allowed his treatments to be "misconstrued." William Sands thought it would all blow over. According to The Wall Street Journal, Dean William Strampel had this to say to students at a meeting at MSU: "This just goes to show that none of you learned the most basic lesson in medicine, Medicine 101: Don't trust your patients. Patients lie to get doctors in trouble." Kathie Klages asked her gymnasts to sign a card that read, thinking of you.
Denhollander's allegations were backed by a growing list of accusers; there were by February 2017 at least 50 complaints to the police. If Michigan was paying attention, it was hard to tell. Parents of gymnasts continued driving their girls from Twistars to his house for treatments. Larry ran for school board, pulled out, and still got 2,700 votes. Not even Larissa Boyce, who had accused him of molesting her in 1997 and been shut down by Klages, believed Denhollander's account. "I had convinced myself," she says, "that it was a medical treatment."
"No one was buying it yet," says Karageanes. "There was no quote-unquote evidence. He had supporters lined up to defend him. It would have taken a monumental effort from the first people coming out to get the public on their side."
Although, much later, the only story line American media would be able to process was one of a "survivor" who had "found her voice" and was ready to "take on" her abuser in open court, it did not appear to be a woman at all who had persuaded those closest to this story, including most of the "survivors," to come forward. It was, rather, a set of external hard drives — tossed to the curb in the trash in the days after Denhollander went public, on a day when the garbage crew was behind schedule, and recovered by a police officer.* Had the crew been on time, had the officer been late, had the warrant come through a day after Nassar decided to dump his digital history on the street, he might still have the support of most of the people he abused.
Healthy people tend not to distinguish between varieties of child pornography or think much about the habits of its consumption, but Nassar's accumulation of more than 37,000 images suggests an unusual level of deviance even among pedophiles. According to a sentencing memorandum issued by federal prosecutors for the Western District of Michigan, these images form a particularly "graphic" and "hard-core" collection, including children as young as infants and images of children being raped by adults.
Here was a fact that one simply could not integrate into the image of a dedicated doctor attacked by confused or malicious women. The story stopped making sense. Mothers struggled to find a way to ask their girls whether they'd been digitally penetrated at the gym. Parents awoke for the first time to the possibility that their daughters' first sexual experience had taken place at the hands of Larry Nassar, often as said parent watched from a few feet away. "Did Larry do anything to you?" Michael Weiszbrod, an affable state administrator, asked his 13-year-old daughter, Ashleigh, a few times, and she shook her head no. He and his wife took this as authoritative until one day, months later, when Weiszbrod found himself watching Nassar's sentencing hearing at work. He was thinking about another physician who worked at the gym, Brooke, whom Larry was training. When he got home, he put down his bag and turned directly to Ashleigh, who was hunched over her homework, legs crossed on the couch. "Did Larry touch you," he asked, "different than Brooke touched you?" Ashleigh was very still, and then she was crying. She had seen Larry at Twistars once a week for three years.
Jane asked Kate, 14 at the time, whether she thought Larry was guilty, and Kate said no. Jane left it alone for a while. Later, in the car, Jane's husband asked their daughter whether she knew what Nassar had been accused of, and she said yes. He asked if Nassar had done treatments to her that "fell into this category," and she said yes. He asked if there had been penetration, and she said, "Dad, this is hard to talk about."
In the light of day, parents thought about the choices they'd made, hearing them in a new and horrifying light. "All of a sudden, the stuff you think is normal coming out of somebody else's mouth doesn't sound normal," says Jane.
It did not sound normal, for instance, that every week after practice, Jane had driven her daughter to a white three-bedroom house with green shutters, next to many identical houses in a development on a quiet street in Holt, Michigan, and taken her to see a man in the basement of that house. It didn't seem normal that he never billed for these visits or that he always had hot chocolate waiting.
"I hear myself telling you this," says Jane, "and I know it sounds crazy. It sounds crazy! But when I was pulling into his driveway, someone else would be pulling out."
A detective told Trinea Gonczar that there were images of little girls in his bathtub — the bathtub in which she had waited, alongside the egg timer — but the detective could not tell her whether she was among them. "That's when I started to think back and go deep into the places I had been with him," says Trinea. "How many times I had been to his house. How many times I had been to MSU. How many times I had seen him at the gym. Realizing that there was probably never a time I didn't have this treatment."
The goodwill Nassar built is so resilient that even now it cannot be wholly erased. Trinea's husband asked her to revise her testimony because it was too kind — people might get the wrong idea. "I don't hate Larry," she says. "I don't want him to be raped and beaten in prison. I feel like the parents of someone who shot up a school. You still love them today like you did yesterday."
"I'm still grateful to him," says Chloe's mother, and her father wonders aloud whether sometimes he really was just performing vaginal treatments in the interest of his daughter, who, after all, says she is "100 percent sure" the treatments she considers abusive helped her back pain every time. "I don't know," he says. "Is it 24/7? So every time he has someone in there? Are there times when he is just doing the treatment?" Says Dawn: "I really believe Larry at some point in his life thought it was the appropriate treatment. I don't know when he went to the dark side and changed it."
Is this their naïveté, or is it ours? Nassar "groomed the entire community," reads a Lansing State Journal piece from January on the town of Holt. At a certain level of psychological reduction, every friendly conversation, every accurate diagnosis, every accommodation was part of Larry Nassar's strategy. Did he shovel the neighbors' snow as part of a plan to gain access to ever more girls? Apart from being an implausibly simplistic picture of a single human mind, this would not even seem to be the ideal psychology for a successful pedophile. A man who takes pleasure in going out of his way for people, who thrives on simple gratitude, who finds actual satisfaction in lifting the spirits of an injured gymnast, is one you risk letting into your life. One you call, as Trinea once did, family.
"Larry," she said on the fourth day of Nassar's sentencing hearing, staring straight at him, voice deep with controlled fury. She had known how young the other accusers would be, but somehow it hadn't struck her until she walked into that room full of them. They were little girls. Her rage was such that she spoke slowly and almost in a whisper: "What. Have. You.
Done." Between sobs she looked him straight in the eye, cocked her head, and raised her eyebrows, a look of profound disappointment and deep familiarity. Larry had sat emotionless, listening to other women he'd abused, for hours prior to this. Sometimes he shook his head, as if to deny their claims. During Trinea's testimony, something changed. He started to shake, and then he started to cry.
"I think his heart broke because my heart broke," she tells me later. "I was worried the other girls would hate me because of his reaction to me." There's pride in her voice, the triumph of having been the one, out of the hundreds, who actually broke through. This may be her win, or it may be his. There are a lot of ways to make a person feel special, and Larry Nassar knows all of them.
*This article appears in the November 12, 2018, issue of New York Magazine. Subscribe Now!
*This article has been corrected to reflect that it was a police officer, not a FBI agent, who initially found Nassar's hard drives.