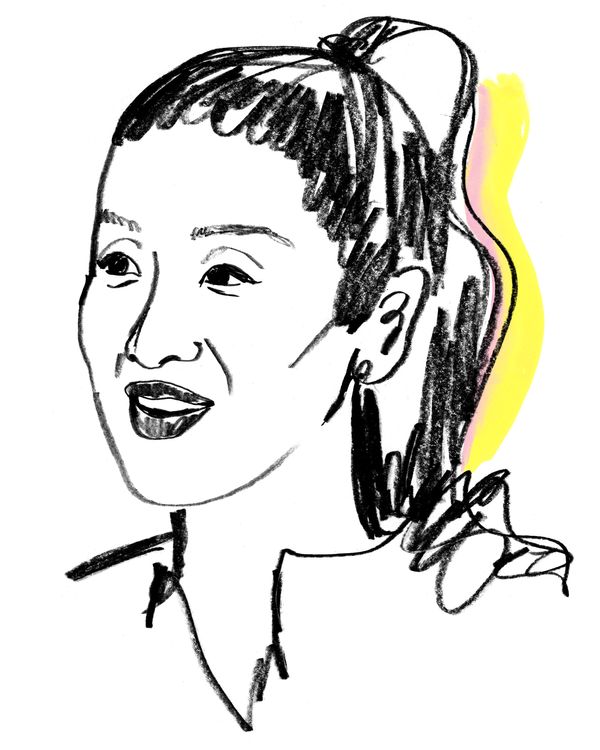 Illustration: Lauren Tamaki
You'd be hard-pressed to find anyone who understands gossip better than Elaine "Lainey" Lui, the Canadian maven behind LaineyGossip.com. She's been running the site for more than a decade, and parlayed it into a career as an entertainment journalist. Now, on top of writing and editing her popular blog, Lainey is also a reporter for CTV's eTalk and a co-host of the daily talk show The Social. Lainey lives in Toronto with her husband, Jacek, and their two dogs, Barney and Elvis. Here's how she gets it done.
On a typical morning:
I wake up between 4:30 and 5:15 a.m. each day. I turn my alarm off, put eye drops in, and I'm on my phone: I check my emails from the night before, emails from our site manager (who sends me a list of all the paparazzi photos and the photo agencies so I know what I'm dealing with), reader emails, and social media. Then I take a shower, get dressed, and pack my lunch. I'm usually out of the door by 6 a.m. and parked by 6:40 a.m. Every day, I have a makeup appointment that takes 15 minutes, and I'm in my CTV office by 7 a.m., firing up the laptop and making the list of all the things I want to be addressed on the blog that day.
Around 7:30 a.m., I'll microwave some Chinese soup; my mother always delivers a week's supply. These days, people call it "bone broth," but this is legit, authentic, Chinese-style broth. I have that while I'm writing "Dear Gossips," which is the intro to the site. Some days it will take me an hour or two to write, other days it takes me 20 minutes. After that, I'll do a radio hit, and hits for our two 24-hour news channels, but through it all, I will run back to my office, write a little bit. My hair appointment every day is also at 8:30, and it happens in my office while I'm writing.
On starting the blog:
When I was between jobs in 2002, I would email two former colleagues about the day's entertainment news, just for fun. They started forwarding my emails to their friends, and that distribution list grew and grew over the course of several months — to the point that it ended up being 3,000 to 4,000 people and crashing the email server. By 2004, a friend of mine said I should start a blog — and he built me one. We launched softly at the end of the year.
How the blog changed her career:
I worked at Covenant House, a youth homeless shelter, when the blog started, and I'd write after work every day. In 2005, the blog was noticed by eTalk, an entertainment news show in Canada. They started bringing me in to do some TV hits once a week. By 2006, they offered me a permanent contract. I had to decide: do I do the show and do Covenant House and keep up with this blog? That's when I decided to go for it. I quit my job, which was really hard. In 2006, LaineyGossip became my full-time job, and my part-time job was working on eTalk.
On keeping a tight schedule:
One thing that anybody who works with me understands is that I'm so time-obsessed. It can be stressful, because I'm always subdividing each hour into 10- or 15-minute blocks, but at the same time, it's the only way I can be efficient. On any given day, I am balancing The Social with editing freelance pieces and writing my own on LaineyGossip, and making sure I haven't missed any breaking news and that I'm working well on eTalk. I have alarms set at very weird, specific times — I have an alarm set, for example, for 7:58 a.m., because my radio hits are at 8 a.m., and it takes me two minutes to walk there. Otherwise, if I start writing and I'm so focused on what I'm doing, I might forget. So I have to be really, really weird about my schedule.
On moving for work:
The Social came up on my radar in January 2013. I was living in Vancouver, and was asked to audition in Toronto. I got the job, and they said, "You have to move here." Jacek, my husband, runs the business side of the blog and we knew it could be mobile. In fact, we knew that we probably could do even more in Toronto, with my contacts and the media networks. We loved our life in Vancouver — I would wake up at 4 a.m. and my workday would be over at about 1:30 p.m., and I had time to hike, golf, and grocery shop.
But I'm so ambitious. I'm a child of immigrants, and the immigrant attitude is that, when a door opens, you fucking rush through it. You don't wait; you don't stand at the threshold being like, "Hm, should I go in?" You just go in. There was never a question of, "Should I or shouldn't I?" It was always: "You're doing this. You're going to be sad to leave Vancouver, and let's honor the sadness, but this is happening."
How she approaches gossip:
I tell people, "I've always gossiped" — and when I say that, the next sentence is, "I've always gossiped because I'm human." Everybody gossips; it's a form of communication. Gossip is storytelling, and humanity needs storytelling. The only way we build relationships is by telling our stories; the only way to maintain relationships is to continue telling our stories. And when you have a story, you have plot, characters, motivation, and emotion. That's always been my approach to gossip, but I just started articulating it about ten years ago. I decided that I was not going to let people shame me for this – and I'm not going to let people shame others for doing this. When done right and in its purest form, gossip is a lens into who we are. Now, we may not like who we are, but that doesn't mean the act of observing it is wrong.
On covering awards shows:
Let's take the Oscars. Our preparation starts at the Toronto International Film Festival in September, because a lot of the films that screen at TIFF will be part of the Oscar conversations. From there, we study all the other movies as they come out. Around now, in November, we start [homing] in on what the awards season will look like. For instance, this year, A Star Is Born is definitely going to the Oscars, so of course we're doing a lot of work around that film. I start thinking about what the personality storylines are going to be on that red carpet: Is Bradley Cooper going to walk with Irina Shayk? If Ryan Gosling is going to be nominated, is he going to come with Eva Mendes? We get really serious about it in December, because that's when the Golden Globes nominations come out. The field starts narrowing in January — that's also when we start thinking about what we're going to be wearing.
We start putting out calls to designers or labels, then our first fittings are usually in the third week of January. I'll try on probably 25 to 30 dresses with Danielle Graham, who is my partner at the Oscars. We have an exclusive position on the balcony, and when I wear my dress, it has to complement hers, so we do our fittings together. They'll pare it down and camera test maybe ten, then we do it again with more dresses. Eventually, two weeks before the Oscars, we'll do camera tests in three or four different dresses, and the producers make the call.
All the while, we have twice-a-week meetings with the Oscars team, edits have to be produced, fashion moments from the past six months have to be pulled, and we start memorizing everybody's IMDb pages. The Oscars are on a Sunday, and Danielle and I get on a plane the Wednesday before. We grab our credentials and shoot eTalk on Thursday and Friday, with team meetings all day. That Saturday we have a full dress rehearsal, and Saturday night is full hair and makeup trials. Sunday we wake up at 5 a.m., makeup and hair starts at 5:15, we're on the red carpet by 8 a.m. to shoot, take photos, and do some media hits. We go live at 2:30 p.m.
On blind items:
The gossip landscape has changed from when I first started blogging. When the newsletter started in 2003, nobody really knew what social media was. Gossip was delivered traditionally: through magazines, and entertainment TV shows. Celebrities would spin things through their publicists. That was the old way of doing this. Part of the reason why early gossip sites — like mine, Perez Hilton, and Dlisted — started was because we were calling out the bullshit that we were reading in People that was fed to the magazine by the publicists.
But now, when celebrities are on social media all the time, and the people they spend time with are on social media all the time, they're almost doing their own blind items. Or they're so hyperaware of the effects that the gossip blogs and social media have had on the celebrity gossip ecosystem that their circles have become tighter and they have become more savvy. Look at the Kardashians. How can blinds continue to exist when they are the puppet masters of all their stories? Like it or not, mainstream celebrities have been influenced by the Kardashian effect, and now they can easily spin or create their own narratives or their own possible blinds for their own game. It is not the same anymore; it makes blinding less fun and, frankly, much less reliable.
On a typical night:
I try to cook; I probably make dinner four times a week. I get home at 6 p.m., or 7 p.m. if I go to the gym. Jacek and I have dinner together every night. That is our rule: we eat, look at each other face-to-face, and have a real conversation for at least an hour. Then I'll go up to bed to read for two hours. He'll stay downstairs and watch hockey, and then I shower at about 10:30 p.m., read some more, and I'm usually asleep by 11:30 p.m.
On sleep:
I don't want to jinx this, but I am an excellent sleeper. I put a mug of hot water on the nightstand before I sleep, and it's very comforting to know it's there before I'm about to close my eyes. But I don't have a trick for sleep. I'm just one of those people who can sleep anywhere: a car, a train, a plane. I've even slept through an air show before.
This interview has been edited and condensed.