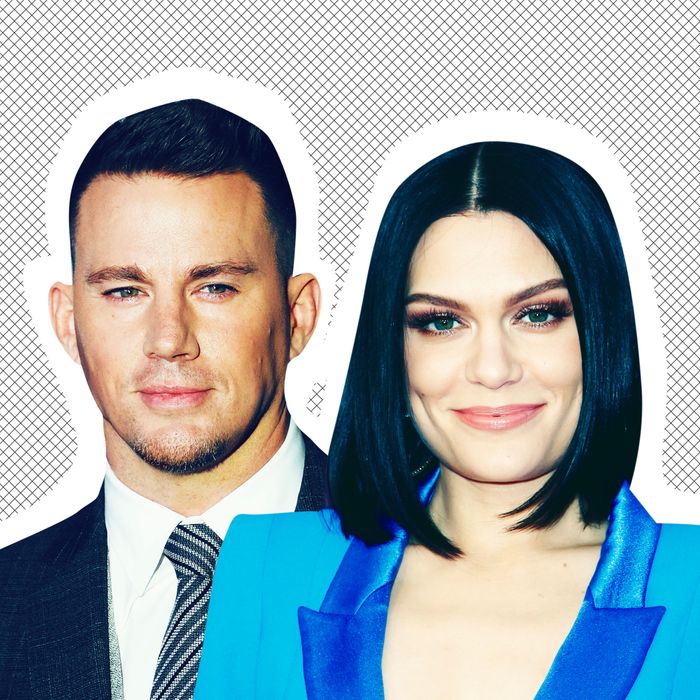 Channing Tatum, Jessie J.
Photo: Getty Images
Former real stripper and current fake stripper Channing Tatum has been romantically linked to British singer and professional vocal runner Jessie J for the entirety of cuffing season. Us Weekly was the first to report, in early October, that Channing and Jessie J were bumping uglies following Channing's divorce from Jenna Dewan this past April.
Before enlightening you on the incredibly intimate moment Channing and Jessie J shared earlier this week in London, I'd love to give you some background on this year's most confusing (yet satisfying) new couple. If you're leading a blessed and purpose-driven life, chances are you're already familiar with the great work that Channing Tatum's body can do. A walking God among mortal men, Channing is a triple threat: He acts, he sings, and he produces the most emotionally and sexually moving film and theatrical franchise of the 21st century, which is comprised of Magic Mike, Magic Mike XXL, and Magic Mike Live.
Like Channing, Jessie J is also known for professional using an incredibly powerful instrument: her voice. Not nearly as famous as she should be, Jessie J will riff and run your ear off whether you like it or not. Towing the line between coming off as passionate about her art and unhinged, Jessie J is known for previous hits such as "Domino," "Price Tag," and of course, her feature on the ultimate banger with Nicki Minaj, Ariana Grande, and Iggy Azalea, "Bang, Bang." Plus, just for kicks, Jessie auditioned for and won China's answer to the X-Factor in April of this year.
Neither Channing nor Jessie have explicitly confirmed their romance, but their not-so-subtle Instagram hints clearly show that these two are in the early phases of a relationship that will most likely fizzle out within 60–90 business days. About a month after Jessie and Channing's relationship was "confirmed" by a variety of news outlets, Jessie took to her Instagram stories in early November to praise Channing Tatum's show Magic Mike Live, urging her 7.5 million followers not to miss it. She also congratulated Channing on a job well done, and added a tongue emoji for further impact.
Just days later, Channing followed Jessie's lead by attending a show of hers — and taking his praise to his main feed, captioning an extremely far away photo of Jessie, "This woman just poured her heart out on stage at the Royal Albert Hall. Whoever was there got to witness something special. Wow."
Since then, their relationship has seen specks of drama, including Jessie J's Instagram plea to the media to stop comparing her to Jenna Dewan. Some, like me, would find this incredibly odd, but Jenna did not. Channing's ex-wife thanked Jessie for her public service on Twitter.
Now, as Channing and Jessie approach the two-month mark of their public dalliance, they've very recently crossed a new romantic line: On Tuesday night, while attending a performance of Magic Mike Live in London, Channing and Jessie J were caught on film slow dancing to Ed Sheeran's "Thinking Out Loud." If you look closely, you'll see their heads and bodies swaying with one another, as Ed sings about stars.
It's common knowledge that any Ed Sheeran song, especially "Thinking Out Loud" is sacred material and should only be reserved for your wedding, the birth of your first child, and your death. Literally, there's no in between. So, by publicly dancing to it these two lovebirds are now married in the eyes of the law and Ed Sheeran. While I'm happy for the newlyweds, my heart aches for Channing, who'll now endure two divorces within 12 months.