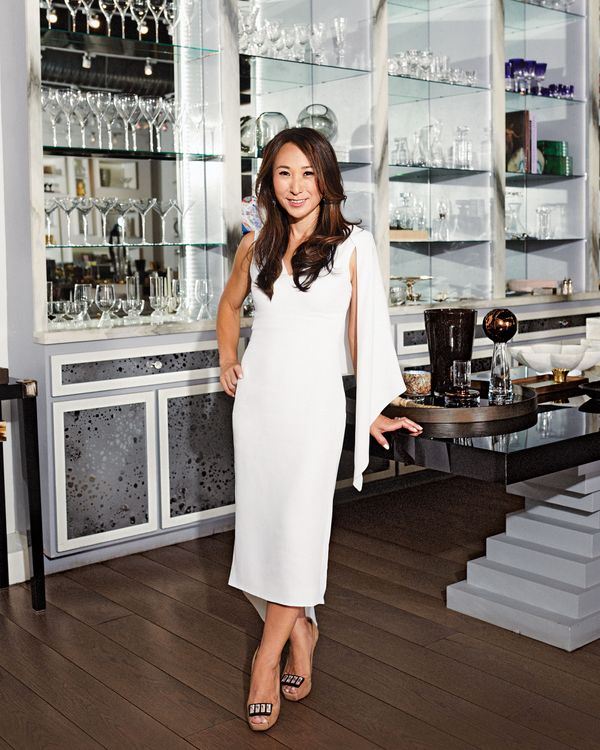 Jung Lee.
Photo: Kyle Dorosz
Jung Lee, founder of Slowdance
What sparked the idea for this new registry service?
As a wedding planner for 16 years, I've consistently found that my clients are stressed about their registries. The process has only gotten more daunting, because now, instead of going to Bloomingdale's with a scan gun, you can choose from thousands and thousands of products online. It seems convenient, but nobody, especially when planning a wedding, has time to sift through all that. Slowdance is a free service where a design professional consults with you and makes recommendations and works with you from beginning to end — we'll even answer questions from your guests.
Where do couples need the most help?
China is a tough one. A lot of people choose an all-white china pattern, for instance, which has no personality. But on the other hand, you don't want to go with a trend like, say, millennial-pink china, either. Right now, we're working with the French dinnerware designer Marie Daâge, who does a lot of custom colorizations for us — each porcelain piece is hand-painted with light, quick brushstrokes — and I would suggest something like that. And instead of going full-force with the rose-gold trend and getting all your flatware in that tone (flatware is something you're going to have for a long time), I'd say just incorporate a little bit of rose gold in your glassware.
What about the more utilitarian items — what's wrong with a vacuum? If you can pick it up at Bed Bath & Beyond, it has no place on your registry. Your gifts should be memorable and long-lasting. One recent couple we worked with had Roman numerals etched into a set of 12 Scotch-whiskey glasses along with their monogram (from $50 per piece) — that's something they'll still use and appreciate ten years after the wedding.
What if you don't want to ask people to buy you $50 whiskey glasses?
We also offer $10 glasses, like the thin-walled, blue-bottom tumblers from British glassmaker LSA International, that you can love for a long time too. Or the wooden bowls and serving pieces from the brand Peterman's, which are made from fallen trees in western Massachusetts and start at $34. Slowdance offers over 7,000 items, some of which are available in my home-goods store, Jung Lee NY, and all of which have been hand-selected and edited down — from the giant swing the size of a daybed to the taxidermied peacock.
212-257-5655; slowdance.com
"Consider using dinnerware from your registry at your wedding's head table; it'll look top-notch in photos."
*This article appears in the winter 2019 issue of New York Weddings.
More From New York Weddings
See All