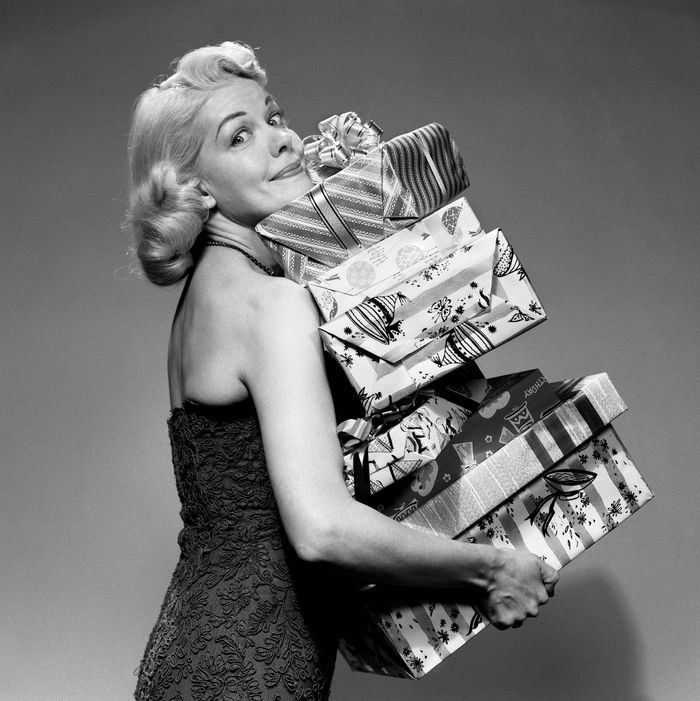 Photo: Debrocke/ClassicStock/Getty Images
Is your inbox groaning under the weight of a thousand gift-guide emails? Did you intend to set aside money for the holidays this year and then, yet again, forget? Do you hate everyone who talks about their "holiday budget"? Welcome to the club! We're a big one: Last year, 74 percent of Americans reported that they failed to budget adequately for the holidays. And here we are again.
To me, December is about damage control. You're going to eat too much and drink too much and spend too much money — just embrace it. But there's a difference between getting into the holiday spirit and no-holds-barred hedonism, and that usually comes down to strategy. Sure, you could spend with abandon and atone for it in January — I've done that before, and it makes New Year's Day that much more painful. Or you could make 2019 a little easier on yourself and come up with a plan.
I asked several financial experts for their recommendations on handling the holidays, especially for those who haven't budgeted as much as they hoped (or, you know, at all). Happy Black Friday weekend, and good luck out there.
1. Pick a limit, ideally no more than 1.5 percent of your annual income.
Choosing a dollar limit for gift shopping is an obvious step, but that doesn't mean it's easy. In an ideal world, you'd come up with that number at least a few months in advance so you could save accordingly, but oh well — there's always next year. For now, look at what's in your bank account, subtract your "needs" (fixed monthly costs like housing, food, etc.) and then see what's left over. Realistically, how much of that can you put toward gifts, and what other holiday expenses should you account for (like travel, a New Year's Eve dinner, an outfit to wear to said New Year's Eve dinner, etc.)?
As a guiding principle, Emily Purdon, a certified financial planner and member of the Financial Therapy Association, recommends spending no more than 1 to 1.5 percent of your annual income on gifts. But that number means nothing if you don't have it in cash right now, says Manisha Thakor, the founder of MoneyZen and VP of Financial Education at Brighton Jones. "Do not spend any money on holiday gifts that will require you to take on debt (or increase any debt you already have)," she says. Your goal is to work with what you have this very minute — not with your next paycheck, your anticipated bonus, or the money you hope to save by not drinking in January.
2. Get on the same page as your loved ones so you don't under- or over-gift.
Talk to the people in your present-exchanging circle and come up with a plan. "I always recommend having a pre-holiday conversation with your family that's like, 'Hey guys, how do we want to handle gifts this year?'" says Alexa von Tobel, the author of Financially Forward: How to Use Today's Digital Tools to Earn More, Save Better, and Spend Smarter. "The most awkward dynamic in buying gifts is that you don't want it to be uneven. When everyone decides together that you're going to keep things under $100, or $50, or whatever, then it's more fun and less stressful because no one has to worry about under-gifting somebody."
You could also propose a group-gift arrangement, like pooling your money with your siblings to get your mom that $500 bag she really wants, doing a Secret Santa with your cousins, or pitching in for a family activity instead. "Maybe everyone would be happier if you just split the cost of a great dinner out," says von Tobel. "I guarantee you'll find that everyone prefers to be economical, even if they make more money than you do — they still have their own expenses and financial goals."
3. Go "narrow and deep" or "wide and shallow" — i.e. quality versus quantity.
Pick your approach: "Do you want to go 'wide and shallow,' and buy a variety of lower-cost gifts for a wide range of people, or 'narrow and deep,' and pick a select group and spend more on them?" asks Thakor. "The thing to avoid is going 'wide and deep,' as much as you might want to."
Personally, I usually do a combination of the two. There are five people for whom I go "narrow and deep" (my immediate family members and significant other), and then a second tier of "wide and shallow" friends who will get, say, a book, a bottle of wine, a plant … you get it. The trick is to figure out how many people fall into each camp and then, based on your finances (see No. 1), do the math on what "deep" or "shallow" means, cost-wise. Depending on your situation, "deep" might be $100 per gift, while "shallow" is $20 — but you won't know until you determine how many people are in each group and how much money you have to spread around between them.
4. Don't let marketing tricks derail your gift-buying plan.
Retailers spend millions in research and ploys to put you in the shopping mood; don't be fooled. One study found that when stores played Christmas music during the holidays, customers spent 34 percent more time browsing and were 17 percent more likely to buy something. Meanwhile, Christmas scents have been found to boost sales. You can avoid these traps by shopping online (which also has its pitfalls — clicking is so easy!) and, more importantly, deciding what you're going to buy before you shop. "Make a list of who you're buying presents for, what you're buying them, and how much you're going to spend on each, and don't let yourself deviate from it," says von Tobel. "Keep that list on hand and reference it whenever you're tempted to go off-script."
5. Get even more out of Black Friday and Cyber Monday with promos and online tools.
Between Black Friday (which now lasts for weeks, apparently) and all the other "special" sales accosting your brain this month, how do you know where to get the best deal? Apps like ShopSavvy allow you to scan product barcodes when you're in a physical store and compare prices to other retailers nearby and online. I also recommend Honey, a browser extension that automatically finds active promo codes and applies them to your online order — it really works.
In the meantime, you know that Coco Chanel quote about looking in the mirror and taking one thing off before you leave the house? The same applies to shopping. "There's almost always at least one item in your cart that you don't need," says von Tobel. "Do a quick scan, see if you can take one item out, and then look at your holiday budget. Are you following the guidelines you set for yourself? If you buy this extra thing, how will it impact the rest of your spending?"
And finally, don't wait around hoping for prices to get better. They might, but then again, they might not — and then you'll get stuck. Thirty-six percent of holiday debt-holders attributed their overspending to last-minute gifts, so start early. Cyber Monday is your friend.
6. Consider giving an experience, or something else that connects you to the recipient.
"I usually give three types of gifts: something homemade or edible, an experience, or a handwritten letter," says Purdon. "I always take time to wrap and decorate the gifts, and I write a note and use a personalized seal and some colored wax. These gifts have one thing in common: They show I took the time." They also feel intimate, and don't need to cost much.
Research consistently shows that people derive more happiness from spending money on experiences rather than things, so it's no surprise that giving experiences goes farther than material objects. A 2014 study found that "recipients of experiential gifts consequently feel closer to their gift giver than do recipients of material gifts, regardless of whether the gift is consumed together." In other words, buying someone a pottery class, concert tickets, or a restaurant certificate will probably give you a bigger bang for your buck than that sweater you were considering.
7. Use the "envelope method" or a pre-paid card to avoid debt.
As someone who will never be naturally adept at keeping track of money, I pay off my credit card multiple times a month (or even several times a week) to keep myself in line, especially when I'm buying things that I normally don't — like Christmas presents. If you need an even tighter leash, Thakor recommends the old-fashioned "envelope method," where you put your entire holiday budget in an envelope in cash; when the cash is gone, you holiday spending stops. Alternatively, you could get a prepaid card that no longer works once you've hit your limit (here are some good options).
8. Don't buy anything just to impress.
And finally, don't try to keep up with the Joneses — chances are, they're spending money they don't have. In 2017, the average holiday-induced debt in the U.S. was $1,054, according to one survey; 29 percent of those debt-holders reported that they'd need five months or more to pay it off. Do you really want to be paying for holiday gifts in May of 2019? Instead, use those months (and that money) to save up for next December — or at least think about it.