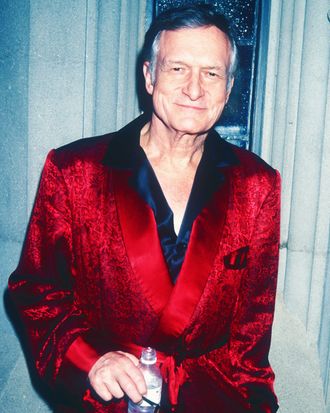 Hugh Hefner.
Photo: Ron Davis/Getty Images
Imagine, just a few short weeks and several thousand dollars from now, you — yes, you! — could be the proud owner of a deceased horny man's sticky passport. Or the sticky captain's hat he wore on dry land. Or his sticky old pictures of naked ladies. Yes, Hugh Hefner's belongings are up for sale.
On Friday, November 30, and Saturday, December 1, Julien's Auctions will open bidding online and in person at the Standard Oil Building in Beverly Hills for dozens of the late Playboy founder's items. These include, but are not limited to:
• One of his signature pipes (estimated price: $2,000–$3,000)
• A pair of his silk pajamas (estimated price: $1,000–$2,000)
• One of his signature smoking jackets (estimated price: $3,000–$5,000)
• His copy of the first issue of Playboy, with Marilyn Monroe on the cover (estimated price: $3,000–$5,000)
• A first edition of F. Scott Fitzgerald's The Great Gatsby (estimated price: $3,000–$4,000)
• Five large folio versions of Salvador Dali's Biblia Sacra (estimated price: $8,000–$10,000)
What a steal, maybe.
In a statement, former Playboy Enterprises CEO and Hefner's daughter, Christie Hefner, said that all profits will go to the Hugh M. Hefner Foundation, Hefner's nonprofit that supports "organizations that advocate and defend civil rights and civil liberties with special emphasis on those working on projects related to First Amendment rights and rational sex and drug policies."
Hefner's belongings may not be actually, physically sticky, but they are, at the very least, spiritually sticky, having belonged to the man that built the Grotto.
Power cleaning presumably sold separately.