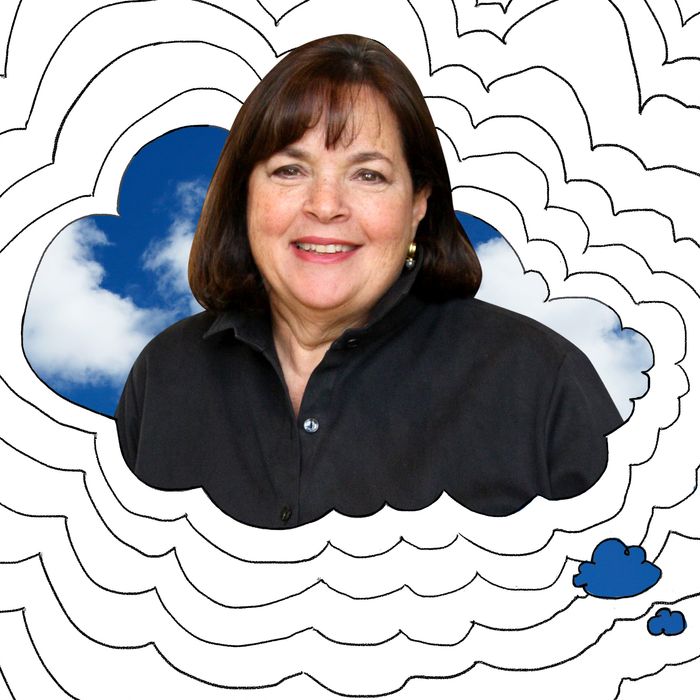 I Think About This a Lot is a series dedicated to private memes: images, videos, and other random trivia we are doomed to play forever on loop in our minds.
If you watch Barefoot Contessa on the Food Network, then you know that Ina Garten is a bona fide lifestyle influencer. I don't mean the Instagram-filtered variety — Ina is the real deal. I've watched her show for 15 years and am convinced that she is better than me in every way.
For starters, Ina is a domestic goddess with zero formal culinary training. In the '70s she worked in the White House Office of Management and Budget and helped write the nuclear energy budget for Presidents Ford and Carter. Now, she lives in the Hamptons with her exceedingly well-fed husband, Jeffrey, and makes everything from scratch, frequently plucking fresh ingredients from her fruitful and gorgeously manicured garden. She has an orchard with 25 crab apple trees, maintains a thriving social life with A-list pals like Michelle Obama and Neil Patrick Harris, and there are always just-picked flowers on her dining table. That's why I absolutely love it when, while explaining how to make a recipe, Ina assures her viewers that "store-bought is fine."
What she's saying is that there are instances in cooking when we can cut corners — even though she definitely wouldn't. For example, bread crumbs. Ina whips them up by pulsing some leftover good bread with herbs from her garden in a food processor. For those of us who don't have a food processor in the kitchen or even, usually, bread: "store-bought is fine."
Ina has said that she makes her pie crusts from scratch, that herbs should be fresh not dried, that she would never, ever use a pre-grated cheese. I have never made a pie crust or picked fresh herbs, and I usually buy the type of Parmesan cheese that isn't even kept in the refrigerated section of the supermarket. But, benevolently, she lets us off the hook: "store-bought is fine."
Those words echo in my head every time I walk through the aisles of a grocery store. I'm not much of a cook, so I take more liberty than Ina intended. A package of pre-chopped veggies for stir-fry? Store-bought is fine. A box of Tex-Mex seasoned rice and beans mix? Store-bought is fine. A whole frozen chicken pot pie? Store-bought is fine!!!
It's such an elegant phrase. On the one hand, it says that I don't have to live in the Hamptons and spend hours a day cultivating a lush garden to make chicken for dinner. On the other, it puts me in my place: "You can try but you'll never be me, bitch." (Ina would never say "bitch.") But for all the license that I take at the grocery store, I do think that I understand the spirit of Ina's words. It helps make her cooking more accessible for the masses. And for me, "accessible" sometimes means throwing that whole frozen pot pie in the oven for dinner.
In case you couldn't tell by now, I've spent vastly many more hours watching Barefoot Contessa than actually cooking. And that's because watching Barefoot Contessa is a little like walking into a Williams-Sonoma. Have you ever casually walked into a Williams-Sonoma without imagining the type of life you could have? You know, if you owned that $71.96 stainless-steel ice-cream maker and that $249.95 indoor grill? I watch episodes of Barefoot Contessa and fantasize about having my friends over for casual-yet-elegant dinner parties with Ina's recipe for a perfect roast chicken, goat cheese mashed potatoes, full-bloom dahlias in a vase, and laughter — so much laughter!
Just like I never leave Williams-Sonoma as the proud new owner of a stainless-steel ice-cream maker, I don't live and entertain like Ina Garten. But I still crave her approval for what I do in the kitchen and, in an unintentional way, she's given it to me — even if "what I do in the kitchen" is record marathons of Barefoot Contessa and binge-watch the episodes for hours while shoving Trader Joe's premade mini quiches into my mouth. I'm fine, I whisper to myself between bites, and store-bought is fine!