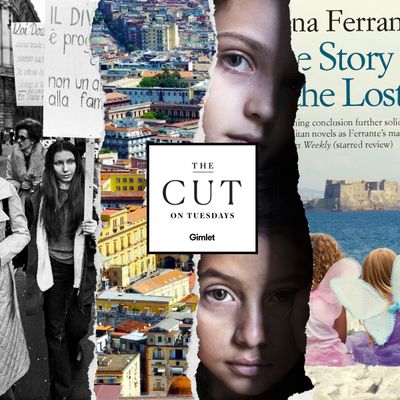 Photo: Photo Illustration by Stevie Remsberg; Photos: Getty Images, HBO, Amazon
Ferrante Fever was an epidemic circa 2014-2016, and the new HBO adaptation of My Brilliant Friend is the perfect excuse to revisit everything we loved about the Neapolitan novels. The four books span decades in the lives of two Italian women: From their childhood in 1950s Naples, to their involvement in the political radicalism of the '60s and '70s, up until 2010 … which is when one of the women, who has become a successful writer, learns that the other — who still lives in the neighborhood where they grew up — has disappeared. The crux of the story is the way these two women have been inside each other's heads for their entire conscious lives. Calling it a "friendship" almost feels simplistic.
This week's show explores the world of Elena Ferrante: We talked to Ann Goldstein, the translator who's become a stand-in for the pseudonymous author; Danielle Oteri, who leads tours of Lila and Lenu's Naples; and Dayna Tortorici, whose essay "Those Like Us" is essential for anyone interested in learning more about Ferrante's ideas. Plus, you'll hear from writers, editors, and fellow Ferrante fans like Samhita Chakraborty, Aminatou Sow, and Ruth Spencer.
We asked everyone to suggest further reading — books that might scratch the same itch as the Neapolitan novels, or deepen your understanding of Ferrante's work. Some of their recommendations are below. (And, as always, click at the bottom of the page to listen and subscribe!)
If you buy something through our links, New York may earn an affiliate commission.