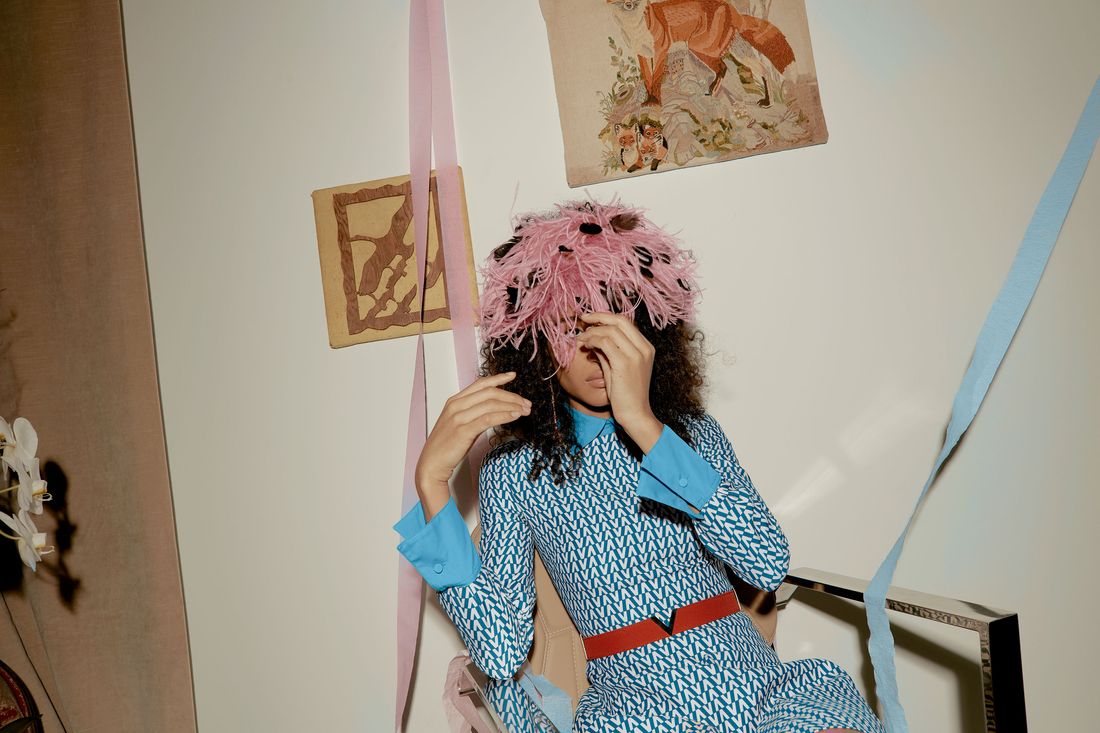 Valentino
dress, $3,890 at Valentino boutiques.
Erdem
feather headpiece, price upon request at
erdem.com
.
Photo: Agnes Lloyd-Platt
Nobody loves Indya Moore quite as much as Indya Moore loves Indya Moore. But let's be clear: People love Indya Moore quite a bit. They've loved her ever since she first appeared as Angel, a sex worker with a face that lives up to her name, on Ryan Murphy's FX show Pose, a glistening tribute to New York City's mid-1980's LGBTQ ball culture and its dancers. Fans fell for her the minute she appeared wearing a Halston dress declaring, "It's chiffon," like her life depended on it.
When I meet her on a Thursday afternoon, Moore's cultivated self-assurance quickly reveals itself. Swanning into the midtown restaurant she chose in dark jeans and a green army jacket, she apologizes for being late but still takes a moment to appreciate that people seem to be noticing her cheekbones are as high as the sun at noon, and can't stop looking. She loves herself enough to know the table we've been given — cramped, in the melee of urban sophisticates escaping sad desk lunch — is not the table for her. She asks for the manager — the manager — to request a better one.
"Can you believe I just did that," she says and laughs, parodying her own behavior once the waitress walks away. "Excuse me," she says lifting her finger with a twirl of her wrist, as if she's back on set, performing, "May IIIIII speak with the manager. [The manager returns. We get a new table. And later, free fried butternut squash rings, the law of attraction at work.]
An "excuse me, could I speak to the manager," is a move that could be interpreted as too demanding or too self important, but Moore has different motivations. To demand — and receive — the better table stems from a habit of having to advocate for herself since her childhood and an uncertain career path. She's had to demonstrate to the world — and to herself — how she should be treated. Or, as she put it in an interview with the New York Post, earlier this year: "People who have trouble finding acceptance and love in their life settle for whatever they can get." At 23, Moore refuses to settle and it's been the key to her survival.
Moore knew early on that she didn't identify as a man. "Toddlerhood," she says, "I just knew I was the farthest thing from a man. I've known that my whole life." Moore grew up in the Bronx, you can tell by the clip of her speech, but left early, breaking ties with her home at 14. Her family didn't accept her, neither did her community — she recalls being bullied in school — so she left home, and landed in foster care for a few years. When she dropped out of high school, she was picked up as a model after being discovered on Instagram. By 19, she was appearing in places like Vogue Spain, unsure if she wanted to sign with an agency. She never felt like they understood her — how to market her, how to treat her. It wasn't until she began acting, that she found a group of people who fully supported her.
After a chance encounter with dancer José Gutiérrez Xtravaganza (the choreographer responsible for Madonna's "Vogue"), while she was an extra on Netflix's Baz Luhrmann musical The Get Down, she auditioned for Saturday Church, the 2017 coming of age indie movie-musical. Saturday Church, led her to audition for Pose.
It feels too cheesy and too earnest and too pat to describe anything as groundbreaking these days, but Pose is a groundbreaking show. It features the largest cast of trans actors in the history of television. Memoirist, writer, and trans-activist Janet Mock wrote and directed several episodes, but that's not even the revolutionary part — the characters are fully fleshed out, living, breathing, feeling, thinking characters, not political statements or sidekicks. The show gets into the guts of the of New York ball community, to explore what life was like for the gay, trans, and gender non-conforming performers of color who competed in the elaborate events. Ball is a "Celebration of the life that the rest of the world does not deem worthy of celebration," explains a character in the first episode. And Pose, with unabashed earnestness, celebrates that scene, with a wink and a nod and a bleeding heart." They will soon begin shooting a second season, to be released in 2019.
Moore's Angel is a sex worker and ballroom competitor with the scrappy, upstart House of Evangelista. Her character "just wants to love and be loved," Moore explains. Angel plays tough, but Moore's eyes transmit the character's empathy, tenderness, and need to be loved, as the woman she is. When Angel falls for a white, married, finance guy named Stan, they share their first kiss in the front seat of a car while Kate Bush plays on the radio, and become a couple to root for, until it's clear he's not good enough for her — at least an episode before the triumphant moment Angel herself realizes it too.
To say playing Angel changed her life, is such an understatement, it's lazy. But it's the only way Moore knows how to express the overwhelming changes that came with the role. She starts listing names of people who changed her life — Murphy and Mock, but soon has to switch to non-verbal expressions of gratitude. She starts to cry, "Because I just … I feel … I don't always feel seen," she stutters through cinematically pretty tears, "And I feel frequently misunderstood and it hurts to be constantly misunderstood so much. But I'm crying because I love them and it's not about me. I just want them to know how much I love them," she says of Murphy and Mock and the whole cast.
For Moore, starring in Pose represents a personal turning point: she's moved back in with her mother since the show aired, and her mom has accepted Moore for who she is — now referring to Moore by "she" and "her" pronouns. As she told me, "This show brought me my family back."
But even as Moore feels the love — from herself, from fans, from her family, and trusts it, being trans with a platform has brought in reactions that directly oppose the self-worth she's worked so hard to realize. After Pose aired, she tells me, an ex-boyfriend from five or six years ago resurfaced. "He has been threatening my safety," Moore says. While her ex knew Moore was trans when they were dating, he didn't tell his friends or family. Moore's new visibility is a threat to his way of life, and so, he's threatening hers. "It's a classic situation for trans women," Moore explains to me. Her ex feared that Moore's newfound fame would out him. He worried he'd be ostracized by friends and family, and so he's sent her threatening messages via WhatsApp and Instagram messages, to the point she's involved police and requires extra security on set.
Rather than drive her underground, it's inspiring Moore to lean more toward activism. "This is what I want to utilize my existence for. I want to be a conduit for healing," she explains. Recently, after news broke of a Department of Health and Human Services draft memo that would narrowly define gender as a biological condition and roll back protections of transgender people, Moore was there, at a rally for trans rights in Washington Square Park, vowing to "fight ignorance and a lack of information." She's trying to figure out how to use her platform most effectively, how to make her messages land, how to explain what she means by knowledge-based activism.
"I posted on Twitter what are these terms left-ist and right-ist? Why can't we be straight-forward-ist," she asks with a pause, looking into me dead in the eyes, wondering if it made an impact. Then as if on stage, she tries to break down what she means: she reads me the definition of left and right, and about their origins in the French Revolution. Her eyes widen, her nostrils flare, she shakes her head with dramatic effect, until she gets to the real heart of her lecture.
"When I think about binaries, I think about the well-being of others. I'm thinking about binaries because these black-and-white terms contribute the prejudice that our society is dying from. People will look at me and be like, oh she's probably smart, she's probably a model, oh she's probably, she's probably. But a sister who is darker than me, a sister who is less cis assumed as me, may not have the privilege of someones prejudice being in position to their best interest," she doesn't want people to be seen in him, her, black, white, light, dark, terms. Moore grows passionate as we speak, quickening her voice, "When I tell people oh I love you, they think it's weird, but that's okay. You don't have to understand. My love is not measured in reciprocity. That's not the way I learned love. I love you," she says opening her arms to me, and then pulling them back in to her own chest.