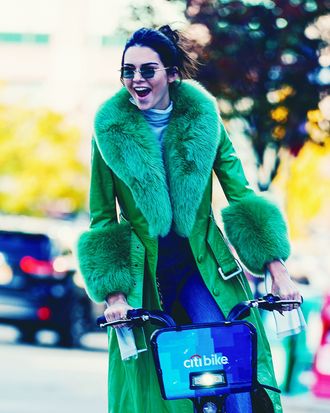 Photo: Jackson Lee/Gotham/GC Images
Saturday birthdays are the best birthdays because the possibilities are endless. Kendall Jenner, whose actual birthday was this past Saturday, November 3, clearly knows this well: During the day, she was photographed riding a Citi Bike around New York City in the best coat you ever did see, and at night she and her friends did karaoke. A glorious Saturday birthday indeed.
Being on a Saturday, Kendall Jenner's 23rd birthday party had everything: inflatable balloon animals (the kind with paper feet that look like they're standing on the ground), inflatable costumes for people who want to feel like balloon animals, feather boas, various colors of streamers, chips and salsa and guacamole, a cake allegedly made by Bella Hadid herself, those really small conical birthday hats everyone wears to the side, turtlenecks, Tyler the Creator, a party bus full of models who all adhered to the off-duty dress of code of jeans-with-a-cool-black-jacket, and a trip to Sing Sing Karaoke, where cherished memories are made.
While Kylie's 21st birthday was aptly sprinkled with drama, Kendall's 23rd birthday was filled with the right amount of relatable and chill for turning a nondescript age whose only real claim to fame is a disheartening Blink 182 lyric. She watched her horse shows. She got a bunch of throwback happy birthday Instagrams from her sisters. She danced to Daddy Yankee's "Gasolina" while pregaming in an apartment. She sang "Still the One" by Shania in public. She captioned her videos with things like "Lmao I love my friends."
HBD KJ; except for the part where the friends you're referring to are all It-models walking the Victoria's Secret fashion show later this week, you really are just like us.