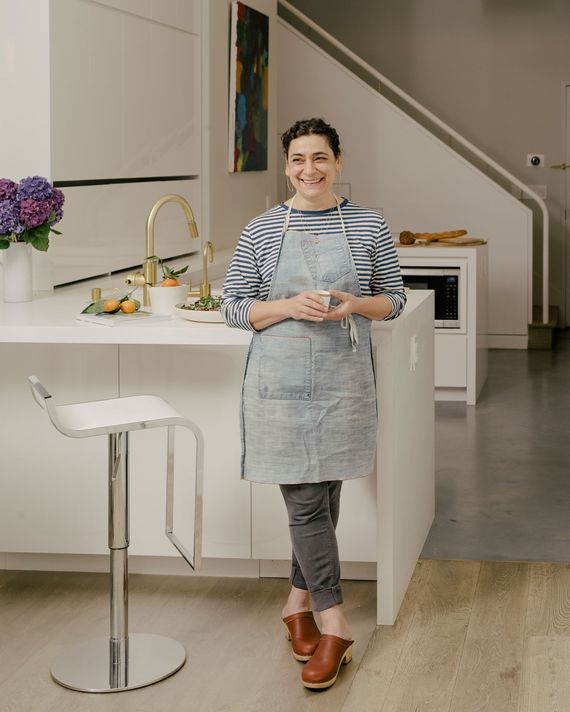 You might not know Susie Theodorou's name, but you've seen her work. The food stylist and writer has created dishes for Gourmet, Bon Appetit, and Martha Stewart Living, in addition to commercials for major food brands. Her most recent cookbook, Mediterranean: Naturally Nourishing Recipes From the World's Healthiest Diet, was blurbed by Gwyneth Paltrow and recently revolutionized the way we eat olives.
The daughter of Greek Cypriot immigrants, Theodorou developed an early interest in food and went on to study home economics and nutrition at university in London. Her first job was at a weekly women's magazine where she worked as an assistant, cleaning up and shopping for ingredients. That set her on a path toward food styling, and now she divides her time between recipe testing, shopping for ingredients at local farmer's markets, and cooking on set with a team of assistants.
She talked to the Cut about clogs, personal style, and treating her shoes like knives, all while creating a Greek-inspired chopped salad.
On her shoe needs while on set: I cook most days on shoots, so I like to change up my footwear every couple of days — I'm trying to control back aches. So I'll switch between black Nike sneakers (they're very cushioned!), Dansko backless clogs (not very glamorous), or wooden clogs (a touch fancier.) Sometimes I'm on location outside and if it's a cold winter day, I'll switch to Blundstone boots.
Shop Her Favorite Comfy Shoes
On the power of clogs: They give me extra height, which is often needed in other people's kitchens. Counter heights can vary, and since I'm only 5 feet 2 inches tall, 1.5 inch heels on a pair of clogs makes a big difference. I always choose a closed-toe version in the kitchen.
On her personal style: I dress very casually. I'm often in Rag and Bone jeans — I love a soft natural blue or black wash. I'll pair them with tops by Étoile Isabel Marant, Ulla Johnson, or Raquel Allegra. I like to finish them off with little Isabel Marant jackets. Outside of the kitchen you'll see me in that plus Golden Goose sneakers, Stan Smiths, or Acne boots. In the summer, I'll switch into No. 6 clog sandals but I also love my Greek tanned slides, from the Poet in Athens — they are the most comfortable footwear!
On swapping shoes: I don't work at a desk. My office is a kitchen counter or my breakfast bar when I'm writing. If I have to head to a studio or someone else's kitchen, I like to wear fancy sneakers heading to and from there, but once I arrive I'll change into work shoes. When the day is done, I like to put my work shoes away in the same way I pack away my knives each evening — even if I am going back to the same place the next day.
On going out after work: I work a lot on location, so my wardrobe has to be easy to pack and take me from a workspace to a delicious dinner (they're not always fancy but they're meals full of flavor). Not only do I swap shoes, I'll also bring along a change of tops. I love the ones from Warm, Isabel Marant, Frame, or Zadig and Voltaire. I'll add a cute jacket to dress it up. My current favorites are by Isabel Marant but I also still wear an Agnes B denim jacket from years ago. When it come to jewelry, I love my Ted Muehling long oval loop earrings; I wear them nearly every day. I also wear my Helen Ficalora initial pendants and my favorite heart charm.
Shop Smart Jackets
On her unusual day-to-day: My job can be split into two styles. If I work on a food commercial, these are rather intense days with a team of three to five assistants. There is lots of cooking for each take of every action shot. These days can be rather long (anywhere from eight to twelve hours), so comfortable shoes are essential. If I'm shooting for a magazine, cookbook, or website, the days are a touch lighter. I'll have one to two assistants and make around eight to twelve different dishes. It's much calmer but the day can still be quite long.
On her approach to dressing: I dress for myself — I love fashion, and if I knew about fashion stylists when I was young, I definitely would have tried to be one of those. Instead, I became a food stylist. It's the only job I know and I love it. But I have to dress casually for my job, so I go as fancy casual as I can. I gave in to wearing aprons about 15 years ago as I didn't want to ruin my clothes with stains. Now, I take just as much care in choosing my aprons as I do my outfits.
Shop the Story
If you buy something through our links, New York may earn an affiliate commission.