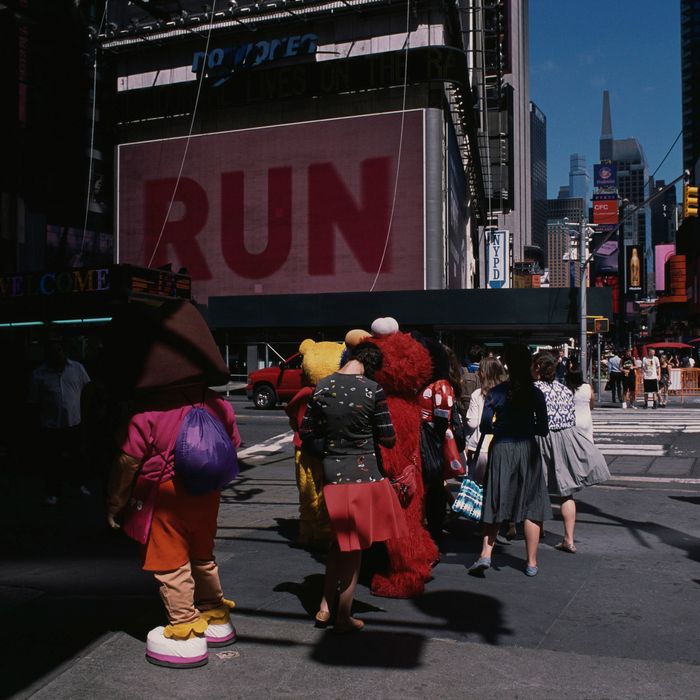 A still from
Ghosts Don't Walk in Straight Lines.
Photo: Vincent van de Wijngaard
The next time you have a free day in New York with nothing to do, consider walking from the northernmost point of Manhattan down to the southern tip, along Broadway. It seems quite nice from the way that artistic duo Saskia de Brauw and Vincent van de Wijngaard present it in their new project, "Ghosts Don't Walk in Straight Lines." The walk, De Brauw said, made her love New York. She went from 225th street and Broadway to Battery Park for an exhibition, film, and book launching on Friday in New York.
The exhibition centers around De Brauw's journey, filmed by van de Wijngaard. De Brauw walked for 24 hours straight at a painstakingly slow pace — at least by New York's standards. And that's kind of the point. Turned off by the break-neck speed New York tends to operate in, De Brauw wanted to test what would happen if you moved against that grain. It ended up being performance art and a meditation.
Despite the spontaneous nature of the actual act (a stroll through the city) de Brauw and van de Wijngaard meticulously planned the route, researching the parts of the city they would walk through. They filmed on a cool day this past May.
"I can't do the same walk again, because every day is different," De Brauw said. "That's kind of the point of it. There's the meditative aspect of it, but in meditation it's all about the thing that passes. That's life and that's the city as well."
They interviewed people they came across, eavesdropped on conversations, and picked up abandoned objects. Those are all immortalized in the book component of the project, designed by Matt Watkins. Oh, did we mention she did this while wearing custom Haider Ackermann? The avant-garde designer made the costumes, namely a long coat.
"Ghosts Don't Walk in Straight Lines" launches on Friday in New York. The project — which includes the film, exhibition, and book — is open from Friday November 9 to Saturday November 10. Watch an exclusive trailer below, edited by Will Town and featuring music by Jim Beard.