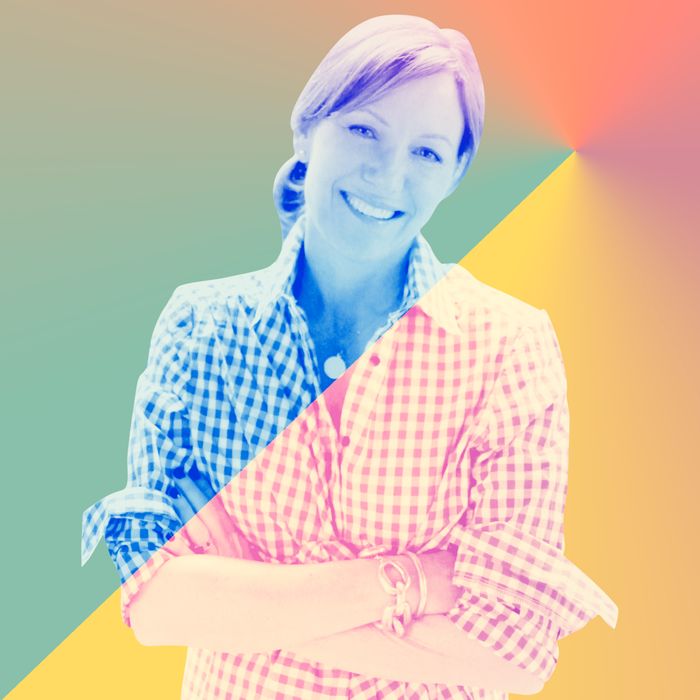 Photo: Original photo: Courtesy of Gregg Renfrew
Gregg Renfrew launched her first business when she was 24. Granted, it was a wedding dress company and, as she says, "it didn't quite work," but her next wedding-related idea did, no thanks to venture capitalists who didn't take the time to understand the business.
"They were all men, so of course, the minute they heard the word 'wedding,' their eyes glazed over," she remembers. "They couldn't get their heads around the concept, and they certainly weren't buying wedding presents online."
No worries! She ended up selling The Wedding List to Martha Stewart Living Omnimedia. Sorry, dudes!
But outside-the-box thinking has been Renfrew's signature. As she began formulating her next move, two things happened: She saw the film An Inconvenient Truth, and several people she knew were having health issues.
"Clearly, something had gone awry, and the one thing I could point to was our exposure to toxic chemicals being in so many of our products. That led me to skin care and cosmetics, where I saw this huge business opportunity."
In 2013, she launched Beautycounter, a line of clean, safe makeup and skin care that is as much about offering toxic-free products as it is about education and advocacy.
"I wanted to create a consumer facing brand that might also actually be able to change the laws," she explains. "No matter how successful we become, we can't impact all consumers ourselves. But we could if we could actually change the law that protected people from being exposed to toxic chemicals in their products."
Renfrew says she's hosted a thousand meetings on both sides of the aisle in D.C., and while there's lots more work to do (for the record, going into politics is something she's considering), she's thrilled with how crowded her platform has become of late.
"We set out to change the market because it needed to be changed, so the extent to which others are following suit and joining us in this effort is great," she says. "We still need more brands focusing on the safety of ingredients, and with integrity and transparency, but there's lots of room for everyone to play in the sandbox."
Renfrew spoke to the Cut about her lash challenges, the grammar faux pas that drives her nuts and that time Matt Dillon made her day.
Bath or shower?
Bath, always with Herbivore Coconut Bath Powder.
Most relied on hairstyling product and/or tool:
A professional blow out!
Scent of choice:
I never wear fragrance — too many harmful ingredients!
What, if anything, is usually on your lips?
Beautycounter Lip Sheer in Twig or Hurrah Lip Balm in Moonbeam.
What shade, if any, is usually on your toes and/or hands?
Côte red #25.
What beauty look do you struggle with achieving?
Long lashes.
What beauty look do you just not get?
A full face of thick foundation when you can't see your natural glow.
What was your first beauty product obsession?
Love's Baby Soft which I learned about from my mom and Vogue. That, and Bonne Bell lip smackers were my two obsessions when I was 12 years old.
Daily carry-all:
Coroon Big Daddy tote in Camo.
Work shoe of choice:
Leopard anything — always a heel.
Casual shoe of choice:
Common Projects ivory leather sneaker
Snow boot:
Lange.
Who makes the most comfortable bra?
Natori.
What fashion look do you not get or think is silly? 
Older women trying to look young.
What fashion look do you struggle with achieving?
The L.A. Maxi Dress look.
Top item currently at the top of your fashion wish list:
Anything Gabriella Hearst.
Fashion item you would never wear:
Crop tops.
Fashion item you can't believe you once used to wear:
Crochet bikini.
What do you have too many of?
Striped shirts.
What is your classic uniform?
Jeans, white button down, navy blazer, leopard heels.
Style icon:
Loving how Meghan Markle is dressing at the moment — I'm that classic, timeless person.
Work icon:
Mickey Drexler.
Childhood idol:
Phoebe Cates.
What do you splurge on?
Clothes.
What do you scrimp on?
Premium unleaded gas.
Wish list travel destination:
Trekking in Nepal.
Favorite sweet:
Lake Champlain dark chocolate.
Childhood cereal:
Grape nuts.
Grown-up breakfast:
Egg whites, arugula, and avocado.
How do you stay fit?
Working out with my personal trainer Valerie Waters, and Core Fusion at Exhale.
Any random childhood claims to fame?
Matt Dillon told me I was cute once while shopping in NYC.
Favorite podcast:
NPR's How I Built This.
What phrase or word are you known for saying?
Let's do this.
What word or phrase drives you crazy when others say it?
Starting any sentence with "Him and me," or "Her and me."
Last great book you read?
Lilac Girls.
What great book could you just not get in to?
The Goldfinch.
What would the name of your autobiography be?
A Girl Named Gregg
What do you do or take when you can't sleep?
Breathe deeply and write down whatever is on my mind.
Jetlag cure:
Take a quick nap then get back on the time zone you're in.
Cold cure:
Don't get one.
Headache cure:
Peppermint oil.
Hiccups cure:
Drink more alcohol.
What is always in your fridge?
Homemade almond milk.
Most used item in your kitchen, appliance or otherwise:
Tea kettle.
What do you wish you HAD invented?
The Swell bottle.
Where are you usually when the best ideas come to you?
Not at work.
Name a trait or talent you possess that few know about:
I can sing!
Most impressive measurement you take to minimize your carbon footprint?
At Beautycounter, we offset all major events and corporate travel. We also offset all shipping. Finally, we are now conducting a life cycle assessments for packaging to choose options that don't use as much greenhouse gases to start.
What is your Achilles Heel?
Wanting everyone to like me.
Favorite meal and where:
The Jidori chicken at FarmShop in Brentwood.
Most recently binged TV show:
Broad Church, The Crown
What do you foresee as the top beauty trends in 2019? And please explain?
Sunscreen as the new anti-aging, all things clean, wellness as a new expression of beauty.
What product is currently your favorite (understanding that this could change all the time) and pls explain why!
It's a tie between two — the first is one of our original launches — our Dew Skin (Tinted moisturizer with SPF, I use it every single day). The second is one of our newest products, The Overnight Resurfacing Peel. I use it every night and am watching the lines disappear ;)
If you won the Power Ball tomorrow, what are the first five things you would do? (after, of course, donating the majority of it to your top charities…)
Hire a full-time hair stylist to blow my hair out every morning, take $50,000 in cash and head straight to Barney's, rent out Necker Island and fly a bunch of my friends down there, make sure my loved ones have everything they need financially and spend six months in a Spanish speaking country so I can speak fluently.
You can find BeautyCounter at the Strategist's pop-up shop, open now in Soho.