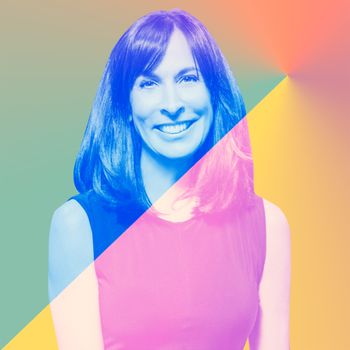 Photo: Courtesy of Jill Scalamandre
Anyone who remembers Prada lip balm can thank Jill Scalamandre. As the former General Manager of Prada Beauty, she led the brand's first foray into skin care, packaged in sleek, chic white cellophane packets, the cult-favorite of which were those tiny lip balms.
"I think I still have a few somewhere," muses Scalamandre. "I wonder if they're still good."
Scalamandre wanted to be a professional conversationalist growing up — sort of. Studying French and dance at Skidmore College, she wanted to be an interpreter at the United Nations but an internship at Pierre Cardin during a semester in Paris resulted in a serious fashion bug bite. She stayed through the summer, then returned home when her money ran out.
After graduating, she was determined to continue her fashion career, but her father nudged her in a slightly different direction.
"He said, 'You know, beauty is a lot like fashion. Why don't you try beauty?" she remembers. "He had a friend who made the compacts for a bunch of beauty brands and he got me an interview at Revlon. And I just fell in love with beauty."
She stayed for 16 years, then Prada came calling. Pleased with how Scalamandre had handled their skin-care launch, they asked her to launch eyewear, but beauty pulled her back. She joined the global marketing team at Avon, but after a few years there, she stepped back and assessed.
"I'd done product development, I'd done marketing, I'd done luxury. I'd done mass, and direct to consumer. I wanted to learn how to financially value brands," she explains. "So, in 2007, I went to private equity. And I learned a lot."
At L. Catterton, she oversaw the Frederic Fekkai and Strivectin brands. The itch to return to a beauty behemoth pulled her to Coty, where she ran Philosophy's skin-care division and met Marc Rey, U.S. president at the time. When Rey left for Shiseido, Scalamandre followed. She currently serves as President of BareMinerals, Buxom, and Global Development for Shiseido Makeup.
Change as the industry may, Scalamandre remains a beauty girl. "To me, beauty is about self confidence, beauty makes a woman feel good," she says. "Beauty is in my blood."
Scalamandre spoke with the Cut about her love/hate relationship with pajamas, slow walkers, and her elegant way around a swimming pool.
Bath or shower?
Shower. It's difficult for me to sit still for more than five minutes. I use anything sulfate and paraben-free.
Most relied on hairstyling product and/or tool:
My stylist. She does a better job than I ever could.
Foundation of choice:
BareMinerals Complexion Rescue Gel Cream Tint.
Scent of choice:
An orange flower scent that I found in a tiny shop in Morocco and I just love it. If I can't find it, I'll wear L'Artisan Parfumeur La Chasse Aux Papillions Extreme.
What, if anything, is usually on your lips?
Shiseido ColorGel Lip Balm, coming soon.
What shade, if any, is usually on your toes and/or hands?
Nude.
What beauty look do you struggle with achieving?
Smoky eyes. It makes me look like I am trying too hard.
What beauty look do you just not get?
Strobing … too much glitter.
Purse (or tote or daily carry-all) brand:
A vintage leather Prada tote.
Work shoe of choice:
I don't play favorites.
Casual shoe of choice:
A Repetto ballet slipper.
Netflix and chill outfit:
Terry robe.
What fashion look do you struggle with achieving?
The pajama suit. I love the look but doesn't work on me. It looks like PJs any way you look at it.
Top item currently at the top of your fashion wish list:
Derek Lam crossover pants and asymmetrical blouse.
Fashion item you would never wear:
Shorts.
Fashion item you can't believe you once used to wear:
Who remembers Danskins?
What do you have too many of?
Black sweaters, in every shape and form.
What is your classic uniform?
Sleeveless black shifts.
Style icon:
Amal Clooney.
Work icon:
Amal Clooney.
What is the ultimate decadence to you?
A caramel ice-cream sundae.
What do you splurge on?
Vacations.
What do you scrimp on?
Food … I am not a fancy foodie. I like my food clean and grilled.
Where would you like to be living, if not where you are?
Near my daughter in LA.
Favorite travel destination:
Sicily, or Iceland, where I am answering these questions.
Bed linens of choice:
Bellora, an Italian brand someone introduced me to. Divine.
Any random childhood claims to fame?
I did waterballet.
Beach or woods?
Beach. My body craves Vitamin D.
Favorite outdoor activity:
Swimming.
What tests your patience?
Slow walkers.
Last great book you read?
Americanah by Chimamanda Ngozi Adichie.
What would the name of your autobiography be?
Too soon to tell.
Who would star as you in the film adaptation?
My daughter Allegra Clark — she knows me best.
Cold cure:
Woodstock C&F Tincture. Amazing.
Sadness cure:
Shopping.
Most used item in your kitchen, appliance or otherwise:
Microwave.
What item stresses you out if you're running low on it?
Battery on my iPhone.
What do you wish you had invented?
Drybar or Uber. I am all about convenience.
What would you still like to invent?
A virtual vacation pod where I could do a weekly virtual travel. I want to be be fully immersed.
Where are you usually when the best ideas come to you?
It's more when, then where. Early a.m. while everyone is sleeping.
What talent do you wish you had?
I always wished I could sing. I now live vicariously through my daughter, who has a beautiful voice.
Favorite meal and where:
Pasta alla Norma, Sicily.
What product in your company's domain is misunderstood and should be a best seller?
Buxom Lash Mascara. It's a cult-favorite but needs more awareness.
What should Pantone's color of 2018 have been?
Robin's egg blue, because it reminds me of clear blue skies. It brings calmness and freedom in the turmoil and chaos this country is in.
What do you foresee as the top beauty trends in 2019? And please explain? 
The continuation of "clean beauty." The younger consumer is demanding the transparency. I also see technology continuing to play a big part in how we experience makeup, be it online or in-store. At home, I think there will be leads with discovering, learning, and trying it on. And in store, with more fluid recommendations to help the consumer navigate the chaos of in-store experiences.
If you won the Power Ball tomorrow, what are the first five things you would do? (after, of course, donating the majority of it to your top charities…)
I would travel. I've never been to Southeast Asia, so Bali and Thailand. I want to discover places, find new places, connect to them. I would buy my daughter a new home. I would work with not for profits, be on their boards, but I would continue to work because I love it.