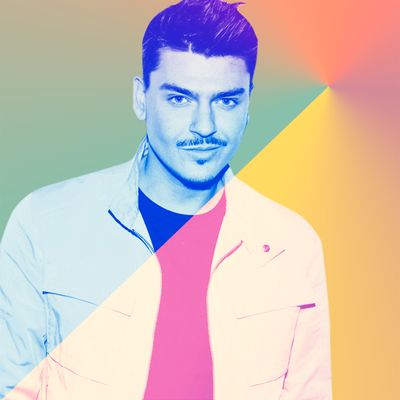 Photo: Original photo courtesy of Mario Dedivanovic
Long before young Mario Dedivanovic became @MakeupbyMario, he was working the fragrance section at Sephora's Flatiron location.
"One day, a customer asked me to help her decide on a lip color. When I started picking some out for her, it came to me so naturally," remembers Dedivanovic (pronounced DedivaNOvic) "It hit me like a ton of bricks. This is what I'm meant to do."
He hid his makeup artist plans from his Albanian-born parents who were expecting him to go to college, receive degrees and become a professional. "Being an artist wasn't on their list of plans for me," he smiles.
He kept his makeup stash hidden in a Nike shoe box in his closet and slowly accumulated his first kit with every freebie he could get his hands on. His skills eventually got him promoted to makeup artist. Soon after, he began working everywhere and on everyone: At Saks' Armani counter, doing the faces of Fox newscasters while assisting makeup artists on shoots.
Luck was on his side when he thought the better of not blowing off the gig that introduced him to Kim Kardashian West. Since that fateful day, his career has skyrocketed as rapidly as the sisters he continues to work with. He did Kim's wedding makeup and most recently, collaborated with her on a collection for her makeup line.
Known for his fierce work ethic, he turned the firehose influx of "How did you do that" queries on his Instagram feed into tangible and accessible answers. Nearing its tenth anniversary, his Master Class has become its own world-wide phenomenon, the next slated for February, in Los Angeles, with Kardashian West returning to the stage to join him.
"She loves doing them," he says. "I mean, she gets to sit there and let me make her look beautiful. Who wouldn't love that?"
Dedivanovic spoke with the Cut about his aversion to clutter, the word he made famous, and the inspiration of a naked face.
Bath or shower?
Shower. I think baths are uncomfortable, and I don't like the idea of sitting in water. I use Jack Black True Volume Thickening Shampoo. I have a lot of hair but it's very thin hair so this gives me some volume. Also, the old-school gold Dial soap bar. Or any soap bar.
Facial cleanser of choice:
Neutrogena Ultra Gentle Daily Cleanser for everyday, then I switch between Dr. Lancer The Method Polish and Tatcha Polished Classic Rice Enzyme Powder a few times a week.
Shaving cream of choice:
I use hot water to shave. Nothing else.
Hair product of choice:
I'm currently growing my hair out and need a lot of product to style it. A few of my everyday products are Serge Normant Meta Revive Dry Shampoo, Ouai Volume Spray, OSIS+ Dust it, L'Oreal Elnett.
Who cuts your hair?
Robin Capilli at the Kin Room.
Scent of choice: 
Tom Ford Ombré Leather 16 Eau de Parfum.
Favorite scented candle:
I haven't used any since my walls were done in fabrics, but I love the NARS candles.
If you could only pick one beauty item from your arsenal for a job, what item would that be?
Oh my god, my anxiety. Anastasia Beverly Hills Brow Wiz.
What product do you find yourself always "selling" to anyone who will listen? 
Nothing. I prefer not to sell product, but I do get asked a whole lot about concealer. I like the Laura Mercier Flawless Fusion Concealer because it doesn't settle into fine lines.
What beauty look on a woman do you love?
My favorite is a completely bare face with nothing on at all. It inspires me and makes me happy.
Who was your beauty icon growing up? 
I was very sheltered as a child and didn't get out of the Bronx much but I remember first being inspired by my older sister Vicky. She was and still is so beautiful. I used to love watching her when she did her hair in the morning. In the '90s, I remember being in awe of Linda Evangelista when I first saw her on TV.
Who are the beauty icons of the future? 
Wow, I actually have no clue. I think slowly the lines are being blurred between traditional celebrity, influencers, models, YouTubers etc. I don't think the younger generation will really know or understand the differences. It used to be a certain actress or supermodel, but I can see it shifting to an online personality.
What do you splurge on?
My home. Furniture, décor, flowers, landscaping.
Bed linens of choice: 
Frette.
Toilet paper over or under?
Wipes!! But, over.
What is your daily uniform?
Jeans, T-shirt or hoodie, Yeezy or Reebok sneakers, a black hat when I'm too lazy to fix my hair. Also a Rolex watch and Cartier love bracelet, which stay on my left wrist always.
What fashion look do you not get?
Whatever Justin Bieber is currently doing. Not sure what it's called. I think the way he dresses and the long hair is really cool on him — it works for him but it's a look that would just never work on me or most others.
Work icon:
Kevyn Aucoin and Estée Lauder.
What clothes do you stay home and watch Netflix in?
A soft T-shirt and sweat shorts.
What phrase or word are you known for saying? 
So, people don't really know this, but I started saying "Okurrrrrrrr" years ago then Khloé Kardashian made it a thing, then Cardi B. I did get it from somewhere, though. I just can't remember where. Khloé and I always joke about it.
What word do you over-use?
"Uh or "Um" when I see footage of myself speaking at the Master Class. It drives me crazy.
Last great book you read?
I love nonfiction. Every few weeks I find a subject that fascinates me. I then research the subject online, read articles, books and watch lots of documentaries about it until I exhaust all my resources. Then I start all over with a new subject.
 I've studied Energy Technology, Nixon, Reagan, JFK, Whitney Houston, Marilyn Monroe, CIA, Princess Diana, Enver Hoxha, Middle East politics/ relations, global warming, etc. I do not ever discuss any of it with anyone as I have no interest in debating things or confrontation or sharing my opinions on any of it. I just genuinely enjoy learning and keeping it to myself.
Best-selling book that you just couldn't get into?
The Bible. Sorry, mom.
What would the name of your autobiography be?
Yikes. I don't know. It kind of makes me cringe thinking about it.
Who would star as you in the film adaptation?
River Phoenix or Leo DiCaprio for my teen years. It depends on my weight, though. Charlie Sheen for my chubbier years. Johnny Depp for my 35+ years.
Common cure cold?
My mom.
Where do you go when you need quiet?
My rooftop or my terrace every early morning. I need a good two to three hours of quiet time in the morning.
What do you do or take when you can't sleep?
Olly Sleep vitamins.
Favorite smell?
Clean laundry.
Least favorite smell?
Cilantro.
Nickname you had as a child:
Mario. My real name isn't Mario, but I'm not telling you what it is.
Name a trait or talent you possess that few know about:
I have a green thumb. I love gardening and landscaping. I'm also pretty handy around the house.
Describe your most starstruck moment: 
I don't get star struck by celebrities. But I was amazed when I was in Japan and saw a real-life geisha for the first time.
Who in your opinion is currently crushing it?
Jeff Bezos, Anastasia Soare.
What are you working on mastering?
The business side of things, building a team.
Most recently binged TV show:
The Assassination of Gianni Versace.
Favorite piece of furniture in your home?
I love my sofa. It's custom-made and designed by Ryan Korban.
What do you foresee as the top beauty trends heading into 2019?
I hate the idea of following trends. It should be about what works best for you. For example, a big trend now is the whole glossy, glass skin thing. I love it and actually teach it. It's great for an artist to know how to execute it. But it's not new or realistic for women at home to do every day.
A glitter lip looks very cool for an Instagram moment. But you don't want to swallow glitter. And if you do it and you see me, just give me an air kiss because I don't want glitter on me that I can't get rid of for the next four days.
When I work, I always just come up with a look in the moment that I feel looks beautiful on the face I'm working on. Do whatever you love and makes you feel great, and, most importantly, don't forget to wash it off before bed!
What makeup product do you think is misunderstood and should be a best seller?
Metal eyelash separator. The kind with very sharp and very thin metal combs. I always use them and find that most people don't. It just feels so good and clean to precisely comb through the lashes after you apply mascara.
If you won the Power Ball tomorrow, what are the first five things you would do? (After, of course, donating the majority of it to your top charities…)
Buy the sickest pre-war apartment on the Upper East Side that spans the entire floor (or two) of a building, with multiple outdoor gardens and terraces. Buy a very private weekend house on a lake or river for me and my family an hour or two away from home with a small boat and lots of jet skis. Get my parents a beautiful and simple one-level home, but with a full-time chef and live-in staff. Start a makeup brand on a global scale instead of small and build an incredible infrastructure. Invest wisely, of course. And if we are talking in the billions, definitely a private plane so I never have to step foot in an airport again.