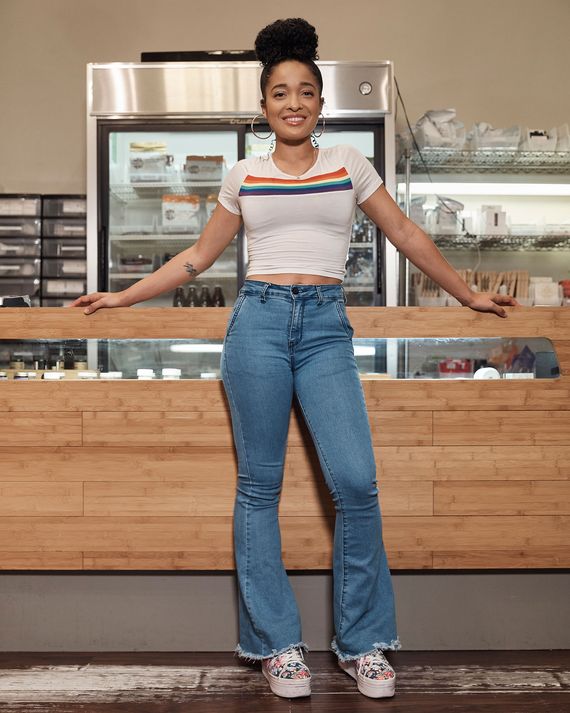 Delilah Dalton.
Photo: Magdalena Wosinska
As of this year, medical marijuana is currently legal in 23 states. Another ten states have passed recreational use laws, with more to come. But back in 2004, Los Angeles Patient and Caregiver Group was a rarity. The nonprofit dispensary was formed to provide the people of L.A. with safe, well-informed access to medical marijuana. For 14 years now, it's been a West Hollywood mainstay.
Delilah Dalton, who works as an educator at LAPCG, didn't expect a career in cannabis — she was in the car business for four years. In 2016 she lost a family member to prescription opioids, became depressed, and decided to take a long break from work. During that time off, she started investigating alternatives to pain medication in hopes of persuading other relatives to make the switch, and soon enough she found herself with a job teaching others about cannabis.
Recently, Dalton talked to the Cut about her career, her work wardrobe, and her love of platform sneakers.
On her daily shoes: My work requires that I wear closed toes for safety purposes, so I'm usually in some kind of platform sneaker every day. I love Jeffrey Campbell and Vans. The ones I'm wearing work well with my outfit — my bell bottoms tend to drag otherwise. Also, I look and feel like a Spice Girl in this outfit.
On what she wears to big meetings: Solid black is my go-to. I'll wear a black blazer, leotard, and form fitting mid-calf pencil skirt. As for my shoes, I'll wear my leopard-print Christian Louboutins — they add just the right amount of spice.
Shop Leopard Heels
On nights out: Sometimes I'll head out with my co-workers so it's chill and I'll wear a crop sweater with mom jeans. As usual, I'm wearing my platform sneakers, but I'm also into platform sandals, too. If I'm heading to my favorite queer bar, it's time to party and I'll show a little skin. I love a short flowy dress with open toe heels.
On Mondays: I dress very comfortably at work. I'm usually in a high-waisted skinny jeans, preferably with the knees cut out. I have to wear my uniform tee but I make it my own by cutting it into a crop top. It's simple, but I like it.
Shop High Waisted Jeans
On her approach to dressing: The clothes that I wear are to express how I am feeling. It's more important for me to be comfortable with myself, rather than try to impress others. I've never needed approval or validation, especially when it comes to my attire. I'm more than capable with convincing people of my credibility simply by speaking.
On what gives her joy at work: Cannabis can be used for many different reasons, so clients are coming to me for different things. I see everyone from cancer patients and anxiety sufferers to the artist who needs a boost of creativity or the mom who wants a substitute for her nightly glass of wine. My main goal is to help people find something that is going to improve their quality of life.
I have patients who have tried every prescription medication intended to treat their specific medical condition, and cannabis is their last resort. The best feeling in the world is when a medical-use patient comes back and lets me know how much my recommendation has helped their condition and improved their quality of life.
On where the cannabis industry should go from here: I see plenty of beautiful people of color in this industry. Being Choctaw, German, and African-American, I'm proud to be part of that group. I've had a welcoming experience so far, but I would love to see more people of color in higher positions, and claiming ownership of their own cannabis brands and dispensaries. Our dispensary is unique because it is operated by women, which is one of the many reasons I love it! But I know that's a rarity.
Shop Similar Sneakers
If you buy something through our links, New York may earn an affiliate commission.