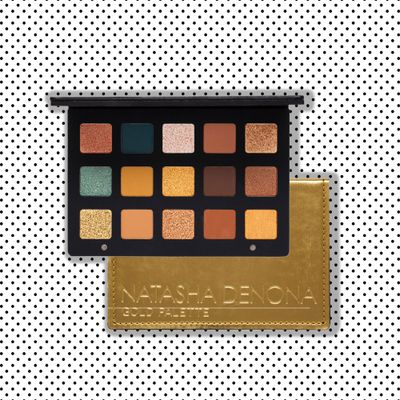 Photo: Courtesy of Natasha Denona
The average person may not know the name Natasha Denona, but if you murmur it in VIB Rouge circles, it will give you instant credibility. Denona is a makeup artist and beauty entrepreneur. Her Sunset eye-shadow palette sold out at Sephora in an hour, then continued to sell out after restocking, even though it costs $129. (For reference, a Tom Ford Beauty eye-shadow palette — considered high-end — goes for $88).
It's quality and not hype that draws customers to Denona's under-the-radar products. She has a solid Instagram following, but it's not huge. She doesn't work on any major Fashion Week shows. Her most famous client is perhaps Bar Rafaeli. But her Sephora reviews are euphoric. Fans effuse that the products are "gorgeous," "totally worth it," and "unbelievably soft," despite their luxury price point.
Still, if you Google her name, the fourth most popular result is, "Why are Natasha Denona products so expensive?" A few weeks ago at Sephora's beauty convention, the Cut caught up with Denona to find out how she responds to the critics who say her products are too expensive. She also talked about the one beauty mistake almost everyone makes, why four is her magic number, and the unexpected color that's flattering on everyone.
Your line focuses on eye shadows. Why are you drawn to eye makeup above all else?
I love the eyes. I love for them to be expressive, electric, and dynamic. Women talk with their eyes.
Eye makeup has more variety. It creates more of an impact. It's more dominant and appealing. Some people are lipstick people. It's their thing, it's what makes them special. I wouldn't change that. But I just love the eyes.
I find that eye shadow is one of the most confusing products for non-professionals to master. How would you explain the purpose of eye shadow to us?
To pop the eye color. To give more expression to the eyes. To open up the eyes. To change the shape of them. If they are more round, to elongate them. To give then more structure. [Laughs] It has a big job.
What's the best eye-shadow trick for someone who doesn't know how to use it?
Start with open eyes when you look in the mirror. Often, people lift the eye or stretch the skin to apply eye shadow, but you shouldn't do it that way because you won't know where the shadow is going.
You have to apply eye shadow to your face as it looks straight on. You need to see where your natural features are. Then you can build and open up your eyes. You can stretch it later to fill it in. But to get the initial shape, draw it on without moving your face. Define the shape by working the eye shadow a little above the crease and follow the natural shape of your eye.
Is there one eye-shadow color that's flattering on everyone?
Neutral colors, in general. A shade that's in between warm and cool looks good. Something like maroon. It's unexpected, and it has blue as a base as well as red. It's good for everyone, as are aubergines and burgundy.
People think that lighter shadows open up the eye. Is this true?
It's wrong. Lighter shadows make the eye look smaller and the lids look bigger. A light eye shadow can make it look like there's more space between the lashes and the brow. But the eye itself looks smaller. Dark eye shadow that you then blend upward makes the eye look bigger. You want to diffuse it so that it completely blends into your skin tone and doesn't have any harsh lines.
Eye-shadow tutorials have always said that the darkest color should be closest to the lash line. Is this still the best way to do it?
Yes, that's always the best. Apply the darker shade very close to the lashes. Sometimes I see people apply a dark eye shadow like a black all the way to the crease and then start to blend. The problem is that the black part is too big. When it goes above the crease, the eye starts to look smaller. The black becomes so big it becomes the whole focus. The dark shade needs to be blended starting before the crease.
Eye-shadow palettes have a lot of colors. Do you recommend a beginner start with one shade for a look?
You can use one color if you need to be quick. But I use at minimum four shades.
Four?! Why?
To really make the eyes expressive and open them. You need one shade to transition and another for blending. Then the darker shade, and the transition between the darker shade. It's like painting. A lot of people work with the classic technique of blending, blending, blending. But I think it makes the eye shadow less durable. You break the pigment.
I use a painting technique. Use several different shadows ranging from dark to light to create a blending-out effect. It's much more longer-lasting. Some people worry about the eye shadows losing their color potency and looking muddy. But if you layer a shadow with a soft formulation, it won't be an issue.
What makes your eye shadows different?
They're softer. They have a crazy payoff and are exactly as vibrant as they look in the pan, so they're so easy to work with. You can apply them with a finger. You can use them with a dry or damp brush. My goal was to create a product that was super pigmented and professional-grade, but easy to use, which didn't exist before.
I also actually formulate every single shade. Each color has a different formula — they all sort of have the same base. But every color's formula is unique. That's what makes every shade so good. They need to be different because different pigments react differently. The chemists hate me.
People rave about how soft your shadows are. What is the secret?
We use the best materials in the world, I never touch cheap ingredients. For example, all eye shadows have talc in them. But a high-quality talc is so different than a low-quality one. You can feel it. A high-quality one is much smoother. The pigment moves better. It doesn't stop or stick to the skin. It spreads better, too.
What is your response to critics who say the shadows are too expensive?
The number of colors in each pan makes it not expensive. They're sometimes even cheaper than other brands if you break them down into individual colors. My line is a professional line, so I didn't want to make mini eye shadows. But the minis I make now are for beauty junkies who love them and can't afford huge palettes. Even though I call them mini, the quantity isn't. There's a lot of powder in each.
Photo: Courtesy of Natasha Denona
If you buy something through our links, New York may earn an affiliate commission.