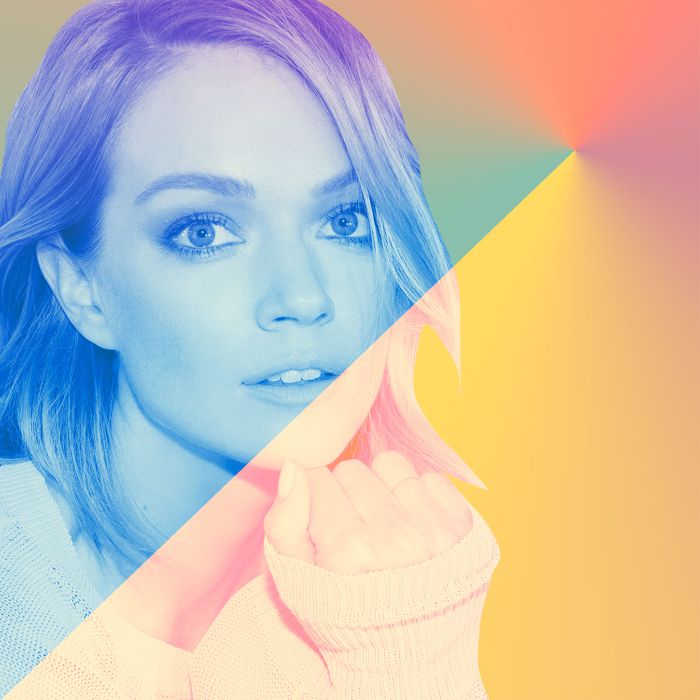 Photo: Courtesy of Wander Beauty
After 14 years of sitting in a makeup chair with Pat McGrath, Charlotte Tilbury, Gucci Westman and Dick Page, you learn a few makeup tricks along the way. Model Lindsay Ellingson wanted to share these tips, but in a more user-friendly way.
"I always asked lots of questions because I was just curious," explains Ellingson. "People might presume that since I'm a model, I have perfect skin, but I've always had skin issues. I've struggled with melasma for years, I have pigmentation all over my face, acne, dark circles. My brows were over-tweezed in high school, so I really relied on makeup and beauty tips."
In college, Ellingson went to an open casting call in her area. An agency in L.A. signed her on the spot and her first test shoot netted a particular shot of her looking "really grumpy, with my hair in my face."
Paris agency Viva noticed that shot. Dior and Prada wanted to meet her. She flew to Paris and ended up opening for them both and Chanel. A few years later, she ultimately became an Angel. Still, she had begun to wonder what her next step might be.
Enter Divya Gugnani, serial entrepreneur, who Ellingson met at, of all places, a hair salon on the Upper East Side.
"Divya's an entrepreneur, she had just sold her company [Send the Trend] to QVC and she knew where she wanted to go next," remembers Ellingson. "When we met, we bonded over our love of beauty and travel. Everything just clicked."
In 2015, the two launched Wander Beauty, a line of clean, occasionally vegan and synthetic fragrance-free products which each have multiple uses and are easy to carry around.
"It's all about solving a problem," says Ellingson. "I create products to solve mine, but I also talk to other women, read our reviews, and read the DMs. The whole core of Wander Beauty is to make them feel better about themselves when they use our product."
Apparently, it's working. "If I ever get recognized, it's usually for Victoria's Secret, but the other day a woman stopped me on the street and said, 'Oh my God, I love your product.' That meant so much to me."
The Cut spoke with Ellingson about her biggest beauty fail, her contour hack and her very specific requirements for the best chocolate chip cookie.
Bath or shower?
Shower with Jason's Rosewater Shower Gel, although I love a bath on weekends.
Shampoo/Conditioner of choice:
Playa Every Day shampoo and Supernatural Conditioner.
Most relied on hairstyling product and/or tool:
Oribe's Surfcomber Mousse.
Body product of choice:
True Botanicals Pure Radiance Body Oil.
Facial cleanser of choice:
Erno Laszlo's Sensitive Cleansing Oil.
Scent of choice:
I don't usually wear fragrance, but when I do, it's Jimmy Choo's signature fragrance. I wore it on my wedding day and now when I smell it I'm instantly transported back.
Favorite CDB product:
Ildi Pekar's CBD oil infused Tissue Repair Serum. Last winter I had rosacea for the first time and this serum worked like magic to calm the inflammation and redness. I use it daily to add an instant glow.
Favorite scented candle:
Diptyque Jasmine.
What, if anything, is usually on your lips?
Wander Beauty Lipsetter in Bahama Breeze, then Wander Beauty Beach Balm in Sol to the center for a little pop of color and hydration.
What shade, if any, is usually on your toes and/or hands?
Essie Topless and Barefoot. It's the perfect nude and so chic any time of the year.
What beauty look do you struggle with achieving?
The perfect natural-looking contour is tricky. I find it always needs to be adjusted depending on the lighting I'm in, and that's just too complicated for me. A little blush and highlighter is much more effortless and still does the trick.
What was your first beauty product obsession? 
I was a dancer growing up, so I learned how to do my makeup at a young age. I was applying full sets of lashes, a red lip and face jewels at 14 years old and I loved it!
Biggest beauty mistake you ever made:
Tweezing my eyebrows in high school. Nobody told me not to! I'm so self conscious about them without makeup on. I saved my younger sister from the same fate. When she was in high school, I said, "Don't even buy a pair of tweezers!' Your whole face starts with your brows."
Daily carry-all of choice:
Timbuk2 backpack for my computer, a Wander Beauty tote filled with unused product for photography and lab samples I'm testing, plus a mini Chanel bag with my essentials like credit card, Airpods, and iPhone.
Work shoe of choice:
Tamara Mellon's Grace Capretto flat slip on.
Netflix and chill outfit:
Aviator Nation sweatpants.
Preferred fancy lingerie:
La Perla.
What is your classic uniform?
Madewell black denim jeans, Rag and Bone denim top, and Gianvito Rossi ankle boots.
Work icon:
All working moms inspire me because I hope to have children and continue working in the near future. It's incredible to see women really doing it all. Multitasking like that is a superpower!
What do you splurge on? Beauty treatments by Ildi Pekar.
What do you scrimp on?
I don't get manicures — I prefer to do them myself since they never really last. It's my self-care Sunday ritual that is oddly satisfying for me.
Favorite travel destination:
Croatia.
Wish-list travel destination:
Australia. I would also love to go back to Italy to really experience Venice, Rome, and Capri like a tourist. Most places that I've traveled to have been in and out for work.
Favorite sweet:
Chocolate chip cookies but they have to be soft on the inside and crunchy on the outside. They also have to be warm, with milk chocolate and a little salt.
How do you stay fit?
I've been doing Pilates for the last two years with Annie Vernier who owns Le Petit Studio.
Jetlag cure:
A little sunshine and adjusting to the time zone right away, which means no naps.
What is always in your fridge?
Lemons and limes. I drink the juice of at least two a day in my water and tea.
Podcast listener? Favorites?
Doctor Death, The Marie Forleo Podcast, and of course, Fat Mascara.
What word or phrase drives you crazy when others say it?
"Smile," especially when a stranger on the street says it.
Last great book you read?
Eckhart Tolle's A New Earth.
Name a trait or talent you possess that few know about:
Besides conceptualizing and being in front of the camera, I shoot and edit much of the brand's photo and video content.
What product in your company's domain is misunderstood and should be a best seller?
Our Catch the Light Highlighter and Glowtion actually holds two formulas. It's often misunderstood because it's so unexpected. Inside the tube is a golden pearl radiance primer, while the cap is a cream highlight stick. Clients often don't see the two openings at first but once they do, they're always so happily surprised. The two formulas work beautifully, so you can add a customized, healthy glow to the face and body.
What do you foresee as the top beauty trends in 2019? And please explain?
I think the "glass skin" trend will really take off next year as women learn how to translate this seemingly complicated trend into their everyday lives. Nothing gives me more confidence than glowing gorgeous skin.
If you won the Power Ball tomorrow, what are the first five things you would do? (after, of course, donating the majority of it to your top charities…)
I would go on a Celine shopping spree, put money into all of my nieces and nephews college funds, (I have three sets of twins in my family!), take a trip to Turks and Caicos with my sisters, buy a home down South with a front porch and create my dream closet, and spend a month on a boat island-hopping in Croatia, Italy, and Greece with my husband and dog Carly.