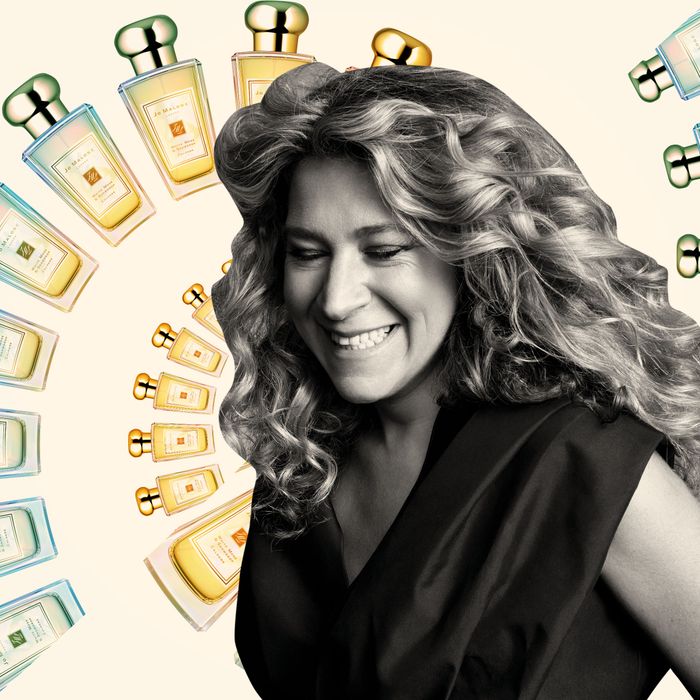 Photo: Courtesy of Celine Roux
Call it the Proust effect: Memories are often triggered by smells. Scientific studies confirm that out of all the senses, smell offers the best recall. In Scent Memories, the Cut asks people about the scents they associate with different times in their lives. Next up is Celine Roux, Global Director of Fragrance at Jo Malone London. Their latest fragrance, White Moss and Snowdrop, with its notes of warm amber, cardamom, and forest moss, is described as "the scent of the holiday season." The Cut spoke with Roux about loving the smell of candy, baby necks, and making all of her friends wear her scents.
My first scent memory is: Hay. My parents have a country house in the middle of nowhere in the south of France where I spent all my summers and each time I smell hay it really takes me back to that farm. It always reminds me of the summertime and of being on holiday.
Happiness smells like: Candy. I love candy. Whatever happens in my life, when I smell candy and when I eat it, it makes me happy. It's instant.
Love smells like: A beautiful red lipstick. Maybe it's because of classic movies, but I think it's very elegant and glamorous. I worked in makeup before working in fragrances, and whenever I smell lipstick, I just smell love.
Friendship smells like: It would be Jo Malone London! All my friends have to wear Jo Malone London fragrances [Laughs]. I've been working at the brand for ten years and I get upset if they wear something else! So basically my friends and family smell like it because they have no choice. But it's okay, I give them a lot of samples so they can wear it for free.
Heartbreak smells like: A scent I don't want to smell ever again.
Regret smells like: I don't have an answer, I'm sorry! I don't want to make one up. I just don't feel that we should ever have regrets.
Vacation smells like: Lavender. We have a linen spray in our lineup that I got in the habit of spraying on my suitcase, so basically now I think of lavender whenever I travel. It's a scent from home.
Success smells like: Sea salt. A fragrance I worked on many, many years ago was inspired by the English coast. It was a bit unusual and it wasn't really trendy to do a scent about the English coast or sea salt, and now it's one of our bestsellers.
Sunday morning smells like: Fresh flowers. I used to live by the Columbia Road Flower Market in East London and I started to get in the habit of going on Sunday mornings to better understand all the flowers, herbs, and plants.
Monday morning smells like: Very fresh. It's the beginning of the week and it's when you have the best intention. I like Monday mornings. I love what I do, and I see work as a passion.
My home smells like: Jo Malone London Green Tomato Leaf candles. That's my basic home scent when I don't have anything new from my team to try. But to be fair, that's almost never.
A pleasant surprise smells like: When I go to someone's house and I smell Jo Malone London. When I smell random people using our fragrances, it just makes me very happy.
If I could have one smell on my hands forever, it would be: The scent of my two boys. I mean, take into consideration that they're small and maybe I will change my mind about that in ten years! [Laughs.] But for now I love when I wake them up and smell their necks. Sweaty isn't the right word, that seems gross. But it's that smell when they're sleepy and all cuddly in bed. If I could capture that scent, that would be my forever scent.
I smell like: Pretty clean and neutral. Most of the time I don't wear scent. I try to be as neutral as possible, or I will wear what I'm working on next. I never wear fragrance for pleasure.
If you buy something through our links, New York may earn an affiliate commission.