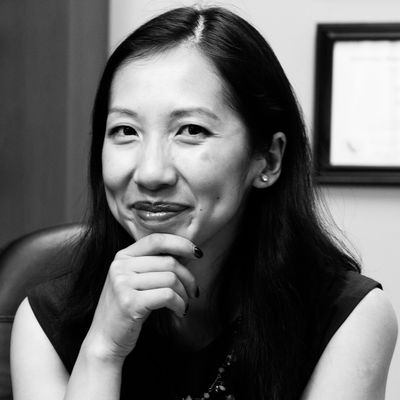 Photo: Marvin Joseph/The Washington Post/Getty Images
In September, four months after Cecile Richards stepped down as president of Planned Parenthood, the organization named Dr. Leana Wen, previously the commissioner of health for the city of Baltimore, as her successor. Wen is the first physician to hold the role of president in nearly 50 years, and the first Asian American and immigrant ever to hold the office. Under an oppositional administration (and an unfavorable Supreme Court), Planned Parenthood's nomination of a doctor as its president seems a clear signal to its mission, and a reminder that it is, above all else, a health-care provider.
The Cut spoke to Dr. Wen in early October, amidst the Congressional hearings which would eventually result in Brett Kavanaugh's confirmation to the Supreme Court. Wen shared her thoughts about those events' potential impact on reproductive rights, and her priorities for Planned Parenthood during her leadership.
Brett Kavanaugh was just confirmed to the Supreme Court, weeks before you start your new job. How are you feeling about it?
I can't stop thinking about it. For me, this is about women's lives. There are currently 13 cases involving women's health that are one step away from the Supreme Court, which means that in the next year, there is the very real probability that Roe v. Wade could be overturned, or further eroded. There are dozens of states that are poised to ban abortion, which, depending on what happens with the court, could affect more than 25 million women, which is more than a third of women of reproductive age, who could face no access to abortion at all in their states. And this goes beyond abortion, too. Abortion is part of the full spectrum of reproductive health care, this is also about attacks on reproductive health care, on women's health, because these laws, depending on the outcome of various court decisions, could result in dozens of clinics closing around the country that are safety net clinics. Already dozens of safety net clinics have closed, and for hundreds of thousands of women, their primary source of care has been taken away.
For me, as a physician, I am deeply concerned by what happens when we silo out, stigmatize, and specifically attack women's health. It's not good medical care, and the direct result is the cost of women's lives.
It seems like a lot of people don't understand that even though Roe v. Wade is still the law of the land, there are lots of places in the country where abortion is functionally illegal because it is so restricted.
We in public health often talk about that. Theoretical policy is not enough if that care literally cannot be delivered. My patients in the ER might be coming in who are ill because of a disease, but the reason they're there is because they don't have health insurance. It's not enough for me just to be providing them health care if I'm not addressing the underlying reason for why they're ill. That actually happens to be what Planned Parenthood does every day. That's why Planned Parenthood is about providing access to health care, and fighting to protect access to that care — those two things together. It's providing access to care to our nearly two and a half million patients a year, while at the same time recognizing that the ability to deliver that care depends on policies, and we have to be fighting with everything we have, or else women and families and vulnerable individuals won't have access to life-saving and life-changing care.
You've already had one victory against the Trump administration, in blocking an attempt to cut funding for the teen pregnancy prevention program in Baltimore. What other challenges do you expect to face during this presidency?
In Baltimore, I have seen firsthand the consequences of attacking reproductive health care and women's health care and why we need to fight back. For me this is not a partisan issue. We're not fighting because of politics. We're fighting because it's the right thing to do for the people that I serve. Here in Baltimore last year, the Trump administration cut our teen pregnancy prevention program, which would have cut access to comprehensive reproductive education for 20,000 of our youth, for some of the most vulnerable individuals in our city. The cut was made without explanation and without reason. So we sued the Trump administration, the 4th Circuit court ruled in our favor, and we won, thereby restoring the funding.
Baltimore also recently sued the Trump administration for willfully sabotaging the Affordable Care Act. We've been involved here in Baltimore in the fight against Title X changes, which would again, force dozens of safety-net clinics to close, and would force doctors and nurses to provide inaccurate and incomplete and medically unsound information to our patients about reproductive health, which is outrageous. It's a violation of our principles as medical professionals that we would have to lie to our patients and deprive our patients, who are coming to us for advice, of scientific and medical information. These are the types of battles that we have ahead of us, and these are the types of battles we've been fighting in Baltimore. And I'm looking forward to the fight ahead because the work I do in Baltimore in the ER and throughout my life has always centered on the patients that I serve. That's who I keep in mind.
What do you think being a physician adds to both your preparedness for this role, but also the public perception of you in this role?
Everything I do is centered on my patients. I've always wanted to become a doctor. I went into the ER in particular because I never wanted to turn anyone away. I never wanted to treat anyone differently because of how they look, or how much money they make, or who they happen to love. And that's very much the ethos of Planned Parenthood. We are about providing care no matter what to everyone who walks through our doors.
By choosing a physician as the head of the organization, we are reaffirming our commitment that what we do, first and foremost, is health care. For the two and a half million people who walk through the doors of Planned Parenthood, they are there to receive basic medical care. They're there to receive cancer screenings and family planning. They're there because we have a fundamental right to health. That's what I will bring to this role: the idea that reproductive health care, women's health care, is mainstream medical care, and health care has to be seen and understood as a fundamental human right that's guaranteed to everyone, and isn't a privilege based on our ability to pay.
It seems too that having a physician in charge maybe reframes it as more of a medical provider than a business with clients, which is how anti-choice people sometimes describe it.
Planned Parenthood was founded by a nurse, Margaret Sanger, who saw the needs of her community. She was on the front lines of patient care, like me, and saw that the need was for reproductive health care and health care for women. That's what Planned Parenthood has done for more than 100 years, and that's the type of care I intend to provide. That's what it's always been. By my coming onboard, it's a reaffirmation and recommitment to the mission we've always had. I feel so privileged to be able to step in at this time, and to follow in the huge footsteps of Cecile Richards, of Faye Wattleton, of Alan Guttmacher, of so many others who have led the organization and who have been at the forefront of providing care and fighting for access to that care.
Besides being the first physician in decades to be elected president, you're also the first Asian American and immigrant. You've also mentioned that your own family relied on Planned Parenthood growing up.
Public health is all about these intersections — recognizing that it's those of us who are the most vulnerable who are hurt the most by laws that restrict access. Laws that restrict access will hurt those who already bear the brunt of health disparities. That includes people of color, it includes immigrants, and it includes people who are marginalized in some way for sexual orientation, or for other conditions in our lives.
When my family and I first came here, we had a typical immigrant story in some ways. My parents and I came with less than forty dollars to our name. My parents worked multiple jobs — my mother cleaned hotel rooms, my father delivered newspapers, we barely made ends meet. We depended on Medicaid, we depended on food stamps, and I think about public charge rule that the Trump administration is erasing, and the types of choices it would have forced my family to make, and how inhumane is it that we make people choose between food for their children, and their ability to have a secure future to be legal immigrants, or between getting vaccinations or getting cancer treatment, and being able to stay in this country. I don't know what kind of choices my family would have made, but it's clear that these are choices we shouldn't make anyone have to make in this day and age in a society that has any degree of compassion. I came here as a young person, just before I turned 8, and I see the family separation that's happening, and the trauma that we're imposing on generations of our children, and [I wonder] what kind of society that is.
Planned Parenthood was there for my family. My mother went to Planned Parenthood when she couldn't get care anywhere else. I was a patient when I was a teenager and at different points in my life. So was my sister. Planned Parenthood has been kind of a rock for us. It was there for us when we couldn't get care anywhere else. That role, being that rock, being that place of refuge, is so important now more than ever in our history.
What are your top priorities as you prepare to being your new role?
At this time, it's our moral imperative not only to continue to deliver the services that we do, but to expand our impact. That includes expanding our impact through health care as well as through education, because education is a bridge to health care too. When I look around the country and I see the huge unmet needs and I see the integral role that Planned Parenthood plays in community health. That's the work that's ahead of us. We must be expanding our impact and expanding our reach.
One of the things I've been reflecting on is my son. I have a 13-month-old son, and being a parent has clarified for me my own values and what it is that I want to be fighting for. I think a lot about the type of future I want to see for my son, for Eli. That's a future where everyone has access to health care, where women and men have equal rights including over our own bodies, and where we as a society trust and value women. A lot of my thinking as I approach this role has to do with the type of future I want for Eli and for all of our children. Nothing has been more clarifying for me in my own values than becoming a parent.