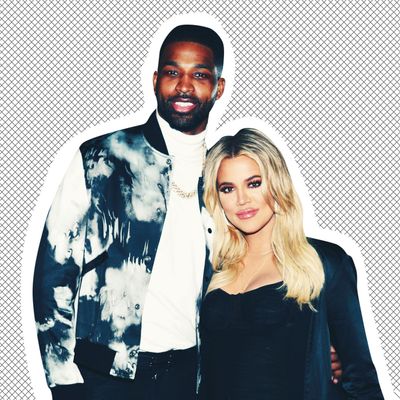 Tristan Thompson and Khloé Kardashian.
Photo: Getty Images
Our gossip counterprogramming to the midterm elections came to us this week from — who else? — the Kardashians. On Sunday, E!'s first family aired the Keeping Up With the Kardashians episode we've all been waiting for: The one where everyone finds out that Khloé Kardashian's NBA player boyfriend Tristan Thompson cheated on her throughout her pregnancy. It was a fantastic hour of television, and you should read our Kardashian expert Mariah Smith's full analysis of it here. What I'm wondering now is: What happens to Thompson in "real" life?
Kardashian has continued to date him since the cheating scandal broke just before she gave birth in April, but that could be about to change. The Kardashians' tabloid of choice, Us Weekly, released several negative stories about Thompson in the wake of the Kardashians episode, and our favorite blind item creator, Enty at Crazy Days and Nights, hinted this week that a bigger exclusive is coming.
"The reality family is already talking to tabloids and is going to have a big cover on [People] to announce the split of this A-lister in their family from the guy who cheats a lot," he wrote Monday. That exclusive did not happen this week: People's cover is the Sexiest Man Alive, Idris Elba, and Us Weekly's is on Meghan Markle. But perhaps we'll get the big story before Thanksgiving?
As for what the tabloids are saying now, Us Weekly reported this week that Thompson "refused" to watch the cheating episode and that he is starting to resent the high-profile nature of their relationship. (Lol.) "Tristan is acutely aware of the impact dating a Kardashian has on his career," a source told the tabloid. "It's something that he has expressed more concern about to his friends in recent weeks."
Kardashian, meanwhile, is finally becoming "skeptical" of Thompson and his commitment to their relationship. She doubts "that things will ever be completely, perfectly rectified," a source told Us Weekly. You don't say.
People reported just before the episode aired that Kardashian is having "a really tough time" and that she "still has a lot of hurt and anger" after the scandal. Neither tabloid has reported specifically on a breakup, but it seems to me that these stories are being released to prepare the public for a split in the near future. I'm hopeful!
Elsewhere in Calabasas, Kourtney Kardashian sat down with her ex-boyfriend Scott Disick's 20-year-old girlfriend Sofia Richie for this first time this past weekend. Disick, 36, has been dating Richie for over a year now, and she has been photographed several times with Disick and Kardashian's children, who are just a bit younger than her. According to People, Kardashian, Disick, and Richie all met up at Nobu on Sunday night to discuss Richie's involvement in the family.
"Sofia spends time with Kourtney's kids, so Kourtney wants to make sure they are all on the same page," a source told the tabloid. "Scott and Sofia tend to get into arguments. Kourtney wants to make sure the kids are in a positive environment when they are at Scott's house. She is setting up rules for how things needs to be when the kids are with Scott."
Okay then! Perhaps Kardashian, 39, felt the need to make peace with Richie because she, too, is dating a 20-year-old. For the past month or so, Kardashian has been photographed hanging out with the actor and former Yeezy model Luka Sabbat. The two of them attended Diddy's 49th birthday party at Ysabel in West Hollywood on Sunday, after Kardashian finished dinner with Disick and Richie. Kardashian recently broke up with the model Younes Bendjima, 25, and her friends are happy about that, apparently. "None of her friends liked Younes, and they all love Luka even though he's only 20," a source told People this week. "They think he's good for her, and he's a very down-to-earth and good guy."
So everyone's happy?
–
Well, not everyone. Our favorite recently married pop star Justin Bieber, who had a fling with Kourtney Kardashian back in 2015, currently feels that "something is missing" from his life. Despite the fact that he just married model Hailey Baldwin, he has been spotted crying in public multiple times (including once at a Harry Potter-themed bar), and he just doesn't know why. A source told People this week that Bieber "feels something is missing from his life that can't be bought. It's a missing feeling of happiness. He is very much grateful for his amazing life and especially for Hailey. It's difficult for him that he can't just enjoy everything and feel happy."
Maybe a vacation will help: Bieber and Baldwin were spotted getting on a private jet in Van Nuys early yesterday morning. Earlier this week, Bieber, who is Canadian, encouraged his American Instagram followers to vote in the midterms. Hope Baldwin sent in an absentee ballot before she got on the jet!
–
One small blessing from this week:
Ariana Grande released one of her best songs of all time, "thank u, next."
–
Finally, I'll leave you with Demi Lovato's first Instagram post since she left her 90-day rehab stay. Perfect way to return to public life.
Thank you for gossipping and (hopefully) voting this week. Don't forget to email me at allie.jones@nymag.com, send me a message on Twitter, or contact me on Signal if you'd like to chat.