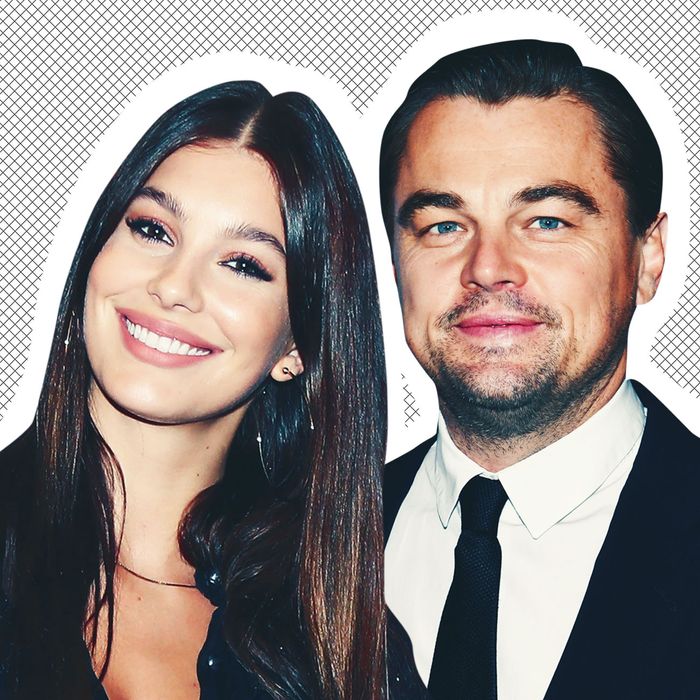 Welcome to You Know What I Heard, the Cut's weekly celebrity gossip column about the peregrinations of the rich and famous.
Is Leo DiCaprio, 44, going to marry his model girlfriend Cami Morrone, 21? Someone keeps telling Us Weekly that. In this week's issue, a "source close to the pair" says that DiCaprio and Morrone "are very serious" and "everyone is saying that marriage could be soon for them."
Everyone is saying it? Well, at least one person is saying it over and over again like a prayer. Do you remember, back in August, when Us Weekly ran this exact same story? A source told the tabloid then that DiCaprio and Morrone were "very in love and serious" and that they were talking about getting engaged. But here we are at the end of November, and they are still just talking. Or not talking. Who knows?
I was concerned, two weeks ago, that maybe DiCaprio and Morrone had broken up — she was not seen attending his 44th birthday party in Beverly Hills. But the two were photographed together this week at a pizza parlor in Los Feliz. DiCaprio was wearing a baseball cap and a hoodie with the hood up, which, as we all know, is the universal sign for "man ready to commit."
December 18 will mark the one-year anniversary of the first time the couple was photographed together, leaving Morrone's house in Los Angeles. Do you think DiCaprio has something serious planned for next month?
Know who else is dating a 21-year-old? That would be Kourtney Kardashian, who, at 39, is the eldest of the Kardashian sisters. She was photographed attending her "on-off fling" Luka Sabbat's 21st birthday party this past weekend. Sabbat, a former Yeezy model and actor on Grown-ish, celebrated being legal to drink at the Peppermint Club in West Hollywood. He and Kardashian left the party together in the wee hours of the morning, according to People.
"Kourtney likes Luka," a source told the tabloid. "It's never been serious though and never will be. She hooks up with him occasionally, but that's it." Well, alright then!
Kardashian's ex-boyfriend Scott Disick, 35, is still dating Sofia Richie, 20. According to the Kardashian News Network, E!, Kardashian, Disick, and Richie all went out to dinner at the paparazzi-friendly Craig's restaurant in West Hollywood earlier this month, alongside Kim Kardashian West and some other hangers-on. How long before Richie shows up on Keeping Up With the Kardashians?
Justin Bieber (who dated Richie in 2016 — were we ever so young?) wants to be "left alone" in Canada. Well, same. According to People, the newly married pop star "loves being in Canada because it's very peaceful." When he is there with wife Hailey Baldwin, a source said, "They are much more left alone. They seem very happy together."
Us Weekly reports that Bieber and Baldwin are now living in Bieber's home country "full-time," whatever "full-time" means when you are a celebrity. "Hailey and Justin are living in Waterloo, Ontario, full-time now. That's their home base," a source told the tabloid. "Justin has a huge home up there — 9,000 square feet, 1,000 acres, on a lake. He loves it up there and so does Hailey."
Bieber and Baldwin hosted their families in their Ontario mansion for Thanksgiving, after which Bieber posted about trying to be more like Jesus. Sounds like everything is going great!
One small blessing from this week:
Finally, I'll leave you with one of my favorite things to read: the Christmas list of a celebrity child. This one was written by Everly Tatum, the 5-year-old daughter of the recently divorced couple Jenna Dewan and Channing Tatum.
More celebrities should post their kids' Christmas lists. Just imagine what Sarah Jessica Parker and Matthew Broderick's twins are writing to Santa at this very moment! I'm dead.
Thank you for gossiping this week. Don't forget to email me at allie.jones@nymag.com, send me a message on Twitter, or contact me on Signal if you'd like to chat.