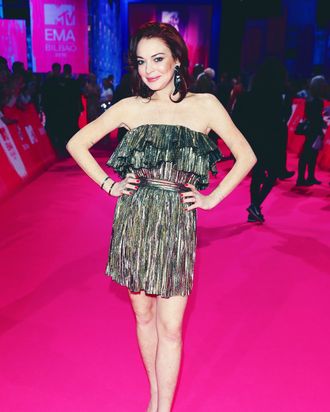 Lindsay Lohan.
Photo: Andreas Rentz/MTV 2018/Getty Images for MTV
Official Lawyer.com spokesperson Lindsay Lohan is the latest celeb to respond to Ariana Grande's much-anticipated "thank u, next" music video, about which she's either somewhat excited or extremely bitter.
After giving an incredible The First Wives Club–inspired performance of the breakup anthem on Ellen, Grande has since continued to drop hints on social media about the upcoming music video that pays tribute to four classic movies: Mean Girls, Legally Blonde, 13 Going on 30, and Bring It On. While she asked a number of the films' original actors to reprise their roles, it doesn't appear that she approached any of the actors who played lead characters, seemingly to Lohan's disdain.
In a Instagram, Lohan posted a glam, filtered selfie with a caption that can either be read as playful or passive-aggressive as hell: "Behind the scenes 🎬 ain't nobody Lindsay Lohan like the real Lindsay Lohan. But so flattered by @arianagrande loving #MeanGirls so much! Also, I love #dynasty." (Dynasty actress Elizabeth Gillies is playing Cady Heron in the music video).
Perhaps … Lohan was just trying to follow suit of Reese Witherspoon? After Grande tweeted a photo of her with the caption "whoever said orange was the new pink was seriously disturbed," Witherspoon responded to Grande in the character of Elle Woods, quote-tweeting her, "Also… 2 weeks ago I saw Cameron Diaz at Fred Segal and I talked her out of buying a truly heinous angora sweater!"
Based on Lindsay Lohan being Lindsay Lohan, it seems much more likely that she's pissed, not excited, but we'll let Grande be the judge of Lohan's tone.