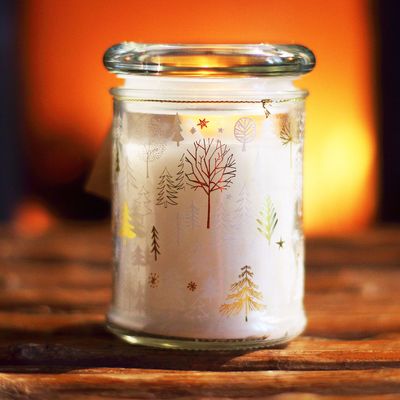 Hello again.
Photo: Chiara Benelli/Getty Images
Ding, dong, ring-a-ding dong, ding, dong, ding, ding-a-ding, dong. Ding, dong, ding, ding-a-ding, ding, dong. What's that? I hear it approaching, closer and closer, its sweet notes carried on the wind! It sounds like … no, it couldn't be. Curse my eager tongue! Its honeyed tones flood my memory; its spirit lifts mine. No, no, it must be true! It must be — yes, it is indeed:
TIME TO TAKE YOUR HOLIDAY SCENTED CANDLES OUT FROM WHERE THEY'VE BEEN SINCE LAST YEAR — MAYBE A CLOSET, OR JUST WHEREVER YOU KEEP YOUR CANDLES YEAR-ROUND — AND BEGIN LIGHTING THEM AGAIN!
Hooray!
I see no reason to put off holiday candle time. November is Thanksgiving, and because November is Thanksgiving, one week into Thanksgiving is a very polite start to the holiday candle season. Yes? Don't worry, I've already checked the math and I see no need for you to do so yourself. Holiday candle season is officially upon us, from November 7 until January 12. (At that point it becomes deep winter candle season, which is whatever you want it to be because at that point you deserve it.)
The scented holiday candle invites a bit of the season in, temporarily. It isn't a stuffed turkey decoration; it isn't an inflatable menorah. It isn't a Christmas tree, or a Santa who dances to "Jingle Bell Rock." You won't look like a holiday monster if someone comes over and it smells like chestnuts. It's a feeling, it's an energy — and it's happening now.
Maybe you're wondering: What is a holiday candle? A bit of a basic question, but I'll indulge you. It's a candle that was either manufactured to remind you of the end-of-year holidays, or one that does so for personal reasons. A strong spruce scent, or a fireplace scent, or the scent of warm incense that is not strictly "holiday," but that you feel is connected to the holidays because of the holidays' proximity to cold weather, and the candle's cold-weather-appropriateness. It's a Champagne-and-cranberry candle, maybe, or some sort of a cookie vanilla.
If those last two don't sound good to you, I agree; they sound disgusting and I absolutely would never light them myself unless offered money to do so, in which case I would gladly and you may email me. That doesn't matter, however, because let me tell you this — a holiday candle does not have to be a good candle. (Though when burning alone for relaxation purposes, I do humbly suggest a good candle.) They can also be bad!
A holiday candle can be one that smells too much like clove, or whatever. It can be a candle that smells like mulled wine in not a particularly good way, but in a way that gets the job done. It can smell like eggnog. Whatever works for you, and brings you joy. As far as I know, candle snobs tend to look down on holiday candles because they aren't the "good" ones, usually, and this is true. But for burning while watching a holiday movie on Netflix, or making a gingerbread house, or bickering with your family, I see no better option.
We are all heavy with the weight of our burdens, eager for the upcoming handful of days during which we might set them down and enjoy a pie with the people we love or at least have known for a very long time. Invite the smells of those days in early, and enjoy the anticipation. Once they're gone, they're gone, and then it's just cold for a while.
For me it is a mix of candles that smell like a smoky old church, for when it's dark outside (which is usually) and candles that are citrus, for when it's bright outside (mornings).