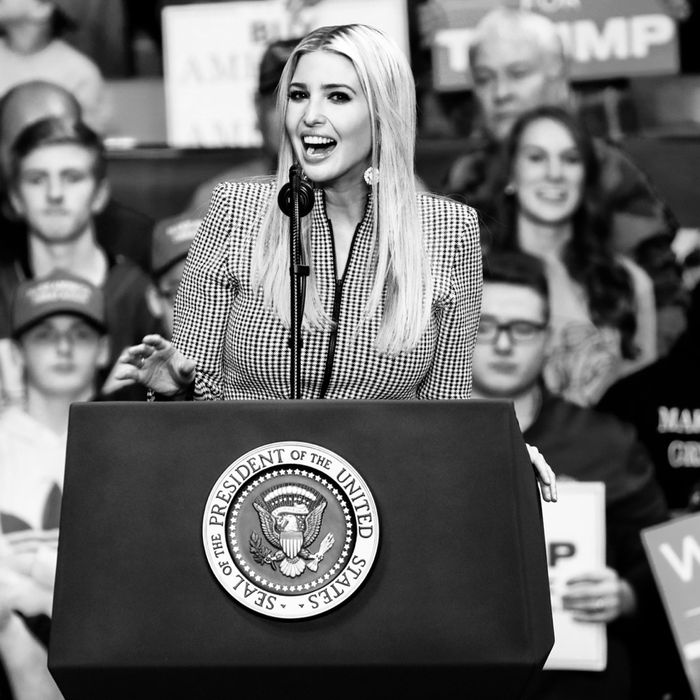 Ivanka Trump.
Photo: Aaron P. Bernstein/Getty Images
A new investigation from the Washington Post revealed that for the majority of 2017, Ivanka Trump used a private email account to handle government affairs. The information comes from a White House review of her emails. Many of the emails were reportedly between Ivanka and White House aides and Cabinet members, detailing her family's schedule.
However, in nearly 100 of the emails, she reportedly corresponded about official government business, though she and her representatives maintain that many of those emails were in response to people contacting Ivanka first. Ivanka claimed that she was unaware of the rules about personal email accounts. Sources told the Washington Post that her ignorance about the rules may have been because she wasn't looped in on White House emails reminding employees not to use their private accounts.
"While transitioning into government, after she was given an official account but until the White House provided her the same guidance they had given others who started before she did, Ms. Trump sometimes used her personal account, almost always for logistics and scheduling concerning her family," Peter Mirijanian, a spokesman for Abbe Lowell, Ivanka Trump's ethics lawyer, told the Post.
Mirijanian was quick to point out that Ivanka's use of a private email server was much different than Hillary Clinton's. According to Mirijanian, Ivanka "did not create a private server in her house or office, no classified information was ever included, the account was never transferred at Trump Organization, and no emails were ever deleted."
The use of a private email account for official business could violate the Presidential Records Act, because Ivanka used her private email not only while she was a volunteer at the White House, but afterwards as well. She became an official employee in March 2017, and continued to use her private email for government business. Ivanka's husband, Jared Kushner, also used a private email account to handle government affairs, but the president's response to the news was significantly different from the information about Hillary Clinton's use of a private email server.
President Trump used Hillary's emails as a major campaign talking point — calling for her imprisonment over the violation. Trump and members of his administration have led "Lock her up!" chants at rallies and events well after his election.