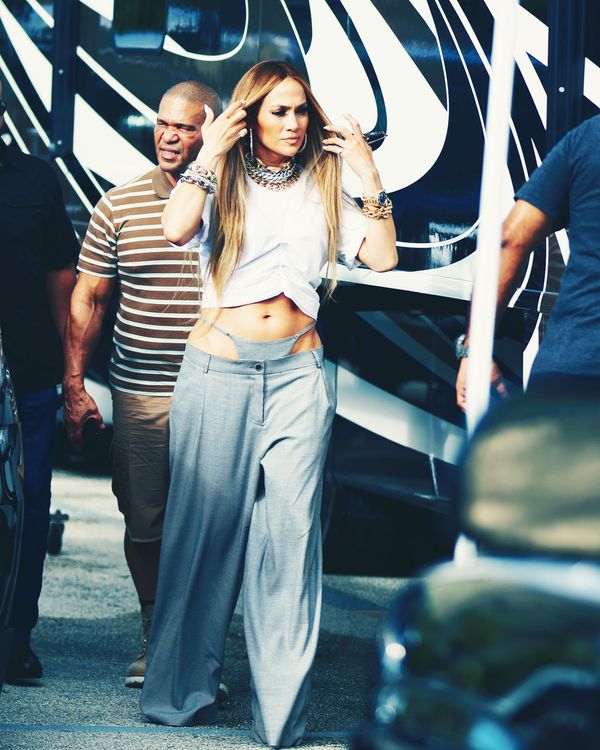 Jennifer Lopez.
Photo: SplashNews.com
Earlier this year, when Jennifer Lopez stepped out in a pair of knee-high Versace boots that looked like tiny jeans, we were hurdled into an existential fashion crisis. Were boots the new pants? Shoes the new socks? It's hard to know what is what these days, especially when influencers like Luka Sabbat are tweeting things like: "In 2019 if u still wearing clothes you washed."
J.Lo is clearly an innovator, though. Always one to be ahead of the trends, (see: naked dresses, low-rise jeans, dating Ben Affleck), Lopez was photographed yesterday on the set of her upcoming music video wearing a pair of low-rise pants that also doubled as thong underwear.
At first glance, the pants in question seemed straight out of the Maison Martin Margiela imagination. (The designer was known for his unlikely combinations.) But after a thorough Cut investigation, our senior market editor, Diana Tsui pointed out that she had seen these exact pants in the flesh when they walked the Natasha Zinko runway during London Fashion Week in February.
Bingo. Everything started to make more sense. Well … sort of. The theme of Zinko's collection was "Working Women." At the show, Dolly Parton's "9 to 5" played as the names of women with jobs flashed across screens: Beyoncé, Oprah, Mother Theresa. As for the clothes, they were layered. Literally. Zinko showed a pair of pants that had three different waistlines, all stacked on top of each other like an In-N-Out burger. Is this what equity looks like?
Whatever Zinko was going for with these pants last season, she was onto something. Underwear was everywhere on the spring 2019 runways, from Prada to Gucci. That being said, we don't suggest wearing these pants to your next board meeting. All we know in this world of crippling doubt and uncertainty is that Jennifer Lopez is a leader worth following.