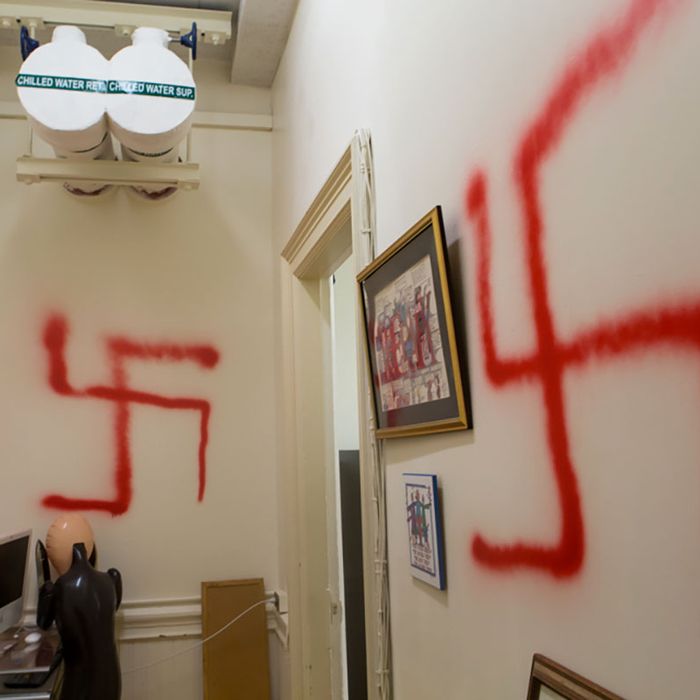 Photo: RYA INMAN / Columbia Daily Spectator
Amid a nationwide uptick in anti-Semitic violence and hate speech, the Columbia Spectator reports that a Jewish professor arrived at work yesterday to find her office vandalized in an apparent anti-Semitic hate crime.
Seventy-seven-year-old Dr. Elizabeth Midlarsky is a professor of psychology and education at Columbia Teacher's College, where much of her work focuses on the Holocaust. When she arrived at her office around 1 p.m., she observed the graffiti in her office entranceway, which featured swastikas and the term "Yid" emblazoned on the wall in red spray-paint.
This is not the first time Midlarsky has been the victim of an anti-Semitic hate crime; in 2007, she had a swastika painted on her office door, which she believed was connected to her public protest against Iranian president Mahmoud Ahmadinejad giving a speech at Columbia. This time, however, she attributes the violence to the rising climate of anti-Semitism in the United States, which has led to an increase in hate crimes against Jewish communities, including the murder of ten worshipers at a Pittsburgh synagogue last month. According to the NYPD, anti-Semitic attacks in New York City specifically have also increased while other crimes have declined.
"Anti-Semitism is really in the wind now," she told the Post. "I didn't expect to be a personal target right now. I'm not standing up there waving banners. I'm not out there making announcements publicly."
The Columbia's Teacher's College released a statement saying they are "outraged and horrified" by the incident, and the NYPD is currently investigating possible suspects.