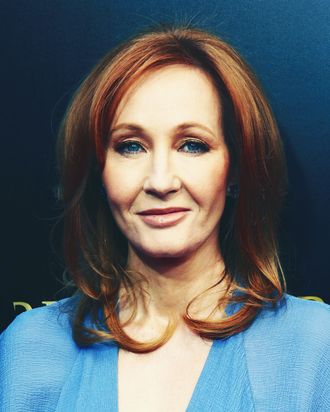 J. K. Rowling.
Photo: Walter McBride/Getty Images
The summer of scam is dead, long live the summer of scam.
The latest reported victim of an outrageous grift? Harry Potter author J. K. Rowling, who is suing her former assistant, Amanda Donaldson, for £23,696.32 ($31,143.72).
Rowling's net worth is an estimated $650 million.
Donaldson worked for Rowling from February 2014 until April 2017, and is denying all claims. Specifically, she's been accused of making a series of unauthorized purchases including: $1,900 worth of candles, $2,100 at Starbucks, and $1,577 on two cats. (Adopt don't shop!!!)
There's also this, from the BBC:
Ms Rowling also claims Ms Donaldson, who controlled memorabilia requests from fans, used her position to steal a Harry Potter motorised Hogwarts Express worth £467.56, a Harry Potter Wizard Collection worth £2231.76 and a Harry Potter Tales of Beedle The Bard Set worth £395.
If true, Rowling presumably didn't notice because she was too busy tweeting out new backstories for her characters.