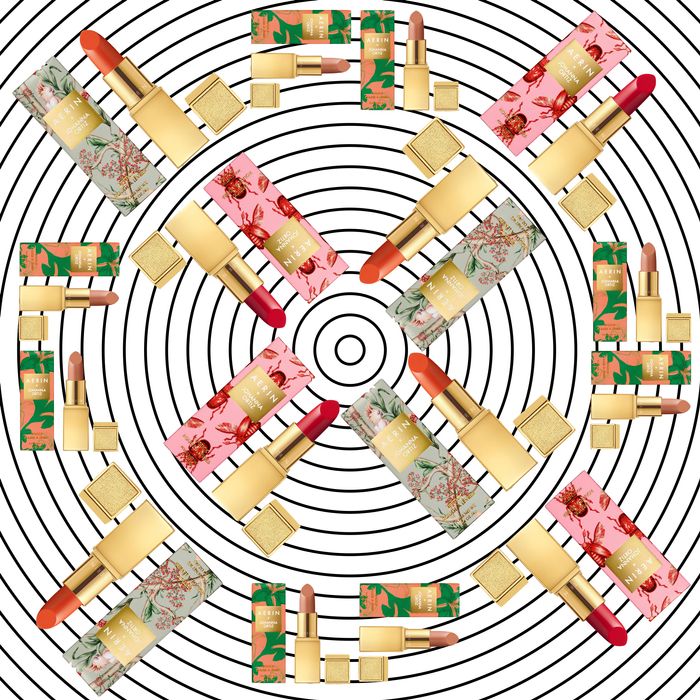 We've recently discussed the very serious problem in the beauty industry of products that are almost too beautiful to use. AERIN (lifestyle brand of Estée Lauder's granddaughter, Aerin) has found a solution to this definitely real problem: Make the packaging pretty without compromising the integrity of the product itself. They've partnered with Colombian designer Johanna Ortiz for a new set of lipsticks which are aesthetically pleasing, but totally usable. Phew, things were getting kind of rough out there.
These new semi-matte lipsticks feature packaging with motifs from Ortiz's most recent cruise collection, and each one is named after a different place in Colombia. Yes, the gold tube is pretty and the shades themselves are even prettier, but the little boxes they come in are by far the prettiest part.
There's "Cali Aji", a cherry red shade that comes in a pink box decorated with little red bugs. It's a good pop of color for fall, and since the box is decorated with beetles, also a good gift for your friend who still really loves The Mummy. "Tayrona Nude Beach" is a nude (duh) and the box features a very frond-forward botanical pattern. Lastly there's an orange hue, "Cartagena Sunsets", which should definitely be applied pre-sunset to maximize the availability of natural light. This box is the prettiest (sorry for the bias), and is a light blue with a "bird and botanical" print that features leaves, plumage, vines, and flowers. Maybe next time the "Hot Duck" can make an appearance.
If you buy something through our links, New York may earn an affiliate commission.