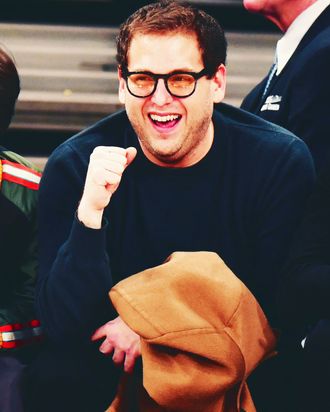 Photo: James Devaney/Getty Images
Last month, Jonah Hill made his directorial debut with Mid90s, a film about a 13-year-old boy named Stevie (Sunny Suljic) who finds social refuge with a group of kids he meets at a local Los Angeles skate shop.
In the film's opening scene, Stevie sneaks into the bedroom of his older brother, Ian (Lucas Hedges). He's trying to buy him the perfect birthday gift, and whips out a pen and paper to write down all the things Ian already owns. In a way, Stevie is also taking stock of what's cool, from CDs to video games to sneakers and T-shirts. It's a moment we've all been through, Hill included: when, suddenly, everything you've ever owned and loved before seems deeply, utterly, devastatingly uncool by comparison.
"To me, it's such a big part of being a kid," Hill told the Cut of those moments when we "figure out what's lame." It's a feeling that carries over into adulthood, but with teenagers, it tends to inspire strong reactions. When Stevie falls in with a new, older skate crowd, for example, he tears down all the posters in his room and tosses his old dinosaur T-shirts.
Like Stevie, Hill says skateboarding taught him the definition of cool growing up. "It gives you this lens to see life through," he says. But these days, Hill has a complicated relationship with the concept. Once known as the kid from Superbad, he's undergone a bit of a fashionable rebrand — fans host Jonah Hill Day and document his outfits on Instagram. GQ magazine even declared him a "Man of the Year" this week. But there's one aspect of cool that Hill hasn't been able to reckon with as an adult: not trying, or at least seeming like you're not trying.
As a young skater growing up in Los Angeles in the mid-90s, this attitude of indifference came from an "insecure fear of failure," Hill explained. "If you don't try hard and take big swings, then you really can't embarrass yourself." But it was also somewhat paradoxical, considering skate culture's rejection of the status-quo. If Hill wore a certain skate shirt to school, for example, none of his peers would catch the reference. But then if he wore the "wrong" shirt within his group of friends out skating, he'd get made fun of. This may stem not so much from the nature of skating, though, but from that of being a teenage boy.
"It was this very weird juxtaposition between a group of outsiders, but also a very specific set of rules," recalls Hill. "I almost even got sick of being given rules in that way. But I was also insecure and terrified, and just wanted to fit in, so I would often restrict myself."
Now, Hill is on a "path to really loving [himself] as a person." And he is someone who, by nature, tries very hard — despite what his seemingly casual wardrobe might convey. Look no further than the extent of his nonstop Mid90s press tour. Or his giant water bottle, which takes hydration to new extremes. There's also, of course, the fact that he worked for years to make a meticulous, feature-length movie about skateboarding.
Hill would also tell you that he only wears clothes by his friends who try hard themselves, like Mary-Kate and Ashley Olsen of The Row, or Lev Tanju of Palace Skateboards. (Hence his catchphrase, "Support the Homies," which was officially coined at the second-annual Jonah Hill Day this summer.) When pressed, Hill said he doesn't think the Olsens ever skateboarded, though he met them after high school. But they are "insanely talented," and work very hard at what they do.
Mid90s may focus on skateboarding, but it's really about growing up. And, without giving any spoilers, Hill ultimately wanted the elder characters in the film to convey that trying hard is cool, too. "When someone who is actually cool and not corny lets you know that it is okay to give a shit, those moments stick with you for your whole life," Hill concludes.
This is the hill Hill wants to die on: "If I can offer anything, it's that I'd rather fall on my face sometimes and take big-ass swings and grow than be in this little box and be so hipster-cool, and never do anything because I was so scared of embarrassment," he said, somewhat breathlessly. "You know?"