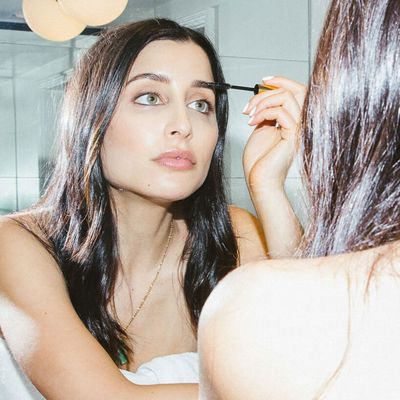 Photo: Courtesy of Julie Schott
Want more skin care? Join our Facebook Group, the Beauty of It All.
You might know Julie Schott as the former beauty director of Elle.com. Or perhaps you're familiar with her Instagram series "Pooptalk," about her quest for a "satisfactory bowel movement" in the name of clear skin. Whether she's face masking on the subway (see her "Beauty" highlight on Instagram) or taste-tasting every flavor of gummy vitamin, she's tried it.
Schott's routine is ever-changing but she is loyal to one thing. She says, "I am only loyal to the Dennis Gross peel pads. Once something runs out, it gets replaced with a different product because I want to try as many as I can, but I also want to give each product I try a chance to work before writing it off." Just this week, the writer's morning skin-care routine was in a "no water zone" after getting her eyebrows microbladed. "You can't get your face wet. And you can't sweat." The result? Peel pads — and lots of them. Here's her morning beauty routine.
The Blemish Pads
"Dr. Simon Ourian, the fanciest Beverly Hills dermatologist (a favorite of the Kardashians), actually told me to buy these for my breakouts. I was surprised that he told me to buy these because he's known for his in-office (i.e. expensive) skin-care treatments. He said go to the drugstore and get whatever has the highest concentration of salicylic, so I did. Salicylic acid is very effective at dissolving the crap that clogs pores and ultimately leads to breakouts, but it's not necessarily effective for cystic acne. For that, you may want to layer benzoyl peroxide, as well. They smell like eucalyptus oil and middle school."
The Exfoliating Pads
"This two-step chemical exfoliant is the difference between good skin and meh skin for me. They make my face look plastic smooth. I'm a peel pad evangelist and force these upon everyone in my life. You can use them morning or night — just not both. The only stipulation is you must use sunscreen once you introduce glycolic acid into the rotation, and I wouldn't pair this with the Noxema the way I did unless your face is very accustomed to acids."
The Vitamin C
"Topical vitamin C is like an invisible condom for your face that protects skin from pollution, UVA + UVB rays, and free-radicals. You can use it morning and evening, it's undetectable under makeup. There is nothing I dislike about this serum."
The Eye Cream
"This eye cream is so good, I used up the entire bottle. It's made with caffeine and Brazilian ginseng root extract, which allegedly improves dark circles. Plus, it plumps up little creases, and it doesn't pill under concealer."
The SPF
"Each time I finish a sunscreen, I try a new one because there's always some room for improvement, but I never go below SPF 50. This one makes me feel like a wealthy grandmother on a ski trip in Aspen. It's very hydrating, and it smells expensive."
The Lip Balm
"I keep two to three lip balms on me at all times. This one feels especially nice because it's larger than my lip surface area so it only takes one circular swipe to apply. Drunk Elephant products are super clean, and don't contain any non-clinically proven chemicals, which makes me feel better about putting this on mouth ten times a day."
If you buy something through our links, New York may earn an affiliate commission.